Google+(social)
Google Realtime Search Returning With Google+ In early July, Google discontinued its Realtime search feature.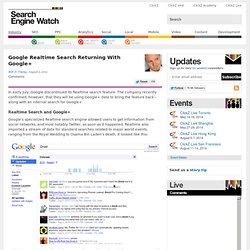 The company recently confirmed, however, that they will be using Google+ data to bring the feature back – along with an internal search for Google+. Realtime Search and Google+ Behind The Numbers Of Google+'s Monumental Rise To 25 Million Visitors. This week comScore released findings on Google+'s monumental surge to 25 million unique global visitors.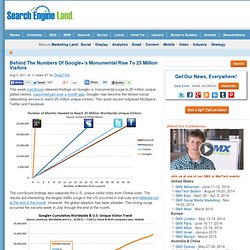 Launched just over a month ago, Google+ has become the fastest social networking service to reach 25 million unique visitors. This quick ascent outpaced MySpace, Twitter and Facebook: Google+ At One Month: A Look At Highlights & Controversies. It's hard to believe that it was just one month ago today that Google+ launched.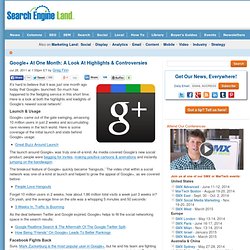 So much has happened to the fledgling service in this short time. Here is a look at both the highlights and lowlights of Google's newest social network! Launch & Usage Google+ came out of the gate swinging, amassing 10 million users in just 2 weeks and accumulating rave reviews in the tech world. How Being "Friends" On Google+ Leads To Better Rankings. Want to rank better on Google?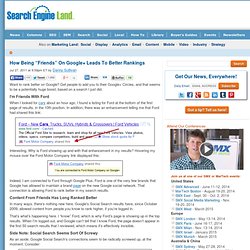 Get people to add you to their Google+ Circles, and that seems to be a potentially huge boost, based on a search I just did. I'm Friends With Ford When I looked for cars about an hour ago, I found a listing for Ford at the bottom of the first page of results, in the 10th position. Google Plus Nick. Top 10 Google+ ShortCuts for faster experience. Published on July 10th, 2011 | by Olawale Daniel If you don't know how to use windows shortcut on your Google+ profile page.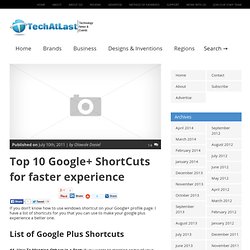 I have a list of shortcuts for you that you can use to make your google plus experience a better one. #1. Google Responds to Google+ Account Suspension Controversy. Using Google+?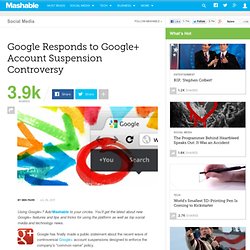 Add Mashable to your circles. You'll get the latest about new Google+ features and tips and tricks for using the platform as well as top social media and technology news. Google has finally made a public statement about the recent wave of controversial Google+ account suspensions designed to enforce the company's "common name" policy. The policy is outlined in section 13 of the company's User Content and Conduct Policy.
It's designed to stop users from creating fake profiles and to set a positive tone. Why Google's screwup on Google+ brand pages is a big deal. There's been a lot of sound and fury about the way Google has approached branded (i.e., non-personal) pages on its new Google+ social network.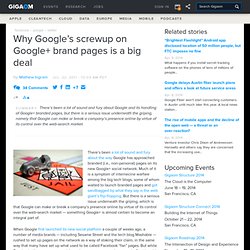 Much of it is a symptom of internecine warfare among the big tech blogs, some of whom waited to launch branded pages and got sandbagged by what they say is the web giant's flip-flopping. But there is a serious issue underneath the griping, which is that Google can make or break a company's presence online by virtue of its control over the web-search market — something Google+ is almost certain to become an integral part of.
Google turns off sidelined Labs section altogether. High performance access to file storage It has been nine years since Google debuted its experimental website where it dumped prototype products for netizens to play with.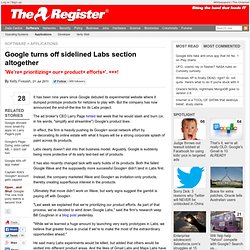 But the company has now announced the end-of-the-line for its Labs project. The ad broker's CEO Larry Page hinted last week that he would slash and burn (or, in his words, "simplify and streamline") Google's product lines. In effect, the firm is heavily pushing its Google+ social network effort by re-decorating its online estate with what it hopes will be a strong corporate splash of paint across its products.
Google Plus Tips & Shortcuts. "the motherlode of Google+ tips for all y'all suckas that don't know…" – Donny Rhoades I figured it would be useful to put all of the Google Plus tips and shortcuts I have found thus far in one handy place.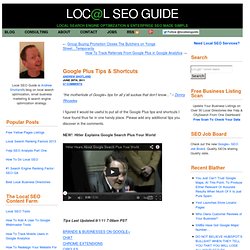 Please add any additional tips you discover in the comments. NEW! Hitler Explains Google Search Plus Your World Tips Last Updated:9/1/11 7:08am PST. Bold/Italic/Strikethrogh Text in Google Plus | Google+ Text Formatting. +1 For The In-House Search Engine Marketer. After years of minimal change to the format of AdWords ads (some ad extensions are the only radical change), all paid search ads now have the +1 button right after the headline on their right side.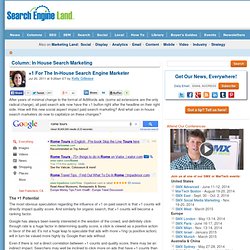 How will this new social aspect impact paid search marketing? And what can in-house search marketers do now to capitalize on these changes? Beware the Google+ Experts. By: Gini Dietrich | July 18, 2011 | There is something going on in the social media world that is really bothering me. The "experts" are taking advantage of people who feel like they're going to be left behind if they don't figure out Google+. Now. And, because we all are limited in our time, people are shelling out money to have someone teach them how to use the tool. Stop it. FriendFeed vs Twitter vs Facebook vs Google+ The inspiration for this post came from Jason Huebel, having written about leaving FriendFeed behind for Google+ engagement. Google+ is the new black. So, is anybody else abandoning FriendFeed, Empire Avenue, Facebook, etc. for Google's latest social effort? Do you see yourself decreasing the amount of time you spend on any other platform over the coming weeks?
To me, I suppose, it's a balancing act – and each silo has its merits. Illogical? William Shatner Gets Booted From Google+ Actor and musician William Shatner has apparently had his Google+ account beamed up for "violating standards", according to a tweet posted earlier this morning. He who loves TechCrunch tweeted the following message to his followers: "My Google+ account was flagged for violating standards. Why Can't You Search Google+ On Google+? One of the most counter-intuitive details about Google's new social network is that you can't actually search for public posts from it. Instead you have to use the clunky workaround "Yoursearch site:plus.google.com" or use one of the new search engines that have cropped up since its launch like Gplussearch or Google Plus Search Engine.
The latter also has the added boon of searching Buzz and Reader posts. But why not offer the feature on the platform itself? 120+ People wrote a Help Manual about Google+ I've been using Google + for a couple of days now and it has lots of potential. The most interesting feature of Google Plus is the way contacts are grouped together in the form of Circle. You can share stuff specifically with a certain group of people (your best Friends, co-workers, classmates, etc) and even do a group video chat. Up To 10 Google Apps Accounts Can Be Signed In At Once. Google+ Profiles Will Be Public: Google To Terminate All Private Profiles After July 31st.
Google's New Social Sitelinks. Google + Bing Confirm that Twitter/Facebook Influence SEO. Google: Facebook Like Buttons Have No Influence On Rankings. Nine reasons to switch from Facebook to Google+ | Social Media | Macworld. Google Testing Display Ads In Gmail. Schmidt Downplays Google's Competition With Facebook, Apple & Well … Almost Everything.
Google On Spelling Mistakes On Community Sites.
---