Google Algo
Google Panda Algorithm Now Rolling Automatically? Ever since Google released the Panda update in February, it has been known that Google carefully and manually pushed out updates to it on cycles that were often months apart.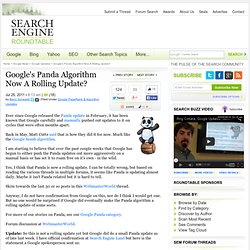 Back in May, Matt Cutts said that is how they did it for now. Much like the Google bomb algorithm. I am starting to believe that over the past couple weeks that Google has begun to either push the Panda updates out more aggressively on a manual basis or has set it to roam free on it's own - in the wild. Webmasters Finally Trusted Google PageRank Less.
We had a Google Toolbar PageRank update last month and noticed that Google.com had a PR of 9, whereas Facebook had a PR of 10.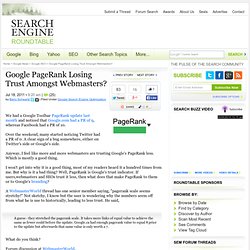 Over the weekend, many started noticing Twitter had a PR of 0. A clear sign of a bug somewhere, either on Twitter's side or Google's side. Anyway, I feel like more and more webmasters are trusting Google's PageRank less. Toolbar PageRank Update Fix: Google.com Returns To PageRank 10. Three weeks ago, Google conducted a toolbar PageRank update that caught the eyes of most webmasters and SEOs more so than a normal toolbar PR update.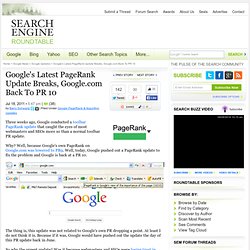 Why? Well, because Google's own PageRank on Google.com was lowered to PR9. 7962462. Why Google Panda Is More A Ranking Factor Than Algorithm Update. With Google Panda Update 2.2 upon us, it's worth revisiting what exactly Panda is and isn't.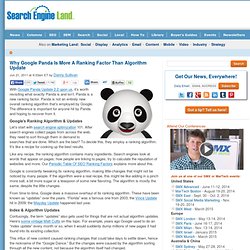 Panda is a new ranking factor. Panda is not an entirely new overall ranking algorithm that's employed by Google. The difference is important for anyone hit by Panda and hoping to recover from it. Tweets Influencing Google's Ranking More? It's Panda Update 2.1, Not Panda 3.0, Google Says. There have been rumblings that Google has unveiled another huge algorithm change being dubbed "Panda 3.0″ in some quarters.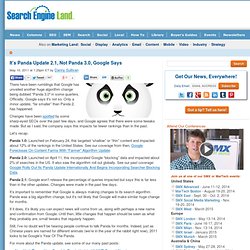 Officially, Google says it's not so. Only a minor update, "far smaller" than Panda 2, has happened. Changes have been spotted by some sharp-eyed SEOs over the past few days, and Google agrees that there were some tweaks made. But as I said, the company says this impacts far fewer rankings than in the past. How Facebook Enables The Google Social "Scraping" It's Upset About. I wrote a very long examination of the issues that Facebook employed a PR firm to publicize, about how Facebook feels Google may be violating privacy with its Google Social Search product.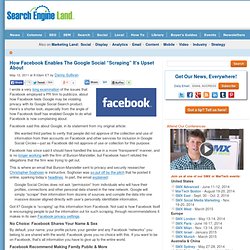 Here's a shorter look, especially from the angle of how Facebook itself has enabled Google to do what Facebook is now complaining about. Facebook said this about Google, in its statement from my original article: We wanted third parties to verify that people did not approve of the collection and use of information from their accounts on Facebook and other services for inclusion in Google Social Circles—just as Facebook did not approve of use or collection for this purpose. Facebook has since said it should have handled the issue in a more "transparent" manner, and is no longer working with the firm of Burson-Marsteller, but Facebook hasn't refuted the allegations that the firm was trying to get out.
Google Panda Algorithm Is Manually Pushed. In the wake of a rumored Panda 3.0 release the topic of the Google Panda update is not slowing down.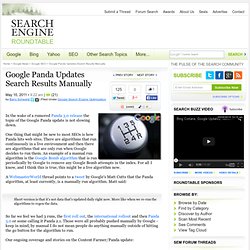 One thing that might be new to most SEOs is how Panda hits web sites. There are algorithms that run continuously in a live environment and then there are algorithms that are only run when Google decides to run them. Google's Penalties For Link Schemes Aren't Always So Obvious. Google has gone on record time and time again that link schemes with the intent of manipulating Google's search results is against their terms of service and will thus take action against web sites both algorithmically and manually.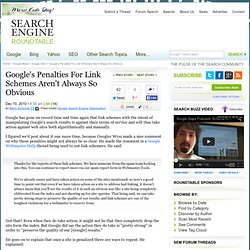 I figured we'd post about it one more time, because Googler Wysz made a nice comment on why those penalties might not always be so clear. He made the comment in a Google Webmaster Help thread being used to out link schemers. He said: Cyclic Redirects Can Cause Issues In Google. Google Image Sorting By Subject Now Available. Google added a new sorting option for Google Images that lets you sort the images by subject.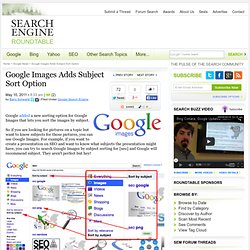 So if you are looking for pictures on a topic but want to know subjects for those pictures, you can use Google Images. For example, if you want to create a presentation on SEO and want to know what subjects the presentation might have, you can try to search Google Images by subject sorting for [seo] and Google will recommend subject. They aren't perfect but hey! Google Blocked Sites & Why Making A Good First Impression Matters. We all know there have been a ton of updates to Google as of late.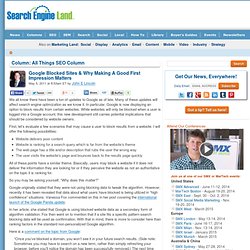 Many of these updates will affect search engine optimization as we know it. In particular, Google is now displaying an option to block results from certain websites. While websites will only be blocked when a user is logged into a Google account, this new development still carries potential implications that should be considered by website owners. First, let's evaluate a few scenarios that may cause a user to block results from a website. New York Times: Yes, Google's Panda Update Hit NYT-Owned About.com.
The New York Times Company has confirmed recent reports that its About.com property was one of the sites that suffered traffic declines in the wake of Google's recent Panda/Farmer algorithm change. Speaking during its recent earnings call, CEO Janet Robinson said that About.com "experienced a moderately negative impact on page views from the algorithm changes Google implemented in the quarter." About.com was included on several third-party reports listing sites that were hurt by Google's changes, but the general consensus was that many other sites had been hurt worse. The second link in that sentence includes this chart showing About.com's decline in the SearchMetrics' "Organic Performance Index" after the first Panda rollout.
GigaPan Time Machine" by Carnegie Mellon University. From the Author: Explore simultaneously in space and time with GigaPan Time Machine. Each Time Machine captures a process in extreme detail over space and time, with billions of pixels of explorable resolution. Choose a time machine and manually zoom into the image while simultaneously traveling backwards or forwards through time. Select a Time Warp and the time machine's authors will take you on a guided space-time tour with text annotations explaining what you are viewing. About WordNet -?WordNet - About WordNet. An Undocumented Google Search Operator: AROUND(x) + More Cool Bing and Exalead Operators. Wednesday, 8th December 2010 An Undocumented Google Search Operator: AROUND(x) + More Cool Bing and Exalead Operators Google Operating System points to a blog post from October by Googler Daniel Russell about an undocumented search operator, "around (x).
" He adds that it's been available for the past five to six years and librarians have been asked him about it. Once Again: Should Google Be Allowed To Send Itself Traffic? This fall, Google made its links to its millions of Place pages even more prominent on the first search results page, pushing sites such as TripAdvisor.com farther down the page for searches on "Berlin hotels," for instance. Place pages for businesses give basic information such as location and hours as well as a summary of user-generated reviews from sites like Citysearch and Yelp. Carter Maslan, a Google product management director, acknowledged "a little bit" of tension between Google and local-information sites. But he said the changes are meant to improve users' experience by getting them more information about businesses faster, and to provide links to review sites.
Upset over lost traffic. Google Analytics Data Skewed Because Of Instant Previews. Google's Second Major Quality Score Reporting Bug In 3 Weeks. Google's Search Share Continues To Inch Higher, comScore Says. Study Asks, Can You Trust Google's Personalized Search Results? 3 Ways Google Could Adjust The Revenue Dials. Google's "Gold Standard" Search Results Take Big Hit In New York Times Story. Google Recipe Search Cooks Up Next Gen of Search | Epicenter  Google Content Farm Update Support Groups. Google's Content Farm Algorithm Released: Who's Hit Most?
Does Google Index & Rank Based Off Of Title & Alt Attributes? Confirmed: Google Image Search Updating Index Faster. Demand: Google Changes Have Produced "No Material Impact" Yet. Google On How Site Command Results Are Ranked. Google Testing New SSSerps? Google, Searching & Search Engines. Google Lets You Dumb Down Your Search Results With "Reading Level" Filter. Why Google Needs The Manipulative Web. The Connection Between Facebook Citations & Google Place Pages. 7827052. 0060294155. Google Contextual Discovery. Google Content Spams Themselves With Google Translate. A Lesson From the Indexing of Google Translate: Blocking Search Results From Search Results. Is Google Changing Quality Score Rules Again?
---