Black Hat
Lockheed, PBS Join Roster of Hacking Victims
When Will Websites Stop Ripping Each Other Off?
Cooper Tire Hijacked 2300 Listings at Yahoo Local, Yellow Pages - Search Engine Watch (SEW)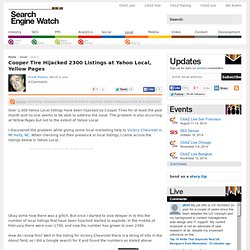 Over 2,300 Yahoo Local listings have been hijacked by Cooper Tires for at least the past month and no one seems to be able to address the issue.
The graph below is from the SEOptimise blog showing what happened to a new site after building 10,000 spammy links to it in a single day. What happened was the site tanked in rankings just after a few weeks. He said:
SEO: Building Links To Fast? Look What Can Happen To Your Traffic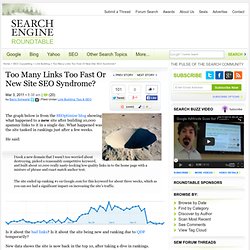 See update below Facebook will be moving forward with a controversial plan to give third-party developers and external websites the ability to access users' home addresses and cellphone numbers in the face of criticism from privacy experts, users, and even congressmen.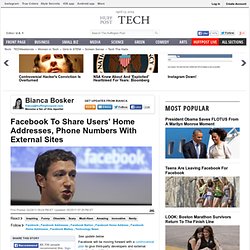 Facebook To Share Users' Home Addresses, Phone Numbers With External Sites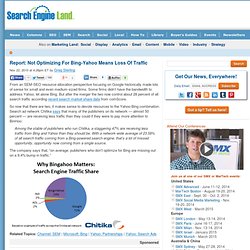 Report: Not Optimizing For Bing-Yahoo Means Loss Of Traffic
From an SEM-SEO resource-allocation perspective focusing on Google historically made lots of sense for small and even medium-sized firms.
A recent article by the New York Times related a disturbing story. By treating your customers badly, one merchant told the paper, you can generate complaints and negative reviews that translate to more links to your site; which, in turn, make it more prominent in search engines.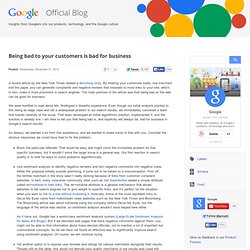 Being bad to your customers is bad for business
SEO Takeaways From J.C. Penney Google Paid Link Penalty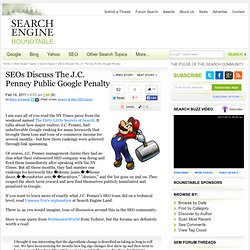 I am sure all of you read the NY Times piece from the weekend named The Dirty Little Secrets of Search. It talks about how major realtor, J.C. Penney, had unbelievable Google ranking for many keywords that brought them tons and tons of e-commerce income for several months - but how those rankings were achieved through link spamming.
It may come as no surprise that the news surrounding DecorMyEyes.com and Google's response to the publicity it got dominated the activity on our sister site, Sphinn, last week.
Hot At Sphinn: Google's Response To DecorMyEyes, LinkedIn Case Studies & More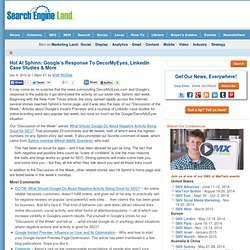 After Google Warning, Forbes Comes Oh So Close To Cleaning Up Its Paid Links
What do you do if Google warns you about a violation of its paid links policy and you can't find any such links on your web site?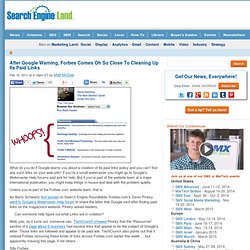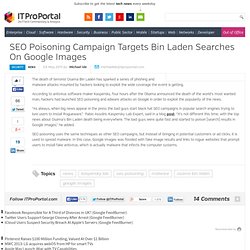 SEO Poisoning Campaign Targets Bin Laden Searches On Google Images
The death of terrorist Osama Bin Laden has sparked a series of phishing and malware attacks mounted by hackers looking to exploit the wide coverage the event is getting. According to antivirus software maker Kaspersky, four hours after the Obama announced the death of the world's most wanted man, hackers had launched SEO poisoning and adware attacks on Google in order to exploit the popularity of the news. "As always, when big news appear in the press the bad guys start black hat SEO campaigns in popular search engines trying to lure users to install Rogueware," Fabio Assolini, Kaspersky Lab Expert, said in a blog post.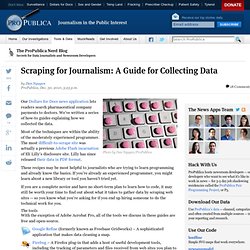 Photo by Dan Nguyen/ProPublica
10 reasons you're not an 'advanced' SEO | Internet Marketing Strategy: Conversation Marketing
I'm warning everyone: I'm blogging angry. I waited 24 hours. I'm still angry. So here it is.