Lead & Ink
Small Sketchbook #1. Doodlers Anonymous. Drawing vs Photography. Drawings on LSD. These drawings were done as part of a CIA experiment aimed at determining the effects of LSD on the human body.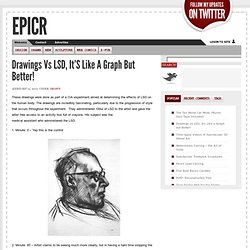 The drawings are incredibly fascinating, particularly due to the progression of style that occurs throughout the experiment. They administered 100ul of LSD to the artist and gave the artist free access to an activity box full of crayons. His subject was the medical assistant who administered the LSD. 1. Jacob Escobedo "Wolf" Baroness 'Blue' Album Cover. Intricately Patterned Animal Illustrations. It would be hard to tell from these strikingly detailed animals but artist Iain Macarthur got his start drawing cartoon characters.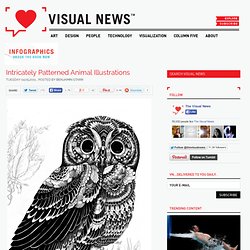 Now he carries his sketchbook on the bus, to the cafe and everywhere else as he includes more realism and in this case pattern in his illustrations. See more of his animals (and even some cartoons) at iainmacarthur.carbonmade.com. See Also INCREDIBLE 3D ILLUSTRATIONS JUMP OUT OF THE SKETCHBOOK Via: hypemuch.com Known in some circles as the most amazing man in the universe, he once saved an entire family of muskrats from a sinking, fire engulfed steamboat while recovering from two broken arms relating to a botched no-chute wingsuit landing in North Korea. Extraordinary. Cephalopod Illustrations. Colorful. Keith Wigdor presents Surrealism Now! Yosuke Goda. Heart and Mind. Music Note Art. Creepy Pencil Art. I actually thought the woman (at top) was biting an apple, well, that was until I scrolled to see the full image.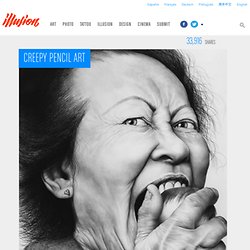 There is certainly shock value in Laurie Lipton's drawings. Her pencil illustrations take longer to create than a painting of the same size and detail. Notes about the artist (from bio): Laurie Lipton was born in New York and began drawing at the age of four. She was the first person to graduate from Carnegie-Mellon University in Pennsylvania with a Fine Arts Degree in Drawing (with honours).
---