Animals
Beautiful Bird Photography. Birds are beautiful creatures and with such a vast range of colourful species your sure to find a special photo opportunity.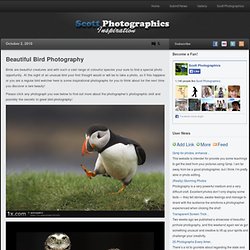 At the sight of an unusual bird your first thought would or will be to take a photo, so if this happens or you are a regular bird watcher here is some inspirational photographs for you to think about for the next time you discover a rare beauty! Please click any photograph you see below to find out more about the photographer's photographic skill and possibly the secrets to great bird photography! Amazing Fireflies Photos. Animal Photography Archives. Random photo Submit your photo Stumble Thru elephant bull, serengeti, africa.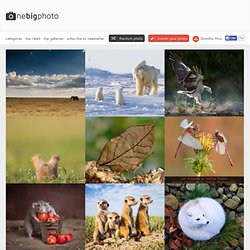 Rare and Precious Moments of Animal Life. Photos of the Day by National Geographic. Enter the Wild. 30 Stunning Examples of Animal Photography. Unique Photos Of Wildlife. Animals in Winter. Breath-taking wildlife photography. Passion is something which sometimes comes out wildly in the form of Wildlife photography.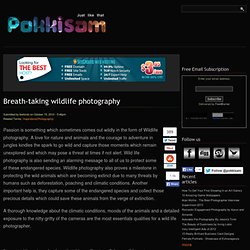 A love for nature and animals and the courage to adventure in jungles kindles the spark to go wild and capture those moments which remain unexplored and which may pose a threat at times if not alert. Wild life photography is also sending an alarming message to all of us to protect some of these endangered species. Wildlife photography also proves a milestone in protecting the wild animals which are becoming extinct due to many threats by humans such as deforestation, poaching and climatic conditions. Another important help is, they capture some of the endangered species and collect those precious details which could save these animals from the verge of extinction.
50 Incredible Photos Of Animals From 2011. National Geographic Daily Photo. Photograph by Anthony Davis, Your Shot A caiman rescued by the ARCAS organization in Guatemala gets the eye from a ring of turtles.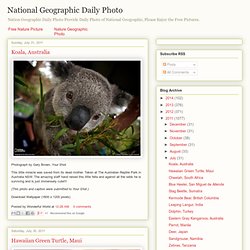 Founded in 1989, ARCAS strives to rehabilitate animals seized from poachers and illegal pet traders, eventually releasing most back into the wild. As one of hundreds of travelers fortunate enough to volunteer at ARCAS each year, I spent long, hot, but enjoyable days cleaning and feeding parrots , scarlet macaws, spider monkeys , howler monkeys , and other species under pressure in Central America. (This photo and caption were submitted to Your Shot.) See pictures of alligators and crocodiles » The Biodiversity Project & Joel Sartore. For many of Earth's creatures, time is running out.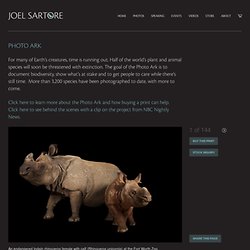 Half of the world's plant and animal species will soon be threatened with extinction. The goal of the Photo Ark is to document biodiversity, show what's at stake and to get people to care while there's still time. More than 3,200 species have been photographed to date, with more to come. Click here to learn more about the Photo Ark and how buying a print can help. Click here to see behind the scenes with a clip on the project from NBC Nightly News. Photographs of the Cabarceno wildlife park. These pictures prove that you don't need to head to Africa to witness big game at its best.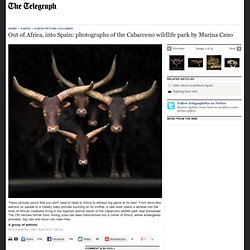 From bison-like watusis on parade to a cheeky baby primate suckling on its mother, a new book opens a window into the lives of African creatures living in the Spanish animal haven of the Cabarceno wildlife park near Santander. The 750 hectare former toxic mining zone has been transformed into a corner of Africa, where endangered primates, big cats and bison can roam free.
A group of watusis. 17 Animals Looking Stoned. Masters of disguise. By Wil Longbottom Updated: 07:29 GMT, 8 December 2011 Stare at these pictures for long enough and you might just spot some clever creatures playing the ultimate game of hide and seek.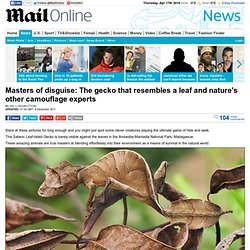 This Satanic Leaf-tailed Gecko is barely visible against the leaves in the Andasibe-Mantadia National Park, Madagascar. These amazing animals are true masters at blending effortlessly into their environment as a means of survival in the natural world. Blending in: This Satanic Leaf-tailed Gecko hides from predators in Andasibe-Mantadia National Park, Madagascar, or is it just a leaf? Nothing to see here: A Bat-faced Toad hides among dead leaves in Amacayacu National Park, Colombia. Steve Bloom Images. National Wildlife Federations Photo Contest. 50 Cute Animal Photos. "Love the animals: God has given them the rudiments of thought and joy untroubled.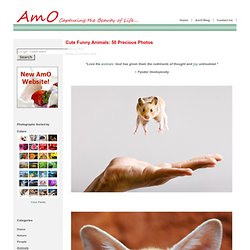 " ~ Fyodor Dostoyevsky "An animal's eyes have the power to speak a great language. " ~ Martin Buber. PHOTOS: New Species. PHOTOS: New Species. John Hyde - Wild Things Photography. 20 Amazing Animal Photography Shots. Animal photography is one of the most challenging and rewarding form of photography.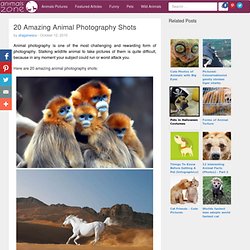 Stalking wildlife animal to take pictures of them is quite difficult, because in any moment your subject could run or worst attack you. Here are 20 amazing animal photography shots: Wildlife Photographer of 2010. By Daily Mail Reporter Updated: 07:48 GMT, 5 October 2010 A daredevil seabird swoops over a cliff in a kamikaze-like dive - taken by a photographer Andrew Parkinson who is scared of heights.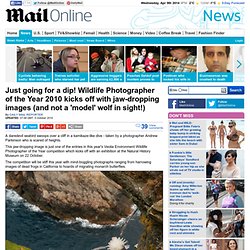 This jaw-dropping image is just one of the entries in this year's Veolia Environment Wildlife Photographer of the Year competition which kicks off with an exhibition at the Natural History Museum on 22 October. Stefano Unterthiner Photography : Animals Face to Face | COLT + RANE.
---