Enviromantal degredation australia
Millionaire takes on mining sector | Ipswich Politics | Local Politics in Ipswich | Ipswich Queensland Times
Coastal ecosystems suffer 100 fold decrease in capacity to store carbon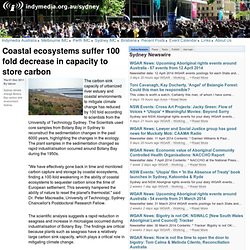 The carbon sink capacity of urbanized river estuary and coastal environments to mitigate climate change has reduced by 100 fold according to scientists from the University of Technology Sydney. The Scientists used core samples from Botany Bay in Sydney to reconstruct the sedimentation changes in the past 6000 years, highlighting the changes in the ecology. The plant samples in the sedimentation changed as rapid industrialisation occurred around Botany Bay during the 1950s. "We have effectively gone back in time and monitored carbon capture and storage by coastal ecosystems, finding a 100-fold weakening in the ability of coastal ecosystems to sequester carbon since the time of European settlement. This severely hampered the ability of nature to reset the planet's thermostat." said Dr.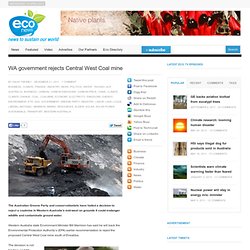 The Australian Greens Party and conservationists have hailed a decision to reject a coalmine in Western Australia's mid-west on grounds it could endanger wildlife and contaminate ground water. Western Australia state Environment Minister Bill Marmion has said he will back the Environmental Protection Authority's (EPA) earlier recommendation to reject the proposed Central West Coal mine south of Eneabba. The decision is not binding, and Mr Marmion still needs to consult with other authorities on whether the mine will go ahead or not.
WA government rejects Central West Coal mine | Eco News
Kyogle Council says no to CSG | Lismore Politics | Local Politics in Lismore
By:Tom Lawrie | December-15-2011 The river systems of Queensland's desert channel country will now be protected, says the state government. The river systems of Queensland's desert channel country will now be protected. QUEENSLAND'S CHANNEL COUNTRY will be permanently protected, the state government has announced. The protection covers the Cooper Creek, Georgina and Diamantina rivers, in the heart of the desert channel country in north-west Queensland . The Western Rivers Alliance, a coalition of regional organisations, graziers and conservation groups, hailed the decision as "momentous for western Queensland."
Queensland's desert channel rivers protected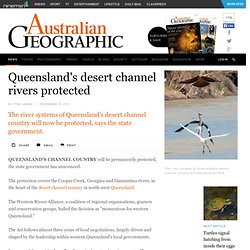 Marmion strikes down coal mine in Marg River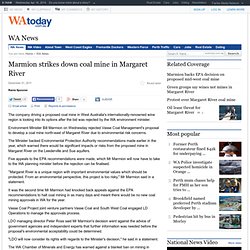 The company driving a proposed coal mine in West Australia's internationally-renowned wine region is looking into its options after the bid was rejected by the WA environment minister. Environment Minister Bill Marmion on Wednesday rejected Vasse Coal Management's proposal to develop a coal mine north-east of Margaret River due to environmental risk concerns. The Minister backed Environmental Protection Authority recommendations made earlier in the year, which warned there would be significant impacts or risks from the proposed mine in Margaret River on the Leederville and Sue aquifers. Five appeals to the EPA recommendations were made, which Mr Marmion will now have to take to the WA planning minister before the rejection can be finalised.
Much angst over wind turbines is just hot air
Standing out ... wind turbines have plenty of opponents. Photo: Rob Homer This year South Australia drew more than 20 per cent of its electricity from wind turbines, while in Victoria the Baillieu government all but gutted the industry by requiring two-kilometre set-backs from houses, ruling out new turbines in vast tracts of the state.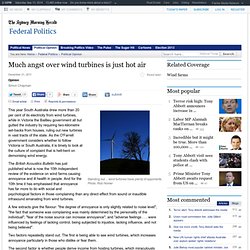 Bush Santa
Analysts believe that alternative locations for Woodside Petroleum's liquefied natural gas plans are being sought, amid trouble around the James Price Point bid. There are major doubts surrounding one of Australia's largest resource ventures, with Woodside Petroleum seeking to delay its $30b Kimberley gas project. While the company insists the controversial proposals at James Price Point in Western Australia will go ahead in the longer term, a final decision for the project north of Broome may now be delayed until mid-2013. SBS's Luke Waters has learned that some analysts believe alternative locations are already being canvassed. Follow us: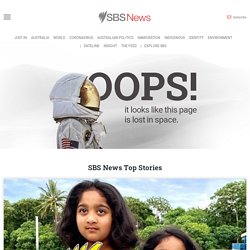 Woodside 'seeking alternatives' to James Price Point
The company said in a statement that it and its partners would seek amendments to its Browse Basin retention leases, including conditions relating to readiness for a final investment decision. Woodside wants a final investment decision, due by mid-next year to be extended into the first half of 2013. "While the joint venture has to date met the schedule imposed by the retention lease conditions, the variation would allow time to better evaluate the outcomes of front-end engineering and design work and the results of the tender processes for the developments major contracts," the company said in a statement. Earlier this month, Woodside said it didn't expect the $30 billion project would be delayed by problems with a processing hub.
Woodside Petroleum to delay Browse LNG project | Eco News
AUSTRALIAN MINING - This is the real story.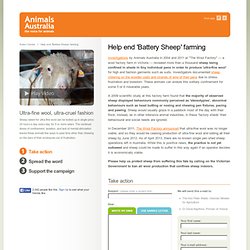 Help end 'Battery Sheep' farming | Take Action
Investigations by Animals Australia in 2004 and 2011 at "The Wool Factory" — a wool factory farm in Victoria — revealed more than a thousand sheep being confined in sheds in tiny individual pens in order to produce 'ultra-fine wool' for high end fashion garments such as suits. Investigators documented sheep chewing on the wooden slats and strands of wire of their pens due to stress, frustration and boredom. These animals can endure this solitary confinement for some 5 or 6 miserable years. A 2009 scientific study at this factory farm found that the majority of observed sheep displayed behaviours commonly perceived as 'stereotypies', abnormal behaviours such as head butting or nosing and chewing pen fixtures, pacing and pawing . Sheep would usually graze in a paddock most of the day with their flock; instead, as in other intensive animal industries, in these 'factory sheds' their behavioural and social needs are ignored.
Fix acid oceans by dumping alkali in them? Forget it - environment - 15 December 2011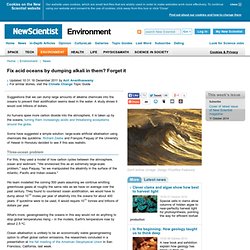 Suggestions that we can dump large amounts of alkaline chemicals into the oceans to prevent their acidification seems dead in the water. A study shows it would cost trillions of dollars. As humans spew more carbon dioxide into the atmosphere, it is taken up by the oceans, turning them increasingly acidic and threatening ecosystems around the globe .
Snowmageddon: What's behind extreme winter weather - environment - 16 December 2011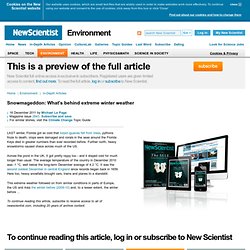 LAST winter, Florida got so cold that torpid iguanas fell from trees , pythons froze to death, crops were damaged and corals in the seas around the Florida Keys died in greater numbers than ever recorded before. Further north, heavy snowstorms caused chaos across much of the US. Across the pond in the UK, it got pretty nippy too - and it stayed cold for much longer than usual. The average temperature of the country in December 2010 was -1 °C, well below the long-term December average of 4.2 °C. It was the second coldest December in central England since records began back in 1659.
Adapting to our Warming Planet
Air Date: Week of December 16, 2011 stream / download this segment as an MP3 file Images from the Nature Conservancy Coastal Resilience Project - The Branford Harbor in Branford, CT. The image on the left is a 2020 conservative scenario without any storm surge; the image on the right is 2080 with a category 3 Hurricane (The Nature Conservancy Coastal Resilience project.)
FOT 3 Episode 5: Australia
Support Sea Shepard Saving Sea Animals
NSW Premier threatens Orica will lose license | Eco News
The New South Wales premier, Barry O'Farrell, has threatened that troubled chemical company Orica will lose its licence if it fails to comply with environmental laws following yet another leak at one of its plants. At the weekend Orica finished cleaning up a corrosive acid leak at its Port Kembla plant on the NSW south coast, the third since August. "They will only get their licence, they'll only continue to keep their licence, if they are able to abide by the state's environmental laws," Mr O'Farrell said in Sydney. The premier added that the chemical company would have to work hard to restore confidence. "Orica will have to do an enormous amount in order to restore public confidence in NSW," Mr O'Farrell said. Meanwhile, it would continue to face the toughest environmental laws in Australia, he added.
Australians could be sitting on enough coal seam gas (CSG) to meet the nation's energy needs for the next 120 years, create more than 20,000 jobs and attracting $40 billion of investment. Accessing the resource might cause earthquakes, contaminate ground water and see industrial wells sprouting up in suburban gardens. Speaking at an Australian Science Media Centre online briefing, Dr Peter Stone said the CSG industry was riven with uncertainty. According to Dr Stone, director of the Gas Industry Social and Environmental Research Alliance, Australia's proven and probable reserves of CSG would be capable of producing enough heat to boiling 150 Sydney Harbours. Dr Stone added that if "possible" reserves lurking under the surface were considered then Australia was looking at enough gas to meet current energy needs for about 120 years.
CSG debate abounds with questions, uncertainty | Eco News
Sovereighty Day - National Day of Action - Occupy Australia
Cabarita beach cleanest in NSW | Lismore Environment | Environmental News in Lismore
The Dark Side of the Turkey Industry
PETA Prime | peta2 | PETA Kids | Report Cruelty to Animals Join Sign in Home Features
Since the Aboriginal Tent Embassy was first erected in front of what is now Old Parliament House in Canberra on 26 January 1972 it has been a source of inspiration and controversy. As the Tent Embassy approaches its 40th anniversary, key activists of 1972 have come together for a symposium to examine its historical significance. The Aboriginal Tent Embassy has been the catalyst for other protest 'embassies' around Australia, most recently the Tent Embassy at the site of the proposed Kimberley gas hub marking 100 days of a community blockade.
Fire in the belly - Awaye! - ABC Radio National
EPA finally acknowledges fracking dangers
Deal Reached in Durban But Scientists Say it Won't Avert Catastrophic Climate Change
Air Too Dangerous to Breathe: How Gas Drilling Can Turn Rural Communities Into Industrial Wastelands [With Photos]
KIngs Forest Rally
Animal Dreaming: The Symbolic ... - Scott Alexander King
Australian Exceptionalism | Pollytics
Coral sea paradise faces ruin from mining
"No Coal for Christmas" - Santa joins Quit Coal campaigners in Bourke Street Mall, Melbourne...
Australian Geographic – the best images and stories about Australia - Journal, Society, Outdoor magazine, Education - geography, photography, wildlife, adventure and science
Broome Communtiy NO GAS Rally Dec 2011.wmv
Howard launches 'anti-warmist manual' for kids
Japan funding whale hunt with tsunami rebuilding money
Aboriginal Tent Embassy – Canberra, January 26 2012 – "We will not leave till justice, at long last, is done"
Metgasco hits back at council bans | Lismore News | Local News in Lismore
Fracking fracas looms - National Rural News - Agribusiness and General - Political
Your Likes | StumbleUpon.com