Robertlong
Robert Long
robertbruce9999@gmail.com
Facebook
web search
Hotmail - jobbie666
WebTrader
WebTrader
Log In
Futures.Quote.com | Futures, Forex & Commodities Quotes, Charts, News & Analysis
Futures.Quote.com | Futures, Forex & Commodities Quotes, Charts, News & Analysis
Facebook
unnamed pearl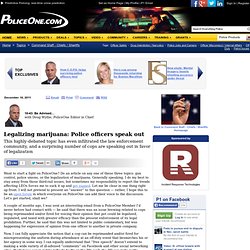 Legalizing marijuana: Police officers speak out
Want to start a fight on PoliceOne? Do an article on any one of these three topics: gun control, police unions, or the legalization of marijuana. Generally speaking, I do my best to stay away from those third-rail issues, but sometimes my responsibility to report the trends affecting LEOs forces me to suck it up and get zapped. Let me be clear in one thing right up front. I will not pretend to present an "answer" to this question — rather, I hope this to be an open forum in which everyone on PoliceOne can add their voice to the discussion.
Sativex was initially brought to market as a treatment for the spasticity associated with Multiple Sclerosis. But as more evidence becomes available its becoming apparent Rick Simpson was onto something with his cancer treatment. And with sales for the treatment of cancer expected to double the £150 million pounds it made as a MS treatment when licensing is completed, that would be a fair assumption.
Cannabis News - Cannabis Cancer Drug Trials Underway in UK
Could Medical Marijuana Reduce Patients' Need for Opioid Painkillers? – TIME Healthland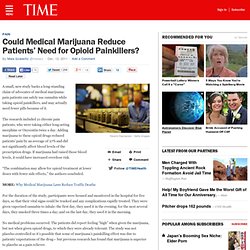 A small, new study backs a long-standing claim of advocates of medical marijuana: pain patients can safely use cannabis while taking opioid painkillers, and may actually need fewer pills because of it. The research included 21 chronic pain patients, who were taking either long-acting morphine or Oxycontin twice a day. Adding marijuana to these opioid drugs reduced patients' pain by an average of 27% and did not significantly affect blood levels of the prescription drugs. If marijuana had raised those blood levels, it could have increased overdose risk. "The combination may allow for opioid treatment at lower doses with fewer side effects," the authors concluded. MORE: Why Medical Marijuana Laws Reduce Traffic Deaths
Everyone feels nervous at some point in their lives. Waking in the middle of the night to a ringing phone or hearing news of a looming tempest can make someone very nervous. Anxiety Disorder, however, is a more persistent problem than a passing bad feeling.
THC Support | Medical Marijuana - Best Medicine for Anxiety and Panic Attacks Treatment
Nuclear explosion captured one ten-millionth of a second after detonation is a warped, 100ft skull
By Rob Waugh Updated: 08:32 GMT, 14 December 2011 During nuclear weapons testing in the early Fifties, one of the challenges facing the U.S. government was to design a camera capable of capturing a nuclear device mid-explosion. The result, unearthed this week by blog Damn Interesting, was the 'Rapatronic' camera - an ultra-high-speed camera that sat seven miles from the blast site and captured images at high speed - including this image of an 100-ft ball of fire, one ten-millionth of a second after detonation. The first millisecond of a nuclear explosion: At this point, the blast is just 20 metres wide. It was captured during a nuclear test in the Fifties 'At that instant, a typical fireball had already reached about 100 feet in diameter, with temperatures three times hotter than the surface of the sun'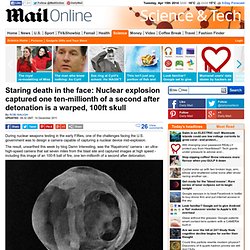 Mom's hug revives baby that was pronounced dead - Parenting & Family
Obama: Give us our drone back
Obama: Give us our drone back US President Barack Obama Following days of silence on the American spy drone captured and unveiled by Iranian armed forces, US President Barack Obama says Washington has asked Tehran to return the US reconnaissance drone. "We've asked for it back. We'll see how the Iranians respond," Obama said in a news conference with Iraqi Prime Minister Nouri al-Maliki on Monday. The plea comes as the US and CIA refused to adopt an official position after Iran aired footage of the captured unmanned aerial vehicle on December 8.
Chomsky refutes "libertarian" "anarcho"- capitalism
"No Coal for Christmas" - Santa joins Quit Coal campaigners in Bourke Street Mall, Melbourne...
(2) The Guardian on Facebook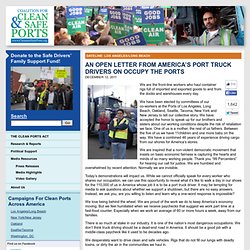 We are the front-line workers who haul container rigs full of imported and exported goods to and from the docks and warehouses every day. We have been elected by committees of our co-workers at the Ports of Los Angeles, Long Beach, Oakland, Seattle, Tacoma, New York and New Jersey to tell our collective story. We have accepted the honor to speak up for our brothers and sisters about our working conditions despite the risk of retaliation we face. One of us is a mother, the rest of us fathers.
An Open Letter from America's Port Truck Drivers on Occupy the Ports | Coalition for Clean and Safe Ports
Japanese to mass produce cars that run off water!
The Furniture Assassin: Enter dragon, enter showroom.
It's the end of year and holiday cheer is all around! 2011 has been a big year for renewable energy campaigners and as it draws to an end, there's still time for one final action to show our leaders we want them to keep working for renewable energy. Will you send your local pollie a Christmas message to say thanks (or less thanks!)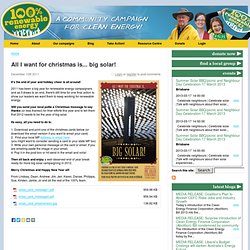 All I want for christmas is... big solar! | 100% Renewable Campaign
Across the Universe
Anonymous - Message to the American People
Posted by Mochizuki on December 12th, 2011 · 50 Comments The wall of the south side is falling apart at reactor 4. Reactor 4 is in the most serious situation. It is assumed that if another aftershock hits it to drop the spent fuel pool hung in the building, the entire area in eastern Japan would be too contaminated to be inhabitable. On 12/2/2011 (JST), something like "fire" was observed beside reactor 4. Since then, a strong light has been set toward Fukuichi camera as if it was hiding something by white out.
Reactor 4 is falling apart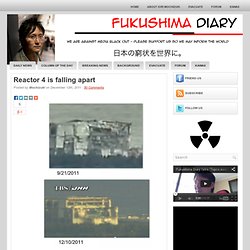 Photograph Of Meteor From An Airplane Window
Stop Vulture Funds Preying on Developing Nations from Jersey
Office of the Governor Rick Perry - Executive Orders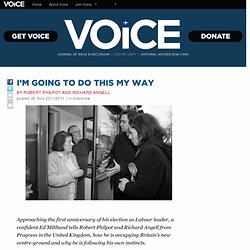 Labor Voice | I'm going to do this my way
Approaching the first anniversary of his election as Labour leader, a confident Ed Miliband tells Robert Philpot and Richard Angell from Progress in the United Kingdom, how he is occupying Britain's new centre-ground and why he is following his own instincts. Ed Miliband does not like comparisons. He will not, for instance, be drawn on a briefing given to the Spectator earlier this summer in which readers were told that the Labour leader had 'an unlikely new role model' – Margaret Thatcher.
Paris Pick-Pockets: Be Warned « Thoughtlines with Bob Carr
Here follows an e-mail from a 70-year-old American friend about pick-pockets and effective police work on the Paris Metro: Although my wife, Pat, and I have visited Paris dozens of times, we decided to re-create our initial experience of just over half a century ago in fall 1958 after disembarking the Queen Mary at Le Havre and taking the boat train to Paris. At that time, I was on the way to postgraduate studies in Germany, she was seven months expectant with the first of our seven children. Then, we stayed in an inexpensive hotel; this time, after surveying the price of hotel rooms, we rented a small, well-equipped and comfortable apartment at Villa Dancourt in Montmartre.
Facebook
Welcome to YouTube! The location filter shows you popular videos from the selected country or region on lists like Most Viewed and in search results.To change your location filter, please use the links in the footer at the bottom of the page. Click "OK" to accept this setting, or click "Cancel" to set your location filter to "Worldwide".
This Video Deleted Three Times From Facebook & Youtube
By Marie Diamond and Amanda Peterson Beadle on December 9, 2011 at 11:30 am "Pennsylvania Liquor Control Board Pulls Ad That Blames Women For Getting Date-Raped" The Pennsylvania Liquor Control Board provoked an enormous backlash by airing ads that tell women who are date-raped that they have only themselves and their friends to blame. The ad was part of a $600,000 campaign aimed at curbing excessive drinking.
Pennsylvania Liquor Control Board Pulls Ad That Blames Women For Getting Date-Raped
Ex-minister faces forgery charge over $12m property buy: ICAC
Rise of the 99 Percent Part 1
No Constitutional Preamble; No More Power to Judges « Thoughtlines with Bob Carr
Labor Voice | Reform or die: Labor & Medicare
The Fed Grants $7.77 Trillion in Secret Bank Loan - Now Do You Understand Occupy Wall Street?
Neocons don't believe their own anti-Iran propaganda | Pakistan | News | Newspaper | Daily | English | Online
Sea Shepherd lawsuit 'could end whaling'
The World Today - North Queensland coal terminal to be 'supersized' 01/12/2011
First Navajo woman to run for U.S. House of Representatives.
Australian Exceptionalism | Pollytics
Gmail - The Winter of Our Occupation ...a proposal from Michael Moore - robertbruce9999
Robert Long