Design
December 18, 2013: The Nmap Project is pleased to release our new and improved Icons of the Web project!
72+ Free Puzzle Social Network Icons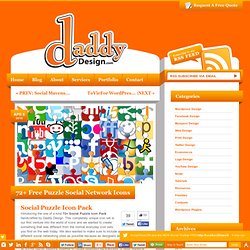 Introducing the one of a kind 72+ Social Puzzle Icon Pack handcrafted by Daddy Design. This completely unique icon set is our first venture into the world of icons and we wanted to create something that was different from the normal everyday icon sets you find on the web today. We also wanted to make sure to include as many different social networking sites as possible because as designers we got tired of running into icon sets that were too limited.