War/Combat Art
Propaganda Posters. Each of the nations which participated in World War One from 1914-18 used propaganda posters not only as a means of justifying involvement to their own populace, but also as a means of procuring men, money and resources to sustain the military campaign.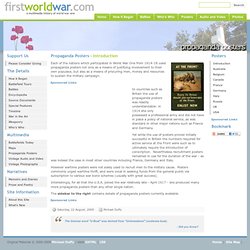 In countries such as Britain the use of propaganda posters was readily understandable: in 1914 she only possessed a professional army and did not have in place a policy of national service, as was standard in other major nations such as France and Germany. Yet while the use of posters proved initially successful in Britain the numbers required for active service at the Front were such as to ultimately require the introduction of conscription. Nevertheless recruitment posters remained in use for the duration of the war - as was indeed the case in most other countries including France, Germany and Italy.
However wartime posters were not solely used to recruit men to the military cause. Artists Look at the War on Terrorism. Australian official war artists [Australian War Memorial] The Australian War Memorial operates the Official War Art Scheme, the longest running and largest commissioning program of art in Australia.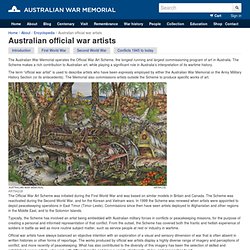 The Scheme makes a rich contribution to Australian art, while playing a significant role in Australia's interpretation of its wartime history. The term "official war artist" is used to describe artists who have been expressly employed by either the Australian War Memorial or the Army Military History Section (or its antecedents). The Memorial also commissions artists outside the Scheme to produce specific works of art.
The Official War Art Scheme was initiated during the First World War and was based on similar models in Britain and Canada. Canadian War Artists - Exhibitions - Library and Archives Canada. About Defence | What we do | Defence Estat. MOD home defence for... about defence defence news A - Z index.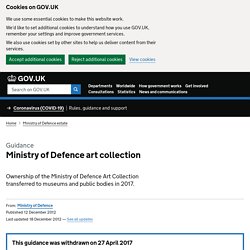 The Artists. ARNEST, Bernard: B.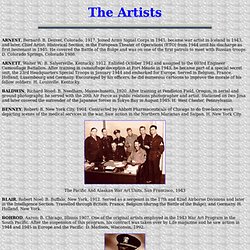 Denver, Colorado, 1917. Joined Army Signal Corps in 1941; became war artist in Iceland in 1943, and later, Chief Artist, Historical Section, in the European Theater of Operations (ETO) from 1944 until his discharge as first lieutenant in 1945. Research and learning | Exhibitions | Th. Fire and Ice. Mozilla Firefox. The term war artist means an artist that has been commissioned to record military activities by a government or quasi-government organisation.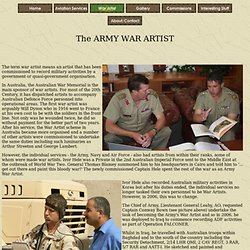 In Australia, the Australian War Memorial is the main sponsor of war artists. For most of the 20th Century, it has dispatched artists to accompany Australian Defence Force personnel into operational areas. The first war artist was arguably Will Dyson who in 1916 went to France at his own cost to be with the soldiers in the front line. Not only was he wounded twice, he did so without payment for the better part of two years. After his service, the War Artist scheme in Australia became more organised and a number of other artists were commissioned to undertake the same duties including such luminaries as Arthur Streeton and George Lambert. Henry Casselli Biography. A currently touring retrospective of the art of Henry Casselli is an especially significant milestone in his career.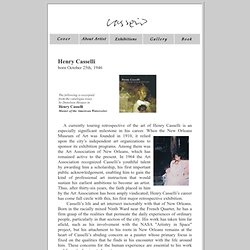 When the New Orleans Museum of Art was founded in 1910, it relied upon the city's independent art organizations to sponsor its exhibition programs. Among them was the Art Association of New Orleans, which has remained active to the present. JS Online: Combat art tells a story that words, photos cannot. Posted: April 12, 2003 Michael Fay, a Marine staff sergeant from Virginia, is preparing to leave for Iraq.
Like his colleagues, he'll cart around his gear: a gas mask, a gun and rounds of ammunition. He'll also be packing paint. Fay is a combat artist for the Marines, one of two in Iraq, and part of a tradition dating back to the American Revolution, charged with going into war to capture its "essence. " "Art articulates like nothing else," Fay said in a phone interview. US Navy Combat Art. Navy Combat Art is documentary.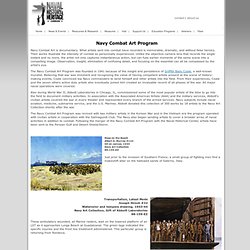 What artists sent into combat have recorded is memorable, dramatic, and without false heroics. Their works illustrate the intensity of combat as personnally experienced. Unlike the objective camera lens that records the single instant and no more, the artist not only captures instantaneous action, but can fuse earlier moments of the same scene into a compelling image. Observation, insight, elimination of confusing detail, and focusing on the essential can all be compassed by the artist's eye. The Navy Combat Art Program was founded in 1941 because of the insight and persistence of Griffith Baily Coale, a well-known muralist. R T Gray combat artist in Brown county Indiana. A Combat Artist Illustrates Life in Iraq. They Drew Fire. During World War II more than 100 U.S. servicemen and civilians served as 'combat artists'.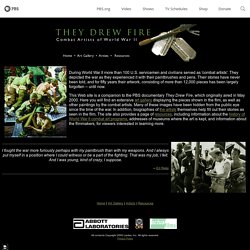 They depicted the war as they experienced it with their paintbrushes and pens. Their stories have never been told, and for fifty years their artwork, consisting of more than 12,000 pieces has been largely forgotten -- until now. This Web site is a companion to the PBS documentary They Drew Fire, which originally aired in May 2000. Here you will find an extensive art gallery displaying the pieces shown in the film, as well as other paintings by the combat artists.
Magazine News - artnet.com - Features Index. Home | War Art Digitisation. Combat artists paint Reserve battalion's portrait. Mozilla Firefox. See SDSU Grad Jim Pollock sketches War In Vietnam| Contents |War Art Samples | Official US Army Documents | News Articles | James Pollock Non War Art In June of 1966 the U.S.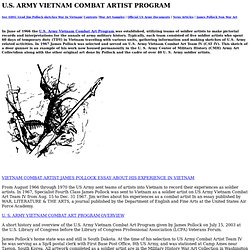 Army Vietnam Combat Art Program was established, utilizing teams of soldier artists to make pictorial records and interpretations for the annals of army military history. USMC Combat Art by Mike Leahy. War artist. A war artist depicts some aspect of war through art. The art might be a pictorial record, or it might commemorate how war shapes lives. War artists explore the visual and sensory dimensions of war, often absent in written histories or other accounts of warfare.[2] Definition and context[edit] A war artist creates a visual account of the impact of war by showing men and women are waiting, preparing, fighting, suffering, celebrating,[3] or destroyed, as in Vasily Vereshchagin's 1871 painting, The Apotheosis of War. Imperial War Museum Collections Online Database. You can explore a catalogue of over 600,000 items in our collections here - pretty much everything in our databases in fact. There are items from aircraft down to shoes, photographs and art, weapons and toys, films, interviews and music, posters and letters, books from the library and records in the museum's own archives.
Almost 90,000 of them have digitised images, sound or video that you can see and hear right here. How to search Use the search box above to get started and then narrow down your results by using the filters that will appear on the left, which change according to the results of your search. World War II Navy Art: A Vision of History. Return to Naval Historical Center home page. Return to Art Collection Page World War II Navy Art: A Vision of History Seeing that historic events were unfolding in the rising tension of the "undeclared war" of the North Atlantic, New York muralist Griffith Baily Coale convinced Admiral C.W. US Army <I>Official </I>War Artists. Trench Art: An Illustrated History, by Jane Kimball.
---