Role Play
Mythic Scribes - Fantasy Writing Community
Racial Diversity in Speculative Fiction This article is by Anne Leonard. A current – and recurring – topic of conversation in the SFF writer/ blogger/ reader community is the lack of people of color (POC) writing and publishing in the field. (This is also an issue in the literary community in general; here's a recent post on the subject that appeared on the Book Riot website.) People of color are underrepresented in SFF for a lot of reasons, but one which I see frequently mentioned is that books without diversity make POC feel excluded.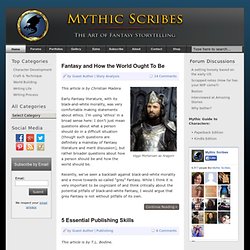 Roleplayer Guild - Forum Roleplaying Games
Categories:Arts & FictionInternet PlayLive ActionSystems News & Access.People & PlacesResourcesSoftware Special Searches:What's NewGold WyrmAmber WyrmGamer's ChoiceOfficial RPG Sites
Internet_Play/Virtual_Table_Tops at Effie's Great Wyrm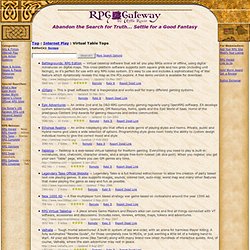 Aelyria
undefined Arky sez IE users can ctrl-a to select all text, ctrl-c to copy it to clipboard, open word or wordpad, and hit ctrl-v to paste it, then save to disk. Uncle Figgy's Guide to Roleplaying for Non-Roleplayers: A Manual for Parents Friends and Gamers v 1.0 Copyright ©1999 by Dan Cope. All text contained herein may be freely copied and distributed provided that this notice of copyright is included. Introduction
Uncle Figgy's Guide to Roleplaying for Non Role Players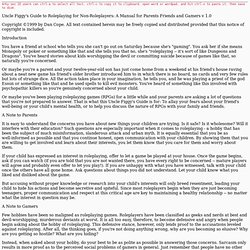 The Writer's Mary Sue Test
Introduction The Pathfinder Roleplaying Game is released under the Open Game License, meaning the core rules that drive the Pathfinder RPG system are available to anyone to use for free under the terms of the OGL. This compendium of rules, charts, and tables contains all of the open rules in the system, and is provided for the use of the community of gamers and publishers working with the system.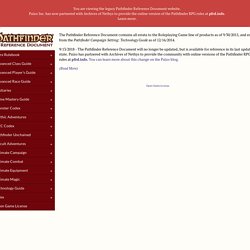 The Complete Beginner's Guide to Roleplaying
Alignment Alignment is usually used in Dungeons and Dragons and other related games, so it isn't of much relevance to Gods and Heroes. Your character's alignment is a general stereotype of their personality. The usual alignments are lawful good, neutral good, chaotic good, lawful neutral, true neutral, chaotic neutral, lawful evil, neutral evil, and chaotic evil. Wikipedia has a good (as always) description of each. Roleplaying "Good"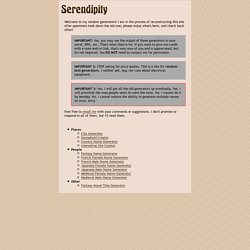 Welcome to my random generators! I am in the process of reconstructing this site after spammers took down the old one; please enjoy what's here, and check back often! IMPORTANT: Yes, you may use the output of these generators in your novel, RPG, etc. That's what they're for. If you want to give me credit with a note and/or link, that's very nice of you and is appreciated, but it's not required.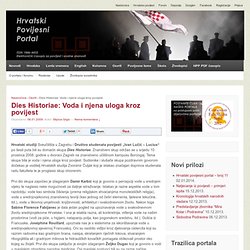 Dies Historiae: Voda i njena uloga kroz povijest | Hrvatski povijesni portal (v5)
Hrvatski studiji Sveučilišta u Zagrebu i Društvo studenata povijesti "Ivan Lučić – Lucius" po šesti puta bili su domaćin skupa Dies Historiae. Znanstveni skup održao se u srijedu 10. prosinca 2008. godine u dvorani Zagreb na znanstveno učilišnom kampusu Borongaj. Tema skupa bila je voda i njena uloga kroz povijest.
BH portal za istraživanje porijekla porodica
Rodoslov je obiteljsko / porodično stablo koje pokazuje povijest obiteljske loze, sastavljeno od imena i prezimena osoba te datuma rođenja, vjenčanja i smrti. Rodoslov, rodoslovlje se s naučnog aspekta naziva i genealogija. Ta riječ je kovanica nastala od grčke riječi GENEA, što znači porodica, obitelj, familija i LOGOS, u prevodu znanje. Tako genealogija ima zapravo značenje nauke koja proučava porodičnu/obiteljsku povijest i porijeklo. Naravno, genealoška ili rodoslovna istraživanja su dosta složena i često dugotrajan postupak koji se ne ograničava samo na saznanvanje i povezivanje imena ljudi i datuma njihovog rođenja, vjenčanja i smrti u porodično stablo, nego obuhvata znatno šire informacije.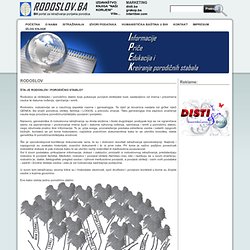 Pribislav Vukotić
Pribislav Vukotić (1440-1475) je knez Foče, trgovac, komornik i diplomata hercega Stjepana Vukčića Kosače i njegovih sinova. Nosio je titulu počtenog viteza koju je imao mali broj Bosanaca. Pribislav Vukotić potječe iz Foče.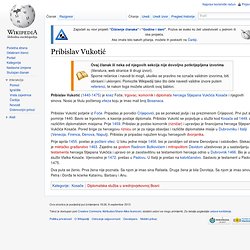 Kategorija:Društvo srednjovjekovne Bosne
Bosna, Kratka Istorija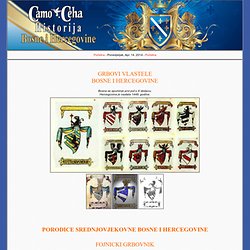 ::: GRBOVI VLASTELE BOSNE I HERCEGOVINE - FOJNICKI GRBOVNIK:::
KRATKI DODACI TEKSTOVA OPISA PORODICA Vukotic. Dokazan je znacaj porodica Hebiba i Vukotica iz Cernice od kojih i danasnji potomci mogu biti ponosni na svoje pretke. Porodica Vukotica iz Cernice ima kontinuitet iz srednjeg vijeka Bosne. Ona je imala svoj ugled i znacaj, cak u dalekom 14. stoljecu (1340.g.), kada je uvrstena medju 126 porodica srednjovjekovne Bosne, sto je vidljivo na slici - grb Vukotica utemeljen na Fojnickom grbovniku 1340. godine. Hranic. Porodica vojvode Sandalja Hranica, iz reda Kosaca na Drini kod Gorazda, otimala je postepeno zemlje Pavlovica u Humu, a narocito poslije smrti vojvode Radoslava Pavlovica, 1441. godine.
BAROKNÍ ZÁMEK DĚTENICE