Metal
Necrophagist
Heavy Metal Portal - Metal-Arten - Metalrichtungen - Metalstile
Metal (muzika)
Metal je vrsta rock muzike koji se pojavio kao definisani tip muzike 70-ih godina prošlog vijeka i ima korijene u hard rock grupama koje su, između 1967. i 1974. godine, sastavili rock i blues stvorivši na taj način hibridnu vrstu muzike sa teškim i gitarom-i-bubnjevima orijentisanim zvukom, koji je karakterističan po upotrebi visoko pojačane distorzije (izobličenja). Metal je dobio na popularnosti u periodu između 70-ih i 80ih godina prošlog vijeka, a ujedno se i tada većina današnjih podžanrova razvila. Metal ima svjetski poznate klubove obožavaoca kao što su metalheads, metal maniacs, headbangers i mettalers (izvorno sa engleskog). Neki od žanrova su: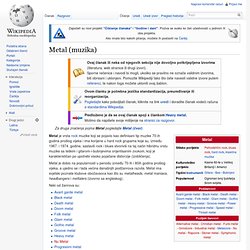 Top 8 bass drop breakdowns
Top Badass Breakdowns and Intros
Bands
definitive-metal-family-tree.png (1248×1464)
The Longest Metal Songs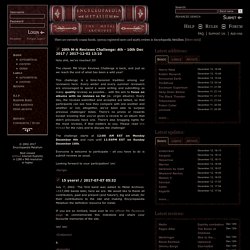 Link Bloodstock Festival stream / 2013-08-09 05:53 Hey, we're gonna try something new. As many of you may know, this weekend is the Bloodstock Festival in the UK. I learned today that the fest will actually offer a live stream of the shows on the main stage, and it's possible for third-party websites to embed the video. This seems like it could be of interest to a lot of MA visitors so... here you go. Also, here is the Bloodstock forum thread for those who want to comment.