Metal
Necrophagist
Heavy Metal Portal - Metal-Arten - Metalrichtungen - Metalstile
Sinn und Inhalt von Metalstile ist es, dem interessierten Besucher die manigfaltigen und anspruchs-vollen Stile des Heavy Metal näher zu bringen.Obwohl die Musikrichtung Metal sehr komplex ist, wird hier dennoch versucht die Erklärung der einzelnen Stile eher kurz zu halten, um lediglich einen schnellen und groben Überblick, erlangen zu können. Differenzierung von zu allgemein gehaltenen Begrifflichkeiten Begrifflichkeiten wie beispielsweise Melodic Metal, Speed Metal, Fun Metal und True Metal werden aufgeführt und erklärt warum diese Begriffe einfach zu allgemein und zu ungenau sind, um als fundierte und direkt beschreibende Metalarten gelten zu können. Kontroversen innerhalb der Metalszene Es gibt nicht Wenige die meinen das zur groben Beschreibung die Hauptstile Heavy Metal, Black Metal, Doom Metal, Death Metal, Power Metal ausreichen würden.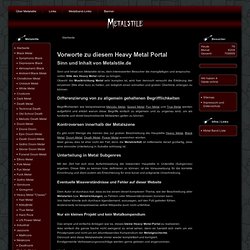 Metal (muzika)
Metal je vrsta rock muzike koji se pojavio kao definisani tip muzike 70-ih godina prošlog vijeka i ima korijene u hard rock grupama koje su, između 1967. i 1974. godine, sastavili rock i blues stvorivši na taj način hibridnu vrstu muzike sa teškim i gitarom-i-bubnjevima orijentisanim zvukom, koji je karakterističan po upotrebi visoko pojačane distorzije (izobličenja). Metal je dobio na popularnosti u periodu između 70-ih i 80ih godina prošlog vijeka, a ujedno se i tada većina današnjih podžanrova razvila. Metal ima svjetski poznate klubove obožavaoca kao što su metalheads, metal maniacs, headbangers i mettalers (izvorno sa engleskog). Neki od žanrova su: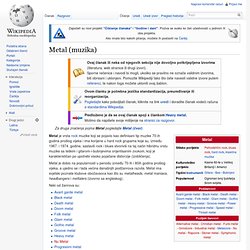 Top 8 bass drop breakdowns
Top Badass Breakdowns and Intros
Bands
definitive-metal-family-tree.png (1248×1464)
The Longest Metal Songs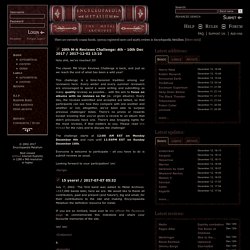 Link Maintenance / 2014-03-28 15:37 The site will be going down tonight for some maintenance at around 11 pm EDT (3 am UTC). We will be upgrading the database server software to a new version. Hopefully this won't take too long, or break anything, but it's hard to say with these things. EDIT: Alright, all done, and things seem to be in order. Let me know if you see anything that looks broken.