Manga
Saint Young Men 1 v01 - Read Saint Young Men 1 Online. Rank: 839th, it has 71,514 monthly views.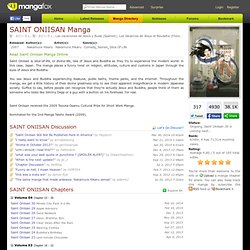 Rating: Metalocalypse. Metalocalypse is an American animated television series, created by Brendon Small and Tommy Blacha, which premiered on August 6, 2006 on Adult Swim.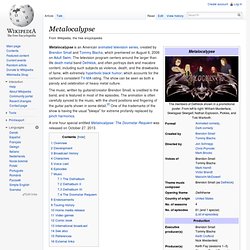 The television program centers around the larger than life death metal band Dethklok, and often portrays dark and macabre content, including such subjects as violence, death, and the drawbacks of fame, with extremely hyperbolic black humor; which accounts for the cartoon's consistent TV-MA rating. The show can be seen as both a parody and celebration of heavy metal culture. The music, written by guitarist/creator Brendon Small, is credited to the band, and is featured in most of the episodes. The Animatrix (2003. Trivia At the end of Kid's Story, Kid's grave reads: "Michael Karl Popper, Beloved Son, Rest in Peace".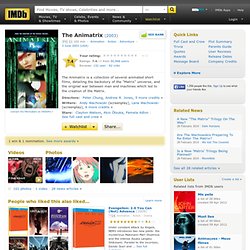 (Karl Popper is a famous 20th Century philosopher) See more » Ghost in the Shell. Title[edit] Shirow has stated that he had always wanted the title of his manga to be "GHOST IN THE SHELL", even in Japan, but his original publishers preferred Kōkaku Kidōtai (攻殻機動隊?).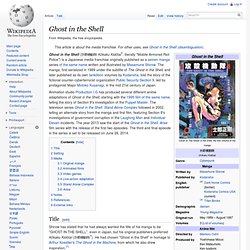 He had chosen "Ghost in the Shell" in homage to Arthur Koestler's The Ghost in the Machine, from which he also drew inspiration.[1] Watch Juuousei Episodes Online. Series Information Title: Juuousei.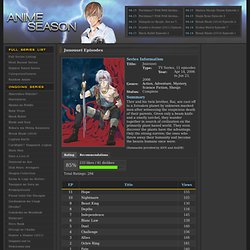 Watch Death Note Episodes Online. Watch Kurozuka Episodes Online. Series Information Title: Kurozuka Type: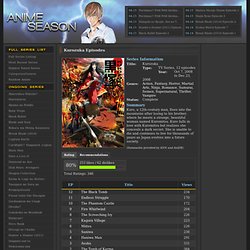 Watch Mugen No Juunin Episodes Online. Series Information Title: Mugen no Juunin Type: TV Series, 13 episodes.
Watch Rurouni Kenshin Episodes Online. Beelzebub (manga) The Pierrot+ studio produced an OVA of Beelzebub which was broadcast during the Jump Super Anime Tour in October 2010.[3][4] This was followed by an anime TV series which aired in Japan between January 9, 2011 and March 25, 2012.[5] The story follows Tatsumi Oga, a first year student at a school for juvenile delinquents called Ishiyama High.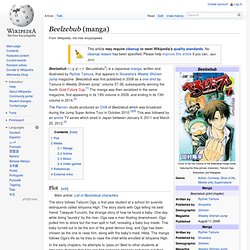 The story starts with Oga telling his best friend, Takayuki Furuichi, the strange story of how he found a baby. One day while doing 'laundry' by the river, Oga saw a man floating downstream. Elfen Lied. Elfen Lied (エルフェンリート, Erufen Rīto?)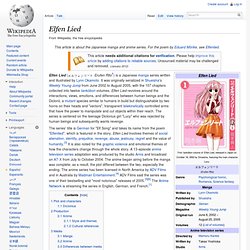 Is a Japanese manga series written and illustrated by Lynn Okamoto. It was originally serialized in Shueisha's Weekly Young Jump from June 2002 to August 2005, with the 107 chapters collected into twelve tankōbon volumes. Elfen Lied revolves around the interactions, views, emotions, and differences between human beings and the Diclonii, a mutant species similar to humans in build but distinguishable by two horns on their heads and "vectors", transparent telekinetically controlled arms that have the power to manipulate and cut objects within their reach. The series is centered on the teenage Diclonius girl "Lucy" who was rejected by human beings and subsequently wants revenge. [WU] Elfen Lied 720p - All Episodes. Soul Eater (manga) Death Weapon Meister Academy.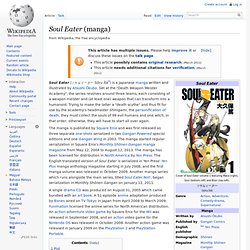 Shortly after the start of Soul Eater, Maka and Soul Eater face off against the witch Medusa, who forces her child Crona, meister of the demon sword Ragnarok, to collect non-evil human souls and begin the journey to transform into a kishin (鬼神?) , an evil god. Medusa and her cohorts attack DWMA with the intention of reviving Asura, the first kishin who nearly plunged the entire world into madness before being sealed beneath DWMA by Shinigami. Despite the combined efforts of Maka, Black Star, and Death the Kid, Medusa's group successfully revives Asura, who leaves to spread chaos around the world after a brief battle with Shinigami. [RS|FF|MU] Soul Eater [Complete] Detroit Metal City. Plot[edit] Soichi Negishi is a shy young musician who dreams of a career in pop. Dreams don't pay the bills, so he's ended up as the lead singer and guitarist of a death metal band, "Detroit Metal City. " In stage costume he is Johannes Krauser II, rumored to be a terrorist demon from hell, to have killed and raped his parents, to wield his giant death penis with abandon, and other menacing tales being said about him after each public performance.
The songs of DMC often encourage the audience to engage in immoral and illegal behavior, such as rape or murder, or tell of Krauser's exploits with similar actions, in a parody of the genre. Negishi despises DMC and all that it stands for, but he can't walk away as he has a talent to play the psychotic frontman of the band. [FS|MU|MF] Detroit Metal City • ~45MB • DVDRip • Completed. Claymore (manga) Claymore (クレイモア, Kureimoa?) Is a dark fantasy manga series written and illustrated by Norihiro Yagi. The series initially premiered in the now defunct Monthly Shōnen Jump in the May 2001 issue. When the magazine was canceled in June 2007, the series was temporarily moved to Weekly Shōnen Jump where it was still published monthly.
When Jump Square was introduced in November 2007, the series was moved to it.
---