GuiltFreeTravel
The 15 best carbon calculators. A basic carbon calculator offers a ballpark figure of a person's, business's or household's "carbon footprint" — that is, all the greenhouse gases emitted either directly or on one's behalf.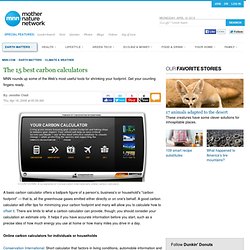 A good carbon calculator will offer tips for minimizing your carbon footprint and many will allow you to calculate how to offset it. There are limits to what a carbon calculator can provide, though; you should consider your calculation an estimate only. It helps if you have accurate information before you start, such as a precise idea of how much energy you use at home or how many miles you drive in a day. Online carbon calculators for individuals or households Conservation International: Short calculator that factors in living conditions, automobile information and air travel. Ecotourism, Responsible Travel and Sustainable Tourism informati. Offset your flights carbon emissions - UNIGLOBE Vision Travel - Car Trip Carbon Credits | The Vacation Gals. July 13, 2009 | Author: Jennifer Miner Travel deals are bringing the prices of vacations down to levels not seen since the 1980′s, multigenerational and green travel are burgeoning trends, and the economic downturn indicates that the classic car trip is sure to be a more popular method of vacation travel than ever before.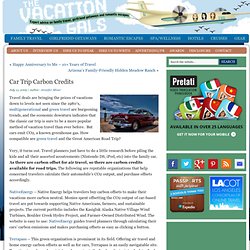 But cars emit CO2, a known greenhouse gas. How compatible are green travel and the Great American Road Trip? Very, it turns out. Travel planners just have to do a little research before piling the kids and all their assorted acoutrements (Nintendo DS, iPod, etc) into the family car. Carbonfund.org | Carbon offsets for your carbon footprint & figh. TerraPass | Fight global warming, reduce your carbon footprint. Green Scene. Resell carbon offsets.
---