FFG
Chalong - Simple and Clean for Business Portfolio Preview - ThemeForest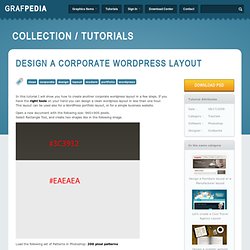 In this tutorial I will show you how to create another corporate wordpress layout in a few steps. If you have the right tools on your hand you can design a clean wordpress layout in less than one hour. This layout can be used also for a WordPress portfolio layout, or for a simple business website. Open a new document with the following size: 960×900 pixels. Select Rectangle Tool, and create two shapes like in the following image. Load the following set of Patterns in Photoshop: 200 pixel patterns
Design a corporate wordpress layout | Grafpedia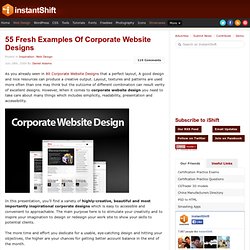 55 Fresh Examples Of Corporate Website Designs
As you already seen in 80 Corporate Website Designs that a perfect layout, A good design and nice resources can produce a creative output. Layout, textures and patterns are used more often than one may think but the outcome of different combination can result verity of excellent designs. However, When it comes to corporate website design you need to take care about many things which includes simplicity, readability, presentation and accessibility.
In today's tutorial I would like to show you how to design a clean and solid fictional business layout. Following the steps in this tutorial you will learn how to use guides, how to create a detailed background using patterns and filters, how to create transparent buttons, 3D elements and how to stylize web typography. Hope you will find this tutorial useful and techniques shown in this tutorial will help you in future projects.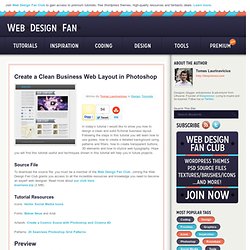 Create a Clean Business Web Layout in Photoshop
Layout can both be one of the easiest and one of the trickiest facets of web design. Sometimes a designer can bust out an amazing layout in minutes and sometimes that same designer can struggle for the better part of day with the same task. Each project is unique and calls for a unique solution, but I've found it helpful to keep a few rock solid and incredibly versatile alignments in mind that I can bust out when I get stuck. The ten layouts below should be enough to get you through even the worst cases of designer's block when you can't figure out the best way to arrange the content on your page. Keeping It Simple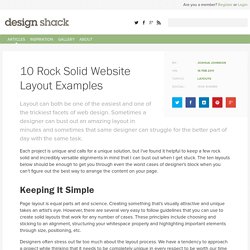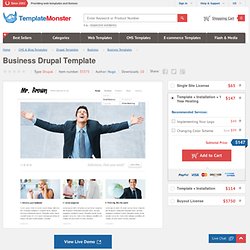 Drupal template #33375 by Hugo
What will you get? We'll submit your website to about 1,000 web directories. And as a result you will get about 80-100 incoming links to your website - a job that would normally take you weeks. In addition to the links we provide you with a detailed report on all successful submissions.