Spirituality, Interreligious
The Summer of Peace has the overarching goal of activating a global commitment to peace. This year, the telesummit will address critical issues, such as moving beyond gun violence, ending human trafficking and addressing bullying.. We will be announcing numerous activities that you can join, as well as share the ones that are dear to your heart. 1) Access to the FREE the Summer of Peace telesummit and media library featuring interviews with over 180 peacebuilders from around the world, including Arun Gandhi, Alice Walker, Chief Phil Lane Jr., Jack Kornfield, James O'Dea, Jody Williams, and Pete Carroll, head coach of the Seattle Seahawks. 2) Participate in weekly global meditations and prayer events honoring all spiritual traditions. Plus, let others know about peace events happening in your community.
Summer of Peace
World Conference on Religion and Peace Records (DG 078) Swarthmore College Peace Collection
Integrative Law Institute
A flood of neuroscience research studies (including imaging technologies as well as animal and human studies) is yielding remarkable discoveries about the workings of the human brain, discoveries that challenge core beliefs about human consciousness and rationality imbedded in our legal institutions and jurisprudence. This growing body of evidence carries potentially revolutionary implications for our day to day work as lawyers, depicting a brain that is driven not by reason, but by emotion– a brain that has changed little in 20,000 years. This article aims to introduce the practical value of this burgeoning knowledge , and the importance for lawyers of developing basic "neuro-literacy." [2]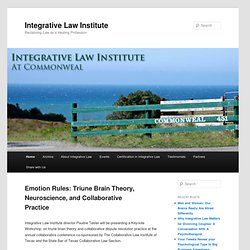 SPIRITUALITY, RELIGION, CULTURE, & PEACE
Dr. Linda Groff & Dr. Paul Smoker Co-Directors, Global Options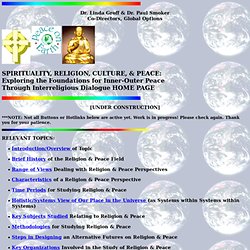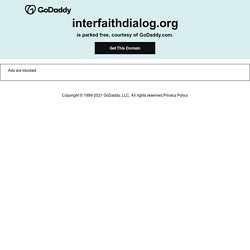 Institute of Interfaith Dialog organized an intercultural trip to Turkey during the Spring Break in March 2012. Honory guests from Lubbock Christian University experience Turkey's emerging role as a democratic model. Troy provides a backdrop for the group during a tour of Trojan War. With much of the Middle East immersed in political change, one predominately Muslim country serves as a model for democracy while expanding its influence as a regional, economic and political power. According to The Economist, the emerging Islamic mainstream will look for its model "to the democratically elected AK party in Turkey, with its Islamic flavor diluted by tolerance for others and respect for secular institutions."
The Institute of Interfaith Dialog
Faith is what we recognize in Interfaith Mediation Centre (IMC). It is this faith that we hold strongly to, and it is this faith that helps us discharge our duties successfully. Though there may be differences, but one thing we know for sure is that is the Ultimate and that it is only that sustains us ALL irrespective of what name you call Him. IMC'S way of bringing people together is by using FAITH . No wonder, it is our tradition that in what ever intervention towards peace building and conflict resolution or capacity building for our identified stakeholders through workshops/trainings we conduct, we always tell participants to observe a minute silent prayer in whatever faith he/she believes in, before and at the end of any program.
INTERFAITH MEDIATION CENTRE [IMC] Nigeria .:. Official Website.
Meaningful World - Dr. Ani Kalayjian
Meaningfulworld.com is dedicated to fostering a meaningful, peaceful, and just world in which every individual enjoys physical, mental, social, ecological, and spiritual health. A sense of meaning, peace, and justice, although unique to each individual, is achieved through a transformative journey that integrates knowledge and experience with a sense of responsibility and reflection. This transformative process is also attained through healthy relationships that nurture open, honest, and transparent communication, insight into forgiveness, love and spiritual connection, non-violent communication, compassion, and active collaborations. Meaningfulworld facilitates this journey through providing information on formal lectures, opportunities for informal networking, organizing humanitarian outreach programs, conducting research and publishing.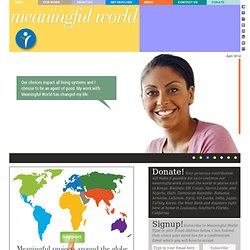 Berkley Center for Religion, Peace, and World Affairs | Georgetown University
April 9, 2014Courting Conversation April 4, 2014 Timothy Shah Invited by US Department of Justice to Speak with Malaysian Officials on Importance of Religious Freedom April 3, 2014 Faith, Culture, and the Common Good Event April 3, 2014 Brian Grim on Pope Francis' Concern Over Growing Religious Restrictions in the United States April 3, 2014 Allen Hertzke's Volume Reviewed in First Things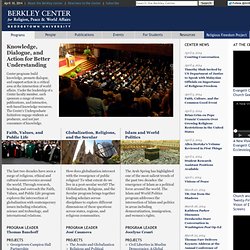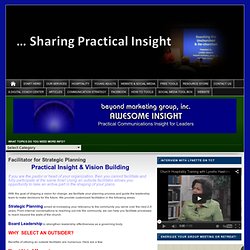 Facilitation | Beyond Marketing Group, Inc. Awesome Insight
Facilitator for Strategic Planning Practical Insight & Vision Building If you are the pastor or head of your organization, then you cannot facilitate and fully participate at the same time!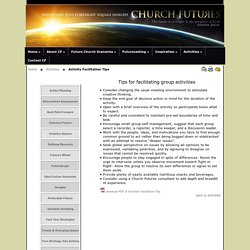 Tips for facilitating group activities Consider changing the usual meeting environment to stimulate creative thinking. Keep the end goal of decisive action in mind for the duration of the activity.
Church-Futures.com:- Foresight-activities:-Group-facilitation-tips
Herrmann International: Home
Conflict Management in Unitarian Universalist Congregations
Kenneth Cloke Dispute Resolution Center
Connection Partners, Inc. is a resource for the leadership and congregations of religious communities experiencing turmoil due to change, internal conflict, or trauma. We specialize in facilitating meetings and mediating for families, and for individuals and groups in community, non-profit, business or government. We are trained professionals who serve as neutral third party peacemakers for people with different perspectives who are connected by choice or by necessity. We work with churches and synagogues in turmoil because we value that religious organizations help people believe in a power greater than themselves, provide moral guidance, maintain cultural traditions, evoke heart-felt actions, and create a community. In addition, we believe that our unique combination of skills and experience compliment the spectrum of tools that religious leaders bring to creating a stronger religious community and to helping churches and synagogues in distress.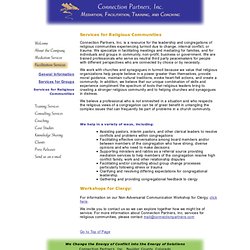 Connection Partners, Inc, Mediation and Facilitation Services/Facilitation/Religious
Welcome to the Partners in Ministry - Home Page
The Reverend Mpho A. Tutu The Reverend Mpho A.
The Tutu Institute for Prayer & Pilgrimage | The Reverend Mpho A. Tutu
Nevada Law Journal | Vol 10 | Iss 2
Clarity Facilitation: Consulting Services by Michael Bischoff
Skip to content Upcoming: April 26, 2014: Leading from Source Retreat Find out about upcoming Minnesota Social Innovation Lab events here. Comments are closed. Comments from groups Michael has worked with:"Michael is a gifted teacher and trainer - comfortable and competent but not cocky, knowledgeable and articulate but elicitive and respectful."Howard Zehr, Conflict Transformation Program, Eastern Mennonite University
Boston TenPoint Coalition - Home Page - Reshaping Lives, Rebuilding Community
The Boston TenPoint Coalition (BTPC) is an ecumenical group of Christian clergy and lay leaders working to mobilize the community around issues affecting Black and Latino youth. The Boston TenPoint Coalition is faith-based because faith breeds a sense of hope and provides the nurturing yet structured principles and environment that many youth lack. We are a coalition that collectively aspires to make the " Boston Miracle " continue to work. Read More
Alban - Building Up Congregations and Their Leaders
March 19, 2014 Dear Friends: I am writing to you on behalf of the Board of Directors with some important news about The Alban Institute. The Board and management at The Alban Institute have been engaged in a strategic planning process over the past year for the purpose of discerning the future of the organization.
Interreligious Council of Central NY
"There will be peace on earth when there is peace among the world religions." (Hans Kung) The InterReligious Council (IRC) of Central New York was founded in 1976 to bring together the wonderfully diverse array of faith traditions in our community, with the belief that engagement among these different faith groups would lead to understanding, friendships and a collaborative strength to address community issues. Today, this remains the essence of our work.
Dr. Eileen Borris - Therapist, Speaker, Author of "Finding Forgiveness"
Question2Learn
Christian Mediation Services
JustPeace | Center for Mediation and Conflict Transformation
Global Negotiation Insight Institute
Center for Contemplative Mind in Society
The Science of Peace - The Documentary
Sulha Peace Project
The Imam & the Pastor - FLT Films
MarcGopin.com Marc Gopin.com Conflict Resolution and Religious Peacemaking
Center for Justice & Peacebuilding – Eastern Mennonite University
International Center for Religion and Diplomacy - Home Page
Research on Transcendental Meditation
What The Bleep Does Spirituality Have To Do With Conflict Resolution?
ACR Spirituality Section
Tanenbaum Center for Interreligious Understanding | Combating Religious Prejudice
Iniatives of Change
Appeal of Conscience
International Center for Religion and Diplomacy - Home Page
Center for World Religions, Diplomacy and Conflict Resolution
Edinburgh Festival of Middle Eastern Spirituality
Religions for Peace