Spirituality, Interreligious
Soul Repair : Brite Divinity School. Islamic Relief Policy | Working in Conflict: A Faith Based Toolkit for Islamic Relief. Working in Conflict: A Faith Based Toolkit for Islamic Relief The Islamic tradition holds powerful potential to positively encourage people to address competing priorities, to avoid violent conflict and to accept compromise.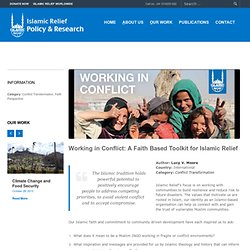 Author: Lucy V. Moore Country: International Category: Conflict Transformation. Summer of Peace. World Conference on Religion and Peace Records (DG 078) Swarthmore College Peace Collection. Integrative Law Institute. SPIRITUALITY, RELIGION, CULTURE, & PEACE. Dr.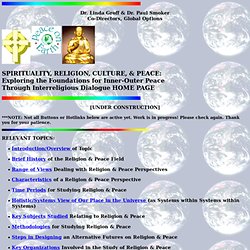 Linda Groff & Dr. Paul Smoker Co-Directors, Global Options. The Institute of Interfaith Dialog. INTERFAITH MEDIATION CENTRE [IMC] Nigeria .:. Official Website. Meaningful World - Dr. Ani Kalayjian. Berkley Center for Religion, Peace, and World Affairs | Georgetown University. April 9, 2014Courting Conversation April 4, 2014 Timothy Shah Invited by US Department of Justice to Speak with Malaysian Officials on Importance of Religious Freedom April 3, 2014 Faith, Culture, and the Common Good Event April 3, 2014 Brian Grim on Pope Francis' Concern Over Growing Religious Restrictions in the United States April 3, 2014 Allen Hertzke's Volume Reviewed in First Things.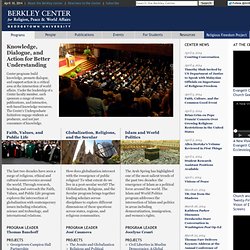 Facilitation | Beyond Marketing Group, Inc. Awesome Insight. Facilitator for Strategic Planning Practical Insight & Vision Building If you are the pastor or head of your organization, then you cannot facilitate and fully participate at the same time!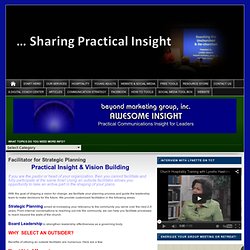 Church-Futures.com:- Foresight-activities:-Group-facilitation-tips. Tips for facilitating group activities Consider changing the usual meeting environment to stimulate creative thinking.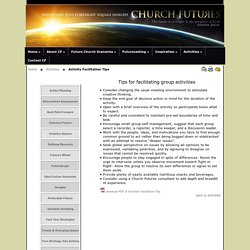 Keep the end goal of decisive action in mind for the duration of the activity. Herrmann International: Home. Conflict Management in Unitarian Universalist Congregations. Kenneth Cloke Dispute Resolution Center. Connection Partners, Inc, Mediation and Facilitation Services/Facilitation/Religious. Connection Partners, Inc. is a resource for the leadership and congregations of religious communities experiencing turmoil due to change, internal conflict, or trauma.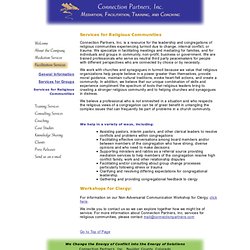 We specialize in facilitating meetings and mediating for families, and for individuals and groups in community, non-profit, business or government. We are trained professionals who serve as neutral third party peacemakers for people with different perspectives who are connected by choice or by necessity. We work with churches and synagogues in turmoil because we value that religious organizations help people believe in a power greater than themselves, provide moral guidance, maintain cultural traditions, evoke heart-felt actions, and create a community.
In addition, we believe that our unique combination of skills and experience compliment the spectrum of tools that religious leaders bring to creating a stronger religious community and to helping churches and synagogues in distress. Welcome to the Partners in Ministry - Home Page. The Tutu Institute for Prayer & Pilgrimage | The Reverend Mpho A. Tutu. The Reverend Mpho A.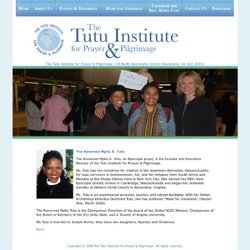 Tutu The Reverend Mpho A. Nevada Law Journal | Vol 10 | Iss 2. Clarity Facilitation: Consulting Services by Michael Bischoff. Boston TenPoint Coalition - Home Page - Reshaping Lives, Rebuilding Community. Alban - Building Up Congregations and Their Leaders. Interreligious Council of Central NY. "There will be peace on earth when there is peace among the world religions."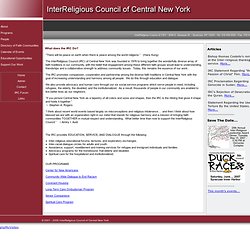 (Hans Kung) The InterReligious Council (IRC) of Central New York was founded in 1976 to bring together the wonderfully diverse array of faith traditions in our community, with the belief that engagement among these different faith groups would lead to understanding, friendships and a collaborative strength to address community issues. Today, this remains the essence of our work. Dr. Eileen Borris - Therapist, Speaker, Author of "Finding Forgiveness" Question2Learn. Christian Mediation Services. JustPeace | Center for Mediation and Conflict Transformation. Global Negotiation Insight Institute. Center for Contemplative Mind in Society. The Science of Peace - The Documentary. Sulha Peace Project. The Imam & the Pastor - FLT Films.
'Theirs is an inspiring story, full of hope...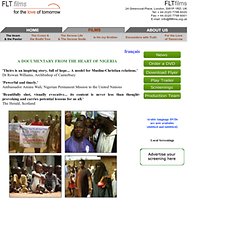 A model for Muslim-Christian relations.' Dr Rowan Williams, Archbishop of Canterbury. MarcGopin.com Marc Gopin.com Conflict Resolution and Religious Peacemaking. Center for Justice & Peacebuilding – Eastern Mennonite University. CJP grad from Afghanistan reflects on journey to EMU, current work and imminent election back home April 4th, 2014 2010 was a busy year for Hamid Arsalan.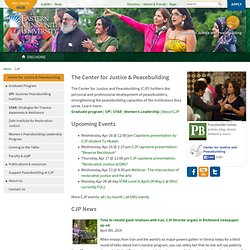 He earned a master's degree from the Center for Justice and Peacebuilding at Eastern Mennonite University, while also completing two degrees from the University of Virginia: a bachelor's degree in international relations and affairs, and a master's degree in public policy. Around the edges, he fit in ...More. International Center for Religion and Diplomacy - Home Page. Research on Transcendental Meditation. National Institutes of Health The NIH has awarded more than $24 million to study the benefits of the Transcendental Meditation technique for improving brain functioning and cardiovascular health during the past 20 years. MORE American Medical Association The AMA's journal Archives of Internal Medicine published a recent study showing the TM technique is highly effective in preventing the risk factors for high blood pressure, diabetes, and obesity.
What The Bleep Does Spirituality Have To Do With Conflict Resolution? For those of us who practice in the hardnosed world of lawyers, court systems, corporations, government entities, and the like, spirituality might seem like an odd topic. What does spirituality have to do with mediation or conflict resolution? What's more, spirituality can be a difficult topic to discuss. ACR Spirituality Section. Ken Wilber: Welcome.
Ken Wilber is the author of over twenty books. He is the founder of Integral Institute, a think-tank for studying integral theory and practice, with outreach through local and online communities such as Integral Education Network, Integral Training, and Integral Spiritual Center. Please also see the Integral Theory Primer for a guide to the world of Ken Wilber and Integral Theory. Tanenbaum Center for Interreligious Understanding | Combating Religious Prejudice.
Iniatives of Change. Appeal of Conscience. International Center for Religion and Diplomacy - Home Page. Center for World Religions, Diplomacy and Conflict Resolution. Edinburgh Festival of Middle Eastern Spirituality. Religions for Peace.
---