K - 12
Global Peacebuilding Center |
Morningside Center | morningsidecenter.org
Shalom Educating For Peace
School Mediation Associates - Books and Other Resources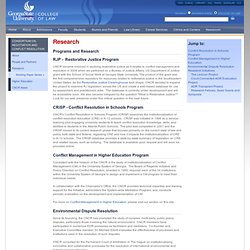 Georgia State University - CR in Schools
CRiSP - Conflict Resolution in Schools Program The CNCR's Conflict Resolution in Schools Program (CRiSP) examines the institutionalization of conflict resolution education (CRE) in K-12 schools. The CRiSP was initiated in 1998 as a service-learning pilot engaging university students to teach conflict resolution knowledge, skills, and abilities to students in the Atlanta Public Schools.
Enjoyable Learning: Triune Arts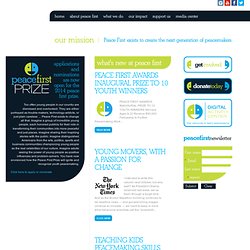 Too often,young people in our country are dismissed and overlooked ...they are either portrayed as trouble-makers, technology-addicts, or just plain careless … Peace First exists to change all that.
peacefirst
Educators for Social Responsibility (ESR) – Cambridge, Massachusetts
Children's Creative Response to Conflict, Inc.
Community Boards - Youth & Schools
Community Boards is recognized internationally for our pioneering work with youth and schools.