K - 12
Global Peacebuilding Center | Morningside Center | morningsidecenter.org. Shalom Educating For Peace. School Mediation Associates - Books and Other Resources. Georgia State University - CR in Schools. Programs and Research RJP - Restorative Justice Program CNCR became involved in studying restorative justice as it relates to conflict management and resolution in 2008 when we partnered on a Bureau of Justice Affairs, US Department of Justice grant with the School of Social Work at Georgia State University.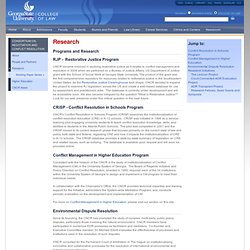 Enjoyable Learning: Triune Arts. Peacefirst. Applications and nominations are now open for the 2014 Peace First Prize.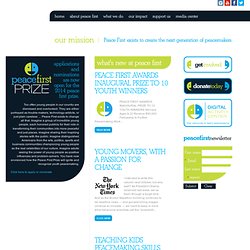 Too often,young people in our country are dismissed and overlooked. They are either portrayed as trouble-makers, technology-addicts, or just plain careless … Peace First exists to change all that. Imagine a group of incredible young people, each honored publicly for their role in transforming their communities into more peaceful and just places. Imagine sharing their inspiring stories with the public. Imagine distinguished Americans from the arts, politics, sports and business communities championing young people as the real celebrities of our culture.
Educators for Social Responsibility (ESR) – Cambridge, Massachusetts. Community Boards - Youth & Schools. Community Boards is recognized internationally for our pioneering work with youth and schools.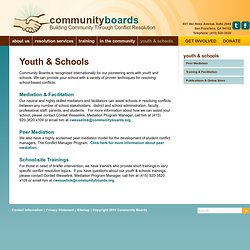 We can provide your school with a variety of proven techniques for resolving school-based conflicts. Mediation & Facilitation Our neutral and highly skilled mediators and facilitators can assist schools in resolving conflicts between any number of school stakeholders: district and school administration, faculty, professional staff, parents, and students.
---