Israeli Moderate-Peace
South Jerusalem — A Progressive, Skeptical Blog on Israel, Judaism, Culture, Politics, and Literature. Breaking the Silence › Israeli soldiers talk about the occupied territories. Middle East: MidEastWeb. About Mondoweiss. Mondoweiss is a news website devoted to covering American foreign policy in the Middle East, chiefly from a progressive Jewish perspective.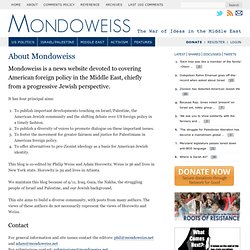 It has four principal aims: To publish important developments touching on Israel/Palestine, the American Jewish community and the shifting debate over US foreign policy in a timely fashion.To publish a diversity of voices to promote dialogue on these important issues.To foster the movement for greater fairness and justice for Palestinians in American foreign policy.To offer alternatives to pro-Zionist ideology as a basis for American Jewish identity. This blog is co-edited by Philip Weiss and Adam Horowitz.
Weiss is 56 and lives in New York state. Horowitz is 39 and lives in Atlanta. Israel Policy Forum | Principled. Pragmatic. Pro-Israel. Israel News - Haaretz Israeli News source. Jerusalem Post. Americans for Peace Now. Talking Points - M J Rosenberg's blog. J Street: The Political Home for Pro-Israel, Pro-Peace Americans. Tikkun Magazine | A Jewish Magazine, an Interfaith movement. Sheva. Palestinian Israeli Peace NGO Forum.
MarcGopin.com Marc Gopin.com Conflict Resolution and Religious Peacemaking. Religious Action Center for Reform Judaism. Gush Shalom - Israeli peace bloc. WHAT IS SULHA? | SULHA PEACE PROJECT. The Shalom Center | A prophetic voice in Jewish, multireligious, and American life.
---