Israeli Moderate-Peace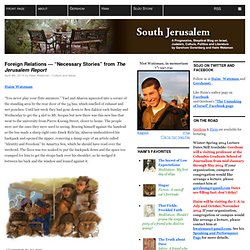 South Jerusalem — A Progressive, Skeptical Blog on Israel, Judaism, Culture, Politics, and Literature
Foreign Relations — "Necessary Stories" from The Jerusalem Report April 8th, 2014 by Haim Watzman · Culture and Ideas Haim Watzman "You never play your flute anymore." Yael and Aharon squeezed into a corner of the standing area by the rear door of the 34 bus, which smelled of exhaust and wet ponchos. Until last week they had gone down to Ben-Zakkai each Sunday and Wednesday to get the 4 alef to Mt.
Breaking the Silence › Israeli soldiers talk about the occupied territories
Bashar Assad and the Mysterious West - Is there any reason why only the Syrian regime is allowed to massacre its citizens, while everyone is silent? Scenarios for Egypt - The Egyptian revolution might be the birth of democracy, but it will probably be something else. Prophet and loss statement 2010 - I got most of 2010 right, but failed to predict the Egyptian Revolution of 2011.
Middle East: MidEastWeb
About Mondoweiss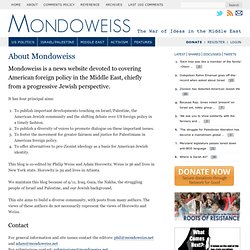 Mondoweiss is a news website devoted to covering American foreign policy in the Middle East, chiefly from a progressive Jewish perspective. It has four principal aims: To publish important developments touching on Israel/Palestine, the American Jewish community and the shifting debate over US foreign policy in a timely fashion.To publish a diversity of voices to promote dialogue on these important issues.To foster the movement for greater fairness and justice for Palestinians in American foreign policy.To offer alternatives to pro-Zionist ideology as a basis for American Jewish identity. This blog is co-edited by Philip Weiss and Adam Horowitz. Weiss is 56 and lives in New York state. Horowitz is 39 and lives in Atlanta.
Israel Policy Forum | Principled. Pragmatic. Pro-Israel.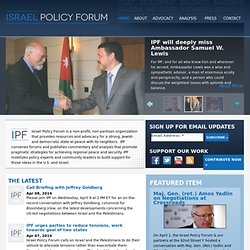 This week, the state of the Israeli-Palestinian negotiations has become significantly more fragile. Early this week, Israel's decision not to release the fourth group of prisoners until the Palestinians agree to continue negotiations prompted several last minute meetings aimed at restoring the talks. On Monday, Secretary of State John Kerry made a surprise trip to the region with the intention of meeting Israeli and Palestinian officials. After holding long meetings with Israelis, Kerry ultimately canceled his meeting with Palestinian Authority President Mahmoud Abbas.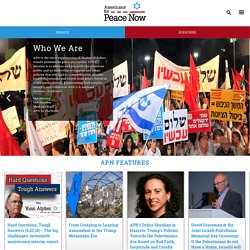 Americans for Peace Now
Continue to peacenow.org... Made Fresh Daily. APN is excited to introduce News Nosh to you; a daily news summary brought to you directly from Israel. News Nosh will be emailed to you every morning, so you can enjoy your a.m. coffee while perusing the major headlines and a summary of Israel's daily news.
I've just launched a discussion in The Hive (sub req) about the transformation from reading paper books to digital books. Baffling as it is to me, since for decades I was not only a voracious reader but a devotee of the physical book itself, I made the transition about three years ago. I'm just not able to read paper books anymore. I'm almost embarrassed to admit that. But it's true. Are you the same?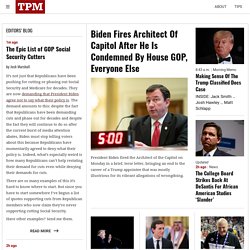 J Street: The Political Home for Pro-Israel, Pro-Peace Americans
Log in | Subscribe Caption Our Spring 2014 Print Issue The sprawling American Left knows what it opposes, but it rarely articulates a shared vision of the world we want.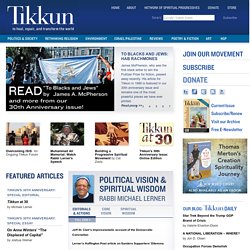 Bio: SHEVA is a world music ensemble of original music, established in 1996 in a unique community situated in the Galilee Mountains, northern Israel. SHEVA band members are coming from Muslim and Jewish backgrounds and the main theme in their songs is the call for peace in the Middle East and around the world. SHEVA incorporates instruments from around the world and motives from the roots of Hebrew and Arabic cultures as well as tribal cultures, combining Biblical texts, Sufi prayers and eclectic inspiration from all traditions as well as contemporary music.
Sheva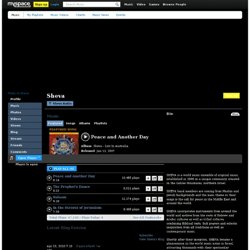 Palestinian Israeli Peace NGO Forum
MarcGopin.com Marc Gopin.com Conflict Resolution and Religious Peacemaking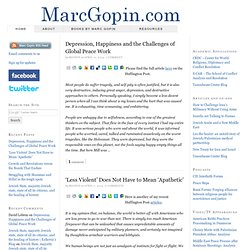 Please find the full article here on the Huffington Post. Most people do suffer tragedy, and self-pity is often justified, but it is also very destructive, inducing great anger, depression, and destructive approaches to others. Personally speaking, I simply become a less decent person when all I can think about is my losses and the hurt that was caused me. It is exhausting, time consuming, and embittering. People are unhappy due to selfishness, according to one of the greatest thinkers on the subject.
A version of this post originally appeared on the RACblog on March 19, 2014. Pay equity for women is a critical social justice issue of today largely because it has serious implications for the economic security of women and families across our nation. Read more about the gender wage gap: Fact sheet from the American Association of University Women. It is also a critical social justice issue, however, because in a society such as ours that places great emphasis on work and the role of employment in our lives and livelihood, paying women less than their male counterparts signals that work done by women is worth less and that women are worth less.
Religious Action Center for Reform Judaism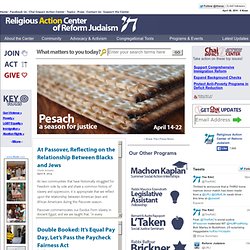 Gush Shalom - Israeli peace bloc
WHAT IS SULHA? | SULHA PEACE PROJECT
We are a group of Israelis and Palestinians who meet regularly to encounter the other in our full humanity. Together, we demonstrate that we, the children of Abraham/Ibrahim, share a common destiny. Twelve years ago, at the height of the El Aksa intifada, when Israel and Palestine were locked into terror of the other side, the Sulha Peace Project was born. As coffee shops exploded and soldiers fired into crowds of youths, we brought Israelis and Palestinians together in a human encounter and, through wholehearted listening, we explored and strengthened the bonds that link us with each other. We've been doing it ever since. In contrast to the current atmosphere of distrust, cynicism and despair, we stand for the possibility of cooperation, shared responsibility, and hope.
The Shalom Center | A prophetic voice in Jewish, multireligious, and American life
A Spiritually Rooted, Strategically Focused Plan of Action on the Climate Crisis We invite you to join in a campaign we are calling Move Our Money/ Protect Our Planet.