BPM_Tools
Community Network Blogs. Keith Swenson is one of the true superheroes of BPM, and a pioneer in the development of interoperability standards.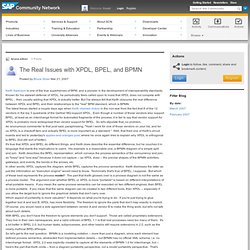 Known for his stalwart defense of XPDL, he periodically feels called upon to insist that XPDL does not compete with BPEL... then usually adding that XPDL is actually better. But I've always felt that Keith obscures the real difference between XPDL and BPEL and their relationships to the "real" BPM standard, which is BPMN. Implementation Agility and Methodology Adoption | Pega Community Forums. Business Process Management (BPM) - Staying Within the Fringes: Ways to Reduce BPM Implementation Cost. Introduction During the last two years, there has been a reduction in IT budget due to the state of the economy.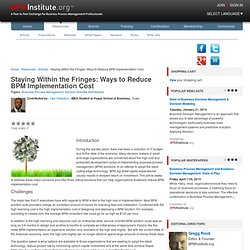 Many decision makers in small and large organizations are concerned about the high cost and protracted development cycles of implementing business process management (BPM) solutions. In an attempt to adopt the latest cutting edge technology, BPM big-ticket capital expenditures usually results in delayed return on investment. BPMN. This article or section is incomplete and its contents need further attention.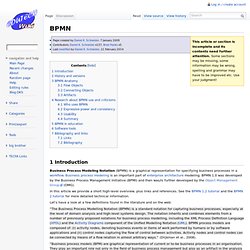 Some sections may be missing, some information may be wrong, spelling and grammar may have to be improved etc. Use your judgment! Oryx: WebHome. Oryx is an academic Open Source project that allows you to add your prototypes to a powerful process modeling infrastructure.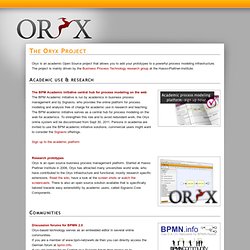 The project is mainly driven by the Business Process Technology research group at the Hasso-Plattner-Institute. Academic use & research. List of top open source BPM / workflow solution | Software for E. Every organization has their very own distinct business processes which differentiates them from their competitors.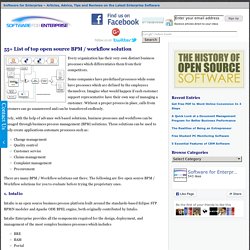 Some companies have predefined processes while some have processes which are defined by the employees themselves. Imagine what would happen if each customer support representative have their own way of managing a customer. Without a proper process in place, calls from customers can go unanswered and can be transferred endlessly.
---