Tips and Tools for Classroom Ipads
A collection of sites which support using Ipads in the classroom
Creating Digital Citizens
Quick List Of iPad Resources For The Classroom. One question that comes into my inbox or on Twitter a lot lately is one dealing with iPads.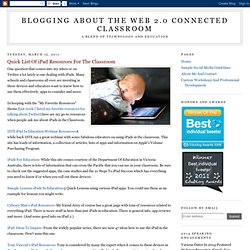 Many schools and classrooms all over are investing in these devices and educators want to know how to use them effectively, apps to consider and more. In keeping with the "My Favorite Resources" theme (last week I listed my favorite resources for talking about Twitter) here are my go-to resources when people ask me about iPads in the Classroom.
Apps For An 'Outstanding' Ipad Lesson. Saving iPad Files Through iTunes. If you've ever made a video in iMovie, a song in Garageband, a book in Book Creator, (or made anything really) on an iPad, than you know the pain of getting that product off of the iPad.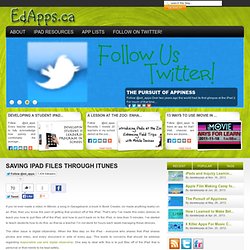 That's why I've made this video (below) to teach you how to pull files off of the iPad, and how to put it back on to the iPad, in less than 5 minutes. I've started to teach students how to do this, so that as a teacher I'm not stuck for hours each week managing these devices. The other issue is digital citizenship. When the files stay on the iPad - everyone who shares that iPad shares photos and video, and every document in side of every app.
Screencasting Software - ScreenFlow Overview - Telestream. Learning with iPads. An introductory guide to iPads for Teachers. I'm delivering some iPad training to a school tomorrow, so thought it might be useful to collate some of the links I've been putting together for the session.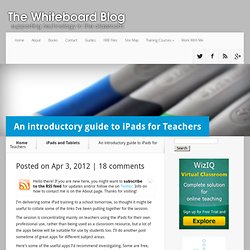 The session is concentrating mainly on teachers using the iPads for their own professional use, rather than being used as a classroom resource, but a lot of the apps below will be suitable for use by students too. I'll do another post sometime of great apps for different subject areas. Here's some of the useful apps I'd recommend investigating. Some are free, others the price of a pint or so.
Managing Class/ School Issue Ipads. iPad AND iPod Resources and Lessons. ASCD12-Handout-3101-Espejo-Maas. Sample Lessons - iPad in Education. The following lesson ideas utilize several of the Lite or free apps available for the iPad.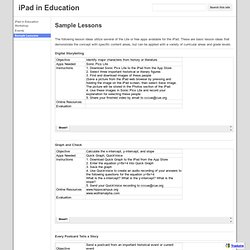 These are basic lesson ideas that demonstrate the concept with specific content areas, but can be applied with a variety of curricular areas and grade levels. Digital Storytelling. Making assessment meaningful. After spending two hours a day this week watching seventh graders fill in bubbles on our state's standardized test, I am finding myself thinking about assessment.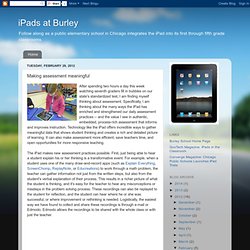 Specifically, I am thinking about the many ways the iPad has enriched and strengthened our daily assessment practices -- and the value I see in authentic, embedded, process-rich assessment that informs and improves instruction. Technology like the iPad offers incredible ways to gather meaningful data that shows student thinking and creates a rich and detailed picture of learning. It can also make assessment more efficient, save teachers time, and open opportunities for more responsive teaching. The iPad makes new assessment practices possible. First, just being able to hear a student explain his or her thinking is a transformative event. 103 Interesting Ways to use an iPad in the Classroom.
---