Edição de Video
Apple Final Cut Pro - Final Cut Pro X - Motion & Adobe After Effects Templates : Motion Graphics Templates For Broadcast - Web - Mobile and DVD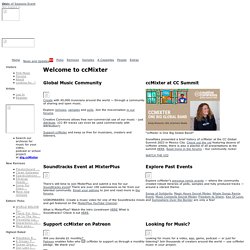 Looking for music for a video, school project, game you're developing, podcast or just for listening in your cubicle or mobile music device? Find exactly the music you're looking for - podsafe, liberally licensed - using dig.ccMixter Music Discovery tool. Find out why one out of six uploads to ccMixter are used in a YouTube(tm) video, flickr moving image, podcast, compilation album and thousands of other places all over the web. Start digging at dig.ccMixter
public domain sounds | free sound library
Plug-ins for Final Cut Pro (Final Cut Pro X), Motion, Final Cut Express & After Effects - Plug-ins - FxPlug and Mac OSX Leopard - OSX Lion - Mac OSX Snow Leopard - Mac OSX Lion
Available to purchase and in a free trial version from FxFactory. OUT NOW - Hawaiki AutoGrade 2.0, the best-in-class automatic image correction plug-in for FCP X, is now available to users of Premiere Pro, After Effects, Motion 5 and Final Cut Pro 7. An advanced automatic white balance correction tool with a wealth of top professional features to make even the flattest images come alive. Featuring the amazing new skin tone correction capability, AutoGrade is not just an auto-correction tool, it's a powerful grading suite in its own right. Available now for just $49.
TOKYO - FCP X EFFECTS - PRODUCTS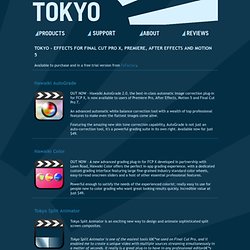 FxFactory – Visual Effects for Final Cut Pro, Motion and AE
Ripple Training
Affordable Stock Video Footage, After Effects Projects, Music and Sound Effects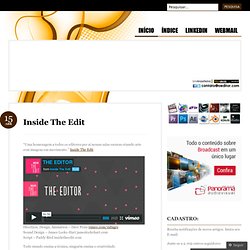 Criado em 2006, o site Pond5 funciona como um mercado de mídia criativa, oferecendo um vasto acervo em vídeo, aúdio, fotos, illustrações e outros elementos gráficos, todos para uso royalty-free. Com mais de 15 mil artistas em sua rede mundial, a página surge em língua portuguesa com o objetivo de auxiliar a comunidade audiovisual brasileira na comercialização de conteúdo licenciado, tanto para quem busca mídia para suas produções, quanto para quem precisa de um canal para vender o seu material. 'A versão em português é um passo fundamental para o Pond5,' diz o CEO e co-fundador, Tom Bennett. 'Há muita procura por conteúdo brasileiro no mercado internacional, pois a criatividade dos produtores nacionais é bastante reconhecida lá fora', completa ele.
oeditor.com
- CrumplePop: Film and Broadcast Effects for Final Cut Pro
Welcome to MotionVFX Original Home of Apple Motion Templates & FCPX Plugins Choose category Apple Motion Plugins After Effects C4D
motionVFX - Original Home of Apple Motion Templates, Motion Templates, Motion 5 Templates, mFlare, FCPX Templates, Apple Motion 4 Templates, Apple Motion 3 Templates, FREE Motion Templates, FREE Motion 4 Templates, FREE Motion 5 Templates, FCPX Generators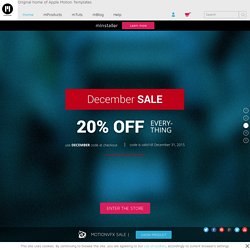 FCPeffects - Final Cut Pro X Plugins - FCPX Plugins and Effects