Technology enhanced education
Academe: Magazine of the AAUP. De volgende digitale revolutie. 26 oktober 2012 - "We zitten op een goudmijn, maar zijn nog maar net begonnen met delven."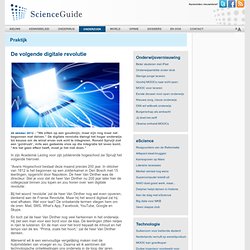 De digitale revolutie dwingt het hoger onderwijs tot keuzes om de winst ervan ook echt te integreren. Ronald Spruijt ziet een 'goldrush', mits een gedeelde visie op die integratie tot leven komt. Engagement and creativity through mobile learning. Creativity is not a gift of only special people, but a positive, essential capacity of all healthy-functional individuals Creativiteit en verhalen Eploration - inspiration - production - sharing als cyclisch proces.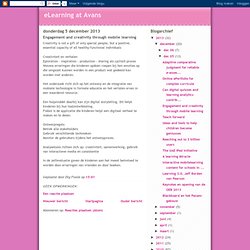 100+ Registration Free Tools for Students. One of the common obstacles to using many Web 2.0 tools in elementary school and middle school classrooms is the registration requirement that those tools have.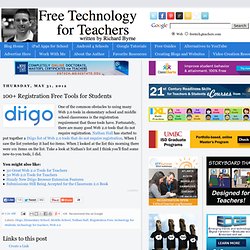 Fortunately, there are many good Web 2.0 tools that do not require registration. Nathan Hall has started to put together a Diigo list of Web 2.0 tools that do not require registration. When I saw the list yesterday it had 60 items. When I looked at the list this morning there were 101 items on the list.
Articles
Storytelling. Aabella. Top 10 Technology Blogs for Education. Education, as with all aspects of culture, is greatly impacted by the forward progress of technology.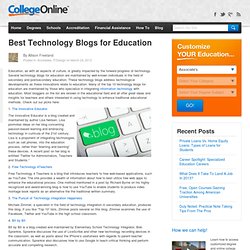 Several technology blogs for education are maintained by well-known individuals in the field of secondary and postsecondary education. These technology blogs address technological developments as these innovations relate to education. Many of the top 10 technology blogs for education are maintained by those who specialize in integrating information technology with education. Most bloggers on the list are renown in the educational field and all offer great ideas and insights for teachers and others interested in using technology to enhance traditional educational methods. MOOC. Peter Norvig: The 100,000-student classroom. Technology for Schools. We Collaborate! - Users of Blackboard Collaborate.
Eductional databases
Blackboard. TEL-blogs. ELI horizon rapports. ePortfolio. 21st century skills. Digitale Didactiek. iPad for Teaching & Learning. 12 iPad Apps for Storytelling in the Classroom. Storytelling continues to gain popularity as an educational activity as it stimulates a deep thinking process, it provides opportunities for reflection and it enhances and enriches the learning experience for our students.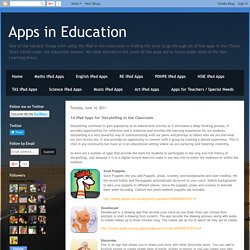 Storytelling is a very powerful way of communicating with our peers and portrays to others who we are and what our own stories are. It also provides an opportunity to connect with a group by creating a shared experience. This is vital in any community but more so in an educational setting where we are nurturing and fostering creativity. The Must-Have App Review Rubric.
Added by Jeff Dunn on 2011-11-22 So you just downloaded a few educational apps that you think might be useful in your classroom.
How do you accurately compare and contrast them? Redefining Instruction With Technology: Five Essential Steps. UserID: iCustID: IsLogged: false IsSiteLicense: false.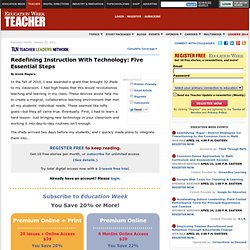 28 Creative Ideas for Teaching with Twitter. Digital Tools Flickr:Steve Garfield Enterprising educators are using Twitter in creative ways, to engage students inside and outside of class, to stay on top of education news, and keep in touch with peers and students.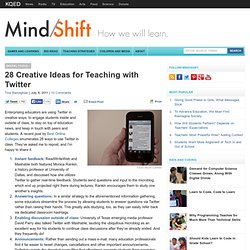 iPads, Apps and the Art of the Tablet. Reflection.app - AirPlay Mirroring to your Mac. iPads in Education. iPads in Education. Blooms Taxonomy with Apps. After seeing the chart on of Bloom's Taxonomy on bloomsapps, I thought I could make a more thorough table.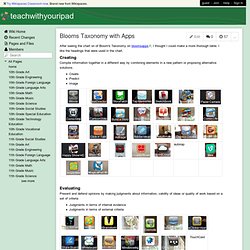 I like the headings that were used in the chart. Creating Compile information together in a different way by combining elements in a new pattern or proposing alternative solutions.CreatePredictImage Evaluating. Literatuurlijst 'Sociale media in het onderwijs' iBooks 2 Keynote | Clubnieuws 2011. Op iPhoneclub kwamen we dit Kickstarter project tegen : EverDock Go.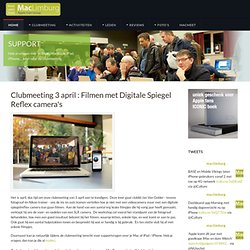 Het maakt gebruikt van de bekerhouder in je auto. Bekijk de video en je zal zien waarom. Voor Pages, Numbers en Keynotes (zowel op OSX als iOS) zijn er begin april een aantal verbeteringen uitgebracht. verbeterde ondersteuning voor Retina-schermen nieuw tabblad om te bewerken documenten via iCloud delen... Digital Storytelling. Composer | Demibooks Inc. Composer Demibooks® Composer provides an affordable, versatile and incredibly easy-to-use method of creating your own book apps with realistic physics, animation, images, text, sounds, movies and visual effects. Download Composer Pro from the App Store. Produce interactive content with the same tool used by many leading publishers and independent storytellers.
Imagination: Creating the Future of Education & Work. Jufmelis.nl. Why Innovation Dies. Interactive Teaching and Learning. Rethinking the Way College Students Are Taught. It's a typical scene: a few minutes before 11:00 on a Tuesday morning and about 200 sleepy-looking college students are taking their seats in a large lecture hall - chatting, laughing, calling out to each other across the aisles. Class begins with a big "shhhh" from the instructor.
This is an introductory chemistry class at a state university. For the next hour and 15 minutes, the instructor will lecture and the students will take notes. By the end of class, the three large blackboards at the front of the room will be covered with equations and formulas. Facebook for Learning at #IMEC8. Connectivism. Flipping the Classroom. Classroom 2.0. How Things Changed With @Evernote. I'll admit it. I have to be one of the most unorganized people on the planet. I have notebooks in just about every bag I carry. The Innovative Educator. Flatworlded.wikispaces.
---