Rlpagett
Rachel Pagett
WE BUILT A SPINNING WHEEL FOR $2.50
One day Barbara—that's my best friend—and I got this crazy idea: Why not try to make a spinning wheel? Up until then, Barbara had been spinning our "homegrown" wool (which comes from a little black sheep and a white woolly that we keep here on our ten acres) on a drop spindle. In case you didn't know, a drop spindle is nothing more than a tapered dowel—weighted at the bottom—which you hold vertically and let rotate while pulling wool from the top. It's a slow-but-simple way to spin wool. Now, it takes a long time to make even a two- or three ounce skein by the drop spindle method.
How to Make a Wool Drum Carder
How to Install a Clothesline Elevator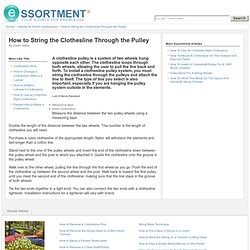 A clothesline pulley is a system of two wheels hung opposite each other. The clothesline loops through both wheels, allowing the user to pull the line back and forth. To install a clothesline pulley system, you must string the clothesline through the pulleys and attach the line to itself. The type of line you select is also important, especially if you are hanging the pulley system outside in the elements. List of Items Needed
How to String the Clothesline Through the Pulley
Best Hand Clothes Wringer: Kitchen & Dining
Fall Fiber Festival - home
How to Rip Rags for Weaving
How to Make a Frame Loom
One common question many people have after reading these instructions is: can I make it bigger? Yes, the loom can be made bigger to accommodate larger weavings. The sizes indicated here are ideal for small wall hangings and pot holders.
How to Build a Simple Frame Loom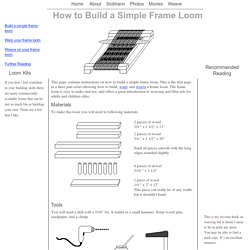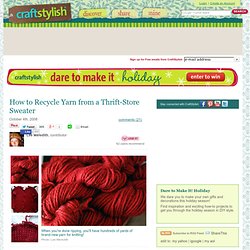 October 4th, 2008 Email 62 users recommend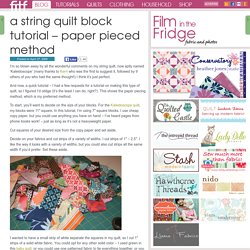 I'm so blown away by all the wonderful comments on my string quilt, now aptly named 'Kaleidoscope' (many thanks to Kerri who was the first to suggest it, followed by 9 others of you who had the same thought!) I think it's just perfect. And now, a quick tutorial – I had a few requests for a tutorial on making this type of quilt, so I figured I'd oblige (it's the least I can do, right?). This shows the paper piecing method, which is my preferred method. To start, you'll want to decide on the size of your blocks. For the Kaleidoscope quilt, my blocks were 11″ square.