Bdi
POSTED BY JOHN RICH ON March 10, 2010 In September 2009, T.G.I. Friday's got loads of attention for the "Woody" social marketing campaign created by their freshly picked agency, Publicis. The campaign had two main ingredients: 1.) An out of work actor cast as the ultimate fan of T.G.I.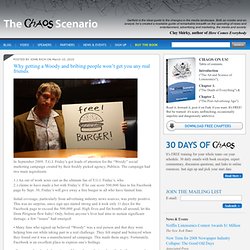 | The Chaos Scenario
BDI 11/12 The Social Consumer - Bite Communications & AMD Pr
You Need to See These Case Studies Before They're Gone
300 Case Studies of Social Media Marketing « Wendy Tarr's B
SmartBlog On Social Media » A conversation with Olivier Blanchar
As part of our upcoming special report, "Measuring Your Success," I spoke with Olivier Blanchard, a brand strategist with 15 years of marketing management experience across a variety of B2B and B2C industries, from manufacturing and distribution to new media and consumer goods. He manages BrandBuilder Marketing, a brand consulting and marketing management firm based in Greenville, S.C., that helps companies combine traditional and new/social media to achieve their brand-building. "Measuring Your Success" publishes on Thursday; if you're not already a SmartBrief on Social Media subscriber, sign up today so you won't miss it! There's a perception that social media's relevance to business is hard to measure. Do you think that's true?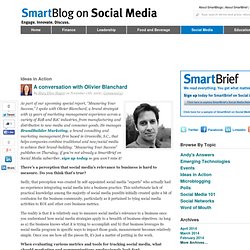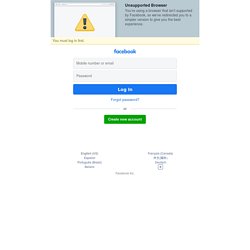 Sanna Mattson MacLeod: BDI Conference-Social Consumer Case Studi
Presenter: Heather Oldani, Director of Communications McD's is mentioned every 10-20 seconds on Twitter MySpace had admitted defeat to Facebook- is now an Entertainment/Music PortalThey used it for their BigMac remix contest- http://www.myspace.com/bigmacchant "Social Media is the MOST effective avenue to go in and build relationships." McDonalds utilizes Radian6 http://www.radian6.com/ for their Social Media Monitoring Twitter: Started their Twitter campaign only 6 weeks ago 6 Twitter employee users- Give out what customers want to hear (Trivia, coupons etc.)Facebook: Local Tab on Fan page: enter your zip code and receive specialize promotions based on your location Engage their 700k+ employees through Social Media (American Idol like contest where employees upload videos of themselves singing) Station "M" Crew members blog on site- 70k crew members Incorp.