Gadgets
Black Box Micro Camera | Turn Any Object into a Hidden Camera. Gadgets :: Electronic Gadgets. Your Phone. The Water And Light Lawn Show. Brydge + iPad: Do more. by Brad, Eddy and Sam. TIME - "Brydge stands out for its Apple aesthetics.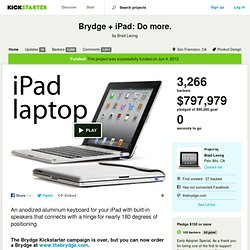 " CNET - "A keyboard case that makes your iPad look a lot like the MacBook Air. " New York Times - "Brydge..turns an iPad into a laptop resembling the MacBook Air. " Mashable - "Brydge Turns Your iPad Into a Laptop" Huffington Post - "The Brydge also mimics the Apple design aesthetic" Uses | Improv Electronics. Boogie Board LCD eWriters The tree-friendly, electronic alternative to paper Communities Education Boogie Board eWriters are ideal for classroom use, replacing messy whiteboards (and smelly dry erase markers), chalk boards, memo pads and scrap paper.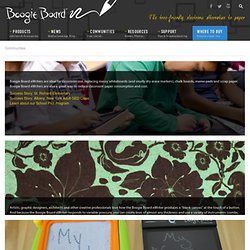 Boogie Board eWriters are also a great way to reduce classroom paper consumption and cost. CloudFTP. Arduino - HomePage. Withings Smart Baby Monitor Review: Always Watching, Always Judging. Premiere DVR, TiVo Premiere XL DVR, TiVo Premiere Elite DVR. EyeTV HD - High Definition Video Recorder for Component Video.
The ultimate DVR for HD cable and satellite TV Watch, record, edit and enjoy cable and satellite television in high-definition with EyeTV HD, a full-featured DVR for your Mac.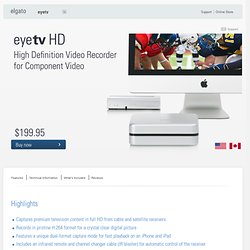 EyeTV HD is the only solution that gives you full access to all your premium content by connecting your Mac directly to your cable or satellite receiver. EyeTV HD comes with an infrared remote and channel changer cable ("IR blaster") for automatic control of the receiver. HDHomeRun - Network Dual Tuner for HDTV. - I N C I N O L E T - V-Pump submersible water pump uses no electricity, has no moving parts. Create the right Logitech Alert™ Security System for you. Mohu Leaf Indoor HDTV Antenna. Chef Sleeve.
---