Stratégie
When I learned this morning, via Twitter, that the small company behind Mac/iOS e-mail app Sparrow was being bought by Google, I almost didn't need to read the startup's announcement to know the upshot. Google and Facebook buy itty-bitty web companies all the time.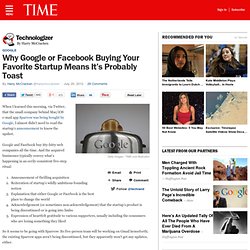 Why Google or Facebook Buying Your Favorite Startup Means It's Probably Toast
A Plugged-In Ad Tech Source Drew This Diagram To Explain Facebook's Next $10 Billion Business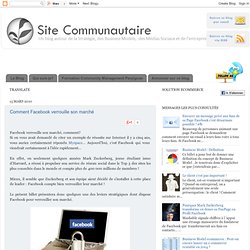 Comment Facebook verrouille son marché
Facebook verrouille son marché, comment? Si on vous avait demandé de citer un exemple de réussite sur Internet il y a cinq ans, vous auriez certainement répondu Myspace… Aujourd'hui, c'est Facebook qui vous viendrait certainement à l'idée rapidement… En effet, en seulement quelques années Mark Zuckerberg, jeune étudiant issue d'Harvard, a réussi à propulser son service de réseau social dans le Top 3 des sites les plus consultés dans le monde et compte plus de 400 000 millions de membres !
Remember three years ago, when Microsoft paid a quarter-billion dollars for 1.6% of Facebook and the exclusive right to run banner ads across Facebook.com? Tell the truth, how many of you thought that was a killer business decision? I can't say I did at the time.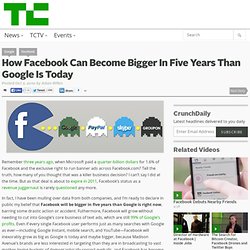 It is hard to predict the future, I find interesting to point out that FB is on the same revenue trend than Google years ago. They really found a way to have advertisers motivated by their offer. For new social networks to arise, their user base makes it really difficult... So they have the luxury to test many different things : instant personalitzation // new product features etc... by rlhez Oct 9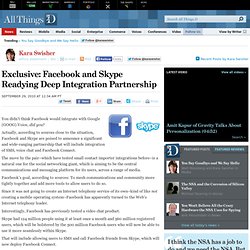 Exclusive: Facebook and Skype Readying Deep Integration Partnership | Kara Swisher | BoomTown | AllThingsD
You didn't think Facebook would integrate with Google (GOOG) Voice, did you? Actually, according to sources close to the situation, Facebook and Skype are poised to announce a significant and wide-ranging partnership that will include integration of SMS, voice chat and Facebook Connect. The move by the pair–which have tested small contact importer integrations before–is a natural one for the social networking giant, which is aiming to be the central communications and messaging platform for its users, across a range of media. Facebook's goal, according to sources: To mesh communications and community more tightly together and add more tools to allow users to do so.
Être leader dans un secteur bien précis n'est pas toujours de tout repos. Cela, Facebook l'a bien compris. Devenu depuis quelques années le réseau social le plus populaire au monde, le site web a bien conscience qu'il est désormais une cible de choix pour certains et un dangereux rival pour d'autres.
Facebook s'offre 18 brevets pour se protéger d'éventuels procès - Numerama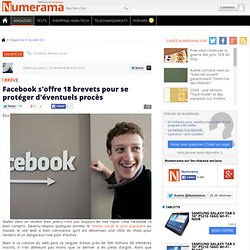 Facebook's "Open Compute Project": Their Server/Datacenter Expertise Now Open To All
We're live today at a Facebook event at their headquarters in Palo Alto. They've already noted that this event won't be about a consumer facing product, but instead will be about the underlying technology that powers the service. And to that end, they've announced a new iniative, The Open Compute Project. So what is it?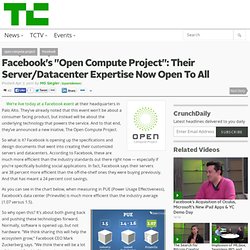 Facebook's Mysterious Hire: The Guy Who Designed Much of the iPhone
Facebook announced today that it has acquired a startup called Push Pop Press and most of the media coverage of the news has focused on Push Pop's dazzling e-book technology for clients including Al Gore. There's been some mention that one of Push Pop's co-founders, Mike Matas, was a former Apple designer.