Réseaux sociaux pro
Cocky Geekli.st founder says "LinkedIn will become the MySpace of hiring" We all know it.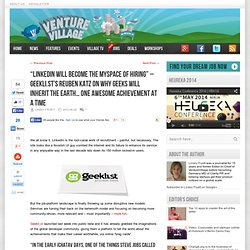 LinkedIn is the root-canal work of recruitment – painful, but necessary. The site looks like a feverish UI guy vomited the internet and its failure to enhance its service in any enjoyable way in the last decade lets down its 150 million locked-in users. Une rentrée 2.0 ? Pour cette rentrée, trois études montrent que l'engouement pour les outils collaboratifs, de la part des entreprises, ne faiblit pas.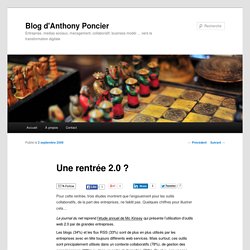 Quelques chiffres pour illustrer cela… reprend l'étude annuel de Mc Kinsey qui présente l'utilisation d'outils web 2.0 par de grandes entreprises. Les blogs (34%) et les flux RSS (33%) sont de plus en plus utilisés par les entreprises avec en tête toujours différents web services. Mais surtout, ces outils sont principalement utilisés dans un contexte collaboratifs (78%), de gestion des connaissances (83%) ou dans un cadre de formation (71%). De plus, ces usages devraient se diffuser dans l'entreprise, notamment au niveau des RH : LinkedIn s'apprête à lancer une nouvelle version de son site.
Après Viadeo, le réseau social professionnel américain souhaite améliorer l'expérience utilisateur et teste actuellement son nouveau design auprès de quelques membres.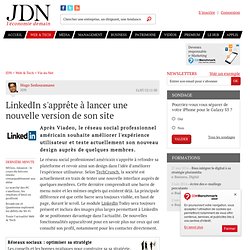 Le réseau social professionnel américain s'apprête à refondre sa plateforme et revoir ainsi son design dans l'idée d'améliorer l'expérience utilisateur. Selon TechCrunch, la société est actuellement en train de tester une nouvelle interface auprès de quelques membres. Cette dernière comprendrait une barre de menu noire et les mêmes onglets qui existent déjà. LinkedIn Cuts Off API Access To BranchOut, Monster's BeKnown And Others For TOS Violations. Exclusive: Professional social network LinkedIn has shut down API access to a number of developers for terms of service violations, according to the company.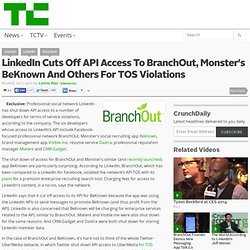 The six developers whose access to LinkedIn's API include Facebook-focused professional network BranchOut, Monster's social recruiting app Beknown, brand management app Visible.me, resume service Daxtra, professional reputation manager Mixtent and CRM-Gadget. The shut down of access for BranchOut and Monster's similar (and recently launched) app BeKnown are particularly surprising. According to LinkedIn, BranchOut, which has been compared to a LinkedIn for Facebook, violated the network's API TOS with its plans for a premium enterprise recruiting search tool. LinkedIn Is An Untapped Treasure Trove For Political Campaigns. All of those Likes might be good practice for the real thing.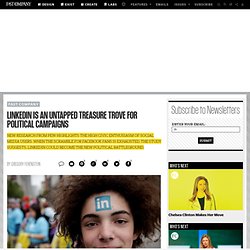 But the better place to go to find people who actually vote isn't Facebook, it's LinkedIn, says Professor Keith Hampton, researcher on Pew's new poll on civic engagement in social network users. The business social network draws older, more educated citizens--voters who are far more reliable when it come to casting ballots than those on Facebook. Regardless of platform, Pew's groundbreaking study does suggest that social media is a hotbed of social butterflies and enthusiastic citizens and an essential platform for generating civic buzz.
All the viral sexy Obama Girl videos and "Hope" posters in the world mean nothing without a bigger pile of votes at the end of the election day. LinkedIn contre Viadeo : fonctions similaires, stratégies différentes. 1 - Des fonctionnalités très proches « Linkedin et Viadeo sont les réseaux les plus aboutis au monde, avec peut-être l'allemand Xing.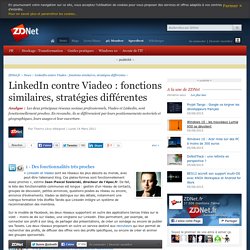 Ces plates-formes sont fonctionnellement assez proches », estime Jean-Pascal Szelerski, directeur de l'Apec.fr. De fait, la liste des fonctionnalités communes est longue : gestion d'un réseau de contacts, groupes de discussion, petites annonces, questions posées au réseau ou encore, annonce d'événements. LinkedIn wants to connect to the Web with new plugins. LinkedIn is taking the next step in expanding its platform today by releasing plugins that connect the professional networking service to external websites and applications.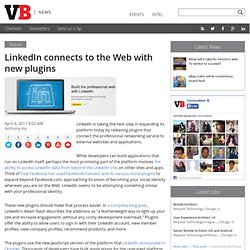 While developers can build applications that run on LinkedIn itself, perhaps the most promising part of the platform involves the ability to access LinkedIn data from beyond the LinkedIn site, on other sites and apps. Think of how Facebook has used Facebook Connect and its various social plugins to expand beyond Facebook.com, approaching its vision of becoming your social identity wherever you are on the Web. LinkedIn seems to be attempting something similar with your professional identity. These new plugins should make that process easier.
Exclusive: LinkedIn to Launch Job Application Tool. LinkedIn is preparing to launch a plug-in for employers' websites called "Apply With LinkedIn" that will allow job candidates to apply for available positions using their LinkedIn profiles as resumes.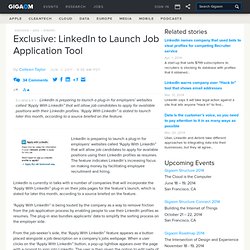 The feature indicates LinkedIn's increasing focus on making money by facilitating employee recruitment and hiring. LinkedIn is currently in talks with a number of companies that will incorporate the "Apply With LinkedIn" plug-in on their jobs pages for the feature's launch, which is slated for later this month, according to a source briefed on the feature. "Apply With LinkedIn" is being touted by the company as a way to remove friction from the job application process by enabling people to use their LinkedIn profiles as resumes. The plug-in also bundles applicants' data to simplify the sorting process on the employer side. From the job-seeker's side, the "Apply With LinkedIn" feature appears as a button placed alongside a job description on a company's jobs webpage. Réseaux sociaux pro: l'escalade des hostilités.
---