Réseaux sociaux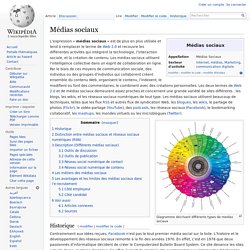 Un article de Wikipédia, l'encyclopédie libre. Historique[modifier | modifier le code]
Web 2.0 Summit 09: Sean Parker, "High Order Bit: The Rise of the Network Company"
Graphs cdixon.org – chris dixon's blog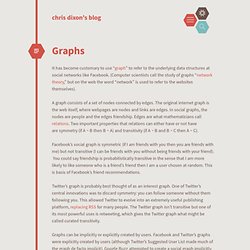 A graph consists of a set of nodes connected by edges.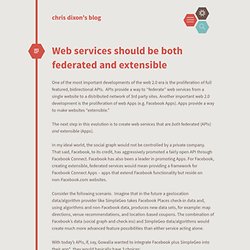 One of the most important developments of the web 2.0 era is the proliferation of full featured, bidirectional APIs. APIs provide a way to "federate" web services from a single website to a distributed network of 3rd party sites. Another important web 2.0 development is the proliferation of web Apps (e.g.
Web services should be both federated and extensible cdixon.org – chris dixon's blog
John Battelle wrote a gushing post about Color and what it means for mobile/social/local/realtime, augmented reality, and more. There are most certainly some big ideas in the Color app. I've never put a mobile photo app on my phone but I put Color on it last night.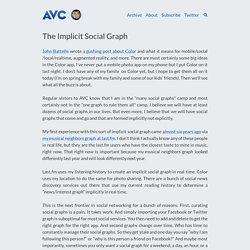 The Implicit Social Graph
Last week, I gave a presentation at the Kynetx Impact conference just outside of Salt Lake City, Utah, talking with the developer audience about the Third Wave of the Web, and my continued belief that true personalization in both the Web and in our mobile content consumption is what will drive the most dramatic changes to the future of the Internet, following on to the first wave (Information Retrieval and Search), and the second wave (Social Networking).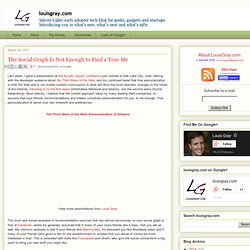 The Social Graph Is Not Enough to Find a True Me
Les tentatives de Google dans les médias sociaux ( en 1 image )
It is widely believed that Facebook presents a significant competitive threat to Google. Google itself seems to believe this – Larry Page recently said that all employees would have their bonuses tied to the success of Google's social strategy. Why does Facebook present a threat to Google?
chris dixon's blog / Google's social strategy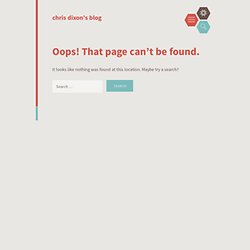 While the real-world markets take a nosedive, a virtual world's economy is on the up and up, and its parent company is reaping the rewards. Second Life, the user-generated virtual world, generates almost $100 million in revenue a year, according to a new report on LAUNCH. A "company insider" says that Linden Lab has grossed over $75 million per year for the past three years and the company is profitable. But this isn't just another nine-digit number in the sea of Web business news. Linden Lab, the parent company of Second Life, simply charges fees on financial transactions.
Second Life Makes $100M A Year in Revenue [Updated]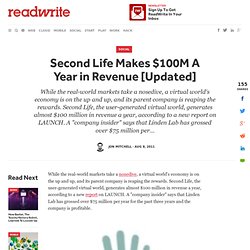 Foursquare est-il déjà condamné ? À peine une semaine après l'annonce d'un tour de table de 20 millions d'euros, c'est la question qu'on est déjà en droit de se poser, et au delà celle du destin de tous ces services sociaux qui connaissent une hype éphémère avant de retomber dans l'oubli.
Foursquare est-il déjà mort ? Ou le triste monde tragique des se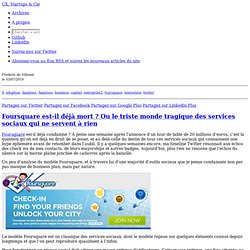 Article qui ne prend pas en compte la rémanence des réseaux sociaux, donc peu pertinent, dommage. by PED Jul 8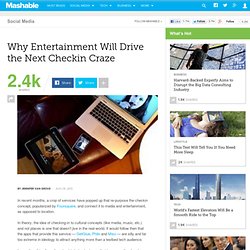 Why Entertainment Will Drive the Next Checkin Craze
In recent months, a crop of services have popped up that re-purpose the checkin concept, popularized by Foursquare , and connect it to media and entertainment, as opposed to location. In theory, the idea of checking-in to cultural concepts (like media, music, etc.) and not places is one that doesn't jive in the real-world.
Foursquare Is Five Times Larger Than Gowalla And Growing 75 Perc
Editor's note: The following analysis is written by Robert J. Moore, the CEO and co-founder of RJMetrics, an on-demand database analytics and business intelligence startup. Robert blogs at The Metric System and can be followed on Twitter at @RJMetrics.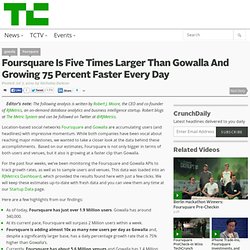 A Private, Anti-Foursquare To Geo-Fence Those Neer To You
If you are going to launch a new location app, creating an anti-Foursquare is probably not a bad idea. About a week ago, a Qualcomm-incubated project called Neer quietly launched on the Android market, and has been downloaded more than 10,000 times since then.
Foursquare is growing quickly, gaining momentum from mainstream deals, and now they have the money in the bank to keep it up.
Foursquare's Next Game: Choose Your Own Adventure?
Stribe had a good 2009.
Stribe Opens To All And Starts Thinking About Its Own Open Graph
Tumblr Is On Fire. Now Over 6 Million Users, 1.5 Billion Pageviews A Month
One year ago, in July 2009, Tumblr was going strong. They had 255 million pageviews that month.
Google a dévoilé hier son « Projet Google+ », sa tentative la plus aboutie pour rivaliser avec Facebook.
Google veut se mesurer à Facebook avec Google+