Pages fan
Get flash to fully experience Pearltrees
Welcome to Day 13 of 21 Days to a More Engaging Facebook Presence Series
I n today's age, it's not enough for a brand to just have a Facebook business page. A brand needs to nurture its Facebook community and keep it excited and alive. A Facebook community needs to feel loved.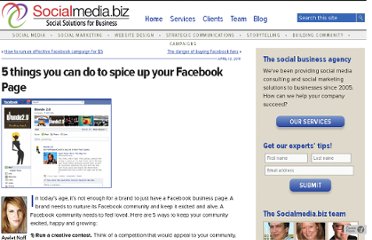 304 in Share
When a service such as Facebook limits users' creative freedom, it is inevitable that other add-on services will overcome this limitation. This is why then, we see more and more Facebook tab apps that give us more control and freedom when it comes to customizing a fan page or a personal profile. I can't really understand why Facebook doesn't create an editor that lets users create a super fan page.
With Facebook launching its redesigned pages for businesses early this year, many have flocked into the social media site, hoping to leverage this free function to increase their online presence.
Vous avez une Page d'entreprise Facebook et quelques centaines de personnes y ont adhéré. Avez-vous pensé à y ajouter un encart (onglet) « Contactez-nous » à votre Page?
Bonjour! Si vous visitez Emarketinglicious pour la 1ère fois, abonnez-vous à notre flux RSS pour recevoir nos dernières actualités. A l'origine, cet article devait s'appeler "Les meilleures pages Facebook de marques françaises".
Use these tips to make the most of your Facebook marketing efforts. Facebook may have 500 million users, but having an outpost on the social media site won't necessarily increase sales or referrals to your website. But the right tools, used strategically, can help make Facebook an important part of your marketing, lead acquisition and customer-service strategies.
Yesterday afternoon Facebook began testing a new Pages discovery tool called the Pages discovery browser.
When we took over the Facebook Fan page for Weekly World News , they had 3,244 fans. 4 days later, we had 40,310 fans– 10 times larger.