Levée de fonds
Pursuing venture capital is an important step for a rapidly growing business – but watch out for potential landmines.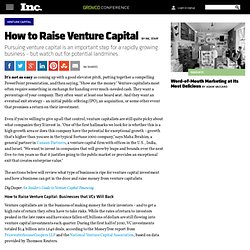 How to Raise Venture Capital
I met with an investor, what happens next?
5 Accelerator Lessons: How to Raise Funds and Build a Business
Last summer, Pipedrive was fortunate to be part of Angelpad , an accelerator run by a few very smart ex-Googlers. The 3 intensive months thoroughly changed our understanding of how to build a successful product, and a successful company. And more importantly, it boosted our growth to the next level. Here are the five most important lessons I learned from this crazy time.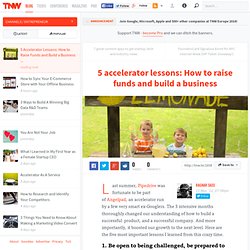 The 5 most common mistakes startups make with VCs
(Editor's note: Scott Edward Walker is the founder and CEO of Walker Corporate Law Group, PLLC, a law firm specializing in the representation of entrepreneurs.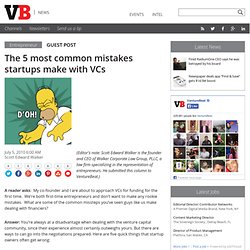 This post is sponsored by The Founder Institute .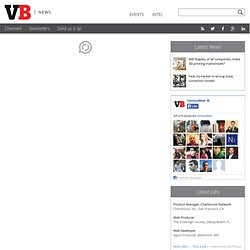 The anatomy of a fundable startup
The Four Main Things that Investors Look for in a Startup | Both Sides of the Table
Understanding a VC's Seed Funding Policy is Critical | Both Sides of the Table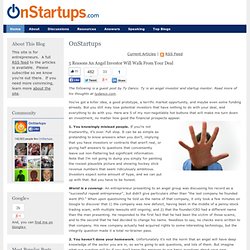 5 Reasons An Angel Investor Will Walk From Your Deal
5 Reasons An Angel Investor Will Walk From Your Deal
madmagz: Good stuff I Notes on rais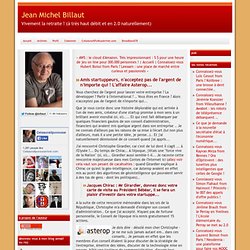 Amis startuppeurs, n'acceptez pas de l'argent de n'importe qui ! L'affaire Asterop
Vous cherchez de l'argent pour lancer votre entreprise ? La développer ? Partir à l'international ? ..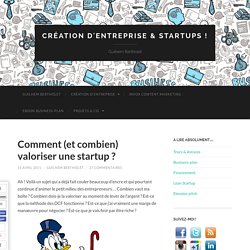 Ah !
Comment (et combien) valoriser une startup ?
How Much Money To Raise
Image via Wikipedia
PEG: Comment valoriser sa boîte
Où lever des fonds en amorçage ? - We Change the World
Voilà une question qu'un de mes incubés vient de me poser et à laquelle j'ai été bien embêté de répondre.
Quand faut-il lever des fonds ?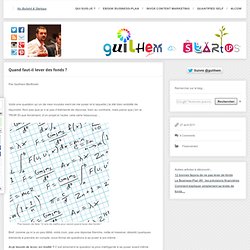 Ce que les VCs recherchent dans une startup – #mipcc | Creation d'entreprise ! | Guilhem Bertholet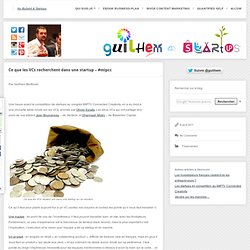 Une heure avant la compétition de startups au congrès MIPTV Connected Creativity, on a eu droit à une chouette table-ronde sur les VCs, animée par Olivier Ezratty . Les deux VCs qui ont partagé leur point de vue étaient Jean Bourcereau – de Ventech, et Dharmash Mistry – de Balderton Capital.
Lever des fonds
Par Gilles Poupardin (chroniqueur exclusif) - Sencities.com Tous les projets ne lèvent pas de fonds.
J'ai besoin d'argent pour mon entreprise. | Entrepreneur Interne
Les levées de fonds et cessions du web français depuis début 2010
Une quarantaine d'opérations a été réalisée depuis le début de l'année, qui confirme le retour d'activité dans le web français après 18 mois difficiles. Leur vision globale est riche d'enseignement : Le temps des premières levées à hauteur de 2 ou 3 M€ semble bel et bien révolu. Les nouveaux acteurs que sont Jaïna Capital , Kima Ventures et Isai ont pris une place centrale dans l'univers des fonds d'investissement avec leurs tickets d'amorçage. L'après crise semble donc marquée par une nette recomposition du paysage.
Les levées de fonds de l'e-business au premier semestre 2010
The Future of Startup Funding
August 2010
'Super Angels' Fly In to Aid Start-Ups
By PUI-WING TAM And SPENCER E.
Come See the Incredible, Shrinking VC Industry!
Destin: European VC Needs Revolution, Not Evolution
How to raise money with no lead
Hacker News | The Future of Startup Funding
Crowdfunding & Finance
Ces forces qui bouleversent le Capital Investissement
Rise of the European SuperAngel - Fred Destin
Stock Market Drops. Then It Rallies. What Happens Next for Funding?
Seed rounds: Converts vs Equity