Google+
Google Introduces A New Ad Product It Hopes Is As Lucrative As Search
Google Plus Business Profiles Are Coming Q3, Analytics and All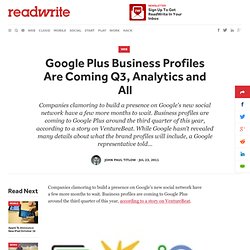 Companies clamoring to build a presence on Google's new social network have a few more months to wait.
Google+ Designer: The 4 Problems In Social Networking That We Fixed | Co. Design
Google+!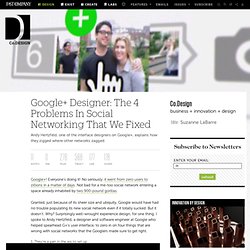 I've been so focused on the user experience of Google's new social network Plus that I haven't thought very much about the big picture, I must admit. Listening tonight to an interview with Plus designer Joseph Smarr on the IEEE Podcast it became clear to me that for at least some of Plus's leadership the goal is not to win social networking outright, or to kill any competitors, but to disrupt the social networking economy with a big enough, good enough and popular enough service that the walled gardens (Facebook in particular) are forced to open up interoperability enough that their users can communicate with the significant enough number of people in their lives that use a different social network.
Marshall Kirkpatrick, Technology Journalist » Google Plus's Real Goal is Not to Kill Facebook, but to Force it to Open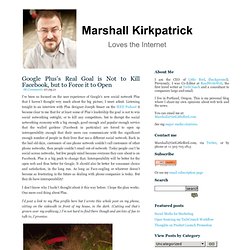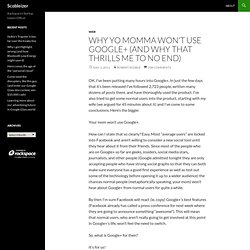 Why yo momma won't use Google+ (and why that thrills me to no end)
OK, I've been putting many hours into Google+.
Why Twitter Should be Very Worried About Google+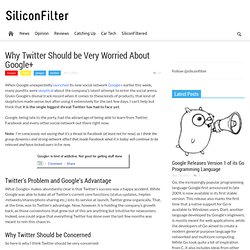 When Google unexpectedly launched its new social network Google+ earlier this week, many pundits were skeptical about the company's latest attempt to enter the social arena. Given Google's dismal track record when it comes to these kinds of products, that kind of skepticism made sense, but after using it extensively for the last few days, I can't help but think that it is the single biggest threat Twitter has had to face yet.
Twitter's Biggest Rival Thinks Google Plus Could Become Fastest Growing Network in History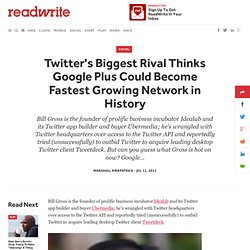 Bill Gross is the founder of prolific business incubator Idealab and its Twitter app builder and buyer Ubermedia; he's wrangled with Twitter headquarters over access to the Twitter API and reportedly tried (unsuccessfully) to outbid Twitter to acquire leading desktop Twitter client Tweetdeck. But can you guess what Gross is hot on now? Google Plus - the new Google social network launched late last month that's been stealing the hearts, minds and time of many Twitter power players.