Facebook
Starting today WordPress publishers can easily integrate Facebook features, such as social publishing and mentions, through the new Facebook for WordPress plugin. The plugin was built by Facebook engineers in collaboration with open source partners, and makes it simple for anyone to make their WordPress site more social – no coding required. The plugin will also work on mobile and support internationalization. Social Publishing
Integration for WordPress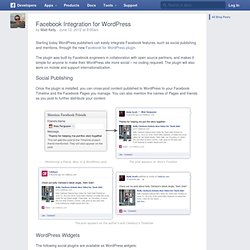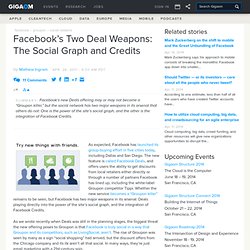 Facebook's Two Deal Weapons: The Social Graph and Credits: Tech News and Analysis «
As expected, Facebook has launched its group-buying effort in five cities today, including Dallas and San Diego. The new feature is called Facebook Deals, and offers users the ability to get discounts from local retailers either directly or through a number of partners Facebook has lined up, including the white-label Groupon competitor Tippr. Whether the new service becomes a "Groupon killer" remains to be seen, but Facebook has two major weapons in its arsenal: Deals playing directly into the power of the site's social graph, and the integration of Facebook Credits.
November 8, 2010 U.S. Online Display Advertising Market Delivers 22 Percent Increase in Impressions vs.
U.S. Online Display Advertising Market Delivers 22 Percent Increase in Impressions vs. Year Ago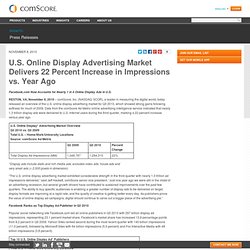 https://developers.facebook.com/attachment/PolicyChecklist-FR.pdf
We can take enforcement action against you and any or all of your applications if we determine in our sole judgment that you or your application violates Facebook Platform Terms and Policies. Enforcement action is both automated and manual, and can include disabling your application, restricting you and your application's access to Platform functionality, terminating our agreements with you, or any other action as we in our sole discretion deem appropriate. Communication with developers takes place via an email sent from the facebook.com or facebookmail.com domain to the contact email address registered to the application. To stay in touch, please ensure that your email address is current and that you do not filter out any such messages.
Platform Policies - Facebook developers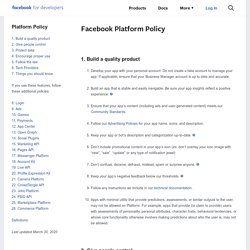 An Update on Encrypted UIDs
Last month, we outlined an initial proposal to address the inadvertent sharing of User IDs (UIDs) via the HTTP Referral header. Further, we announced our intention to provide a unique, but anonymous mechanism that developers can use with third-party service providers. Over the past few weeks, we have received feedback from the developer community, which we have used to refine our proposals. Today, we are providing an updated proposal for handling inadvertent UID sharing and releasing a new mechanism for legitimate and anonymous sharing with third-parties. Iframe POST Proposal Currently, we pass iframe applications the 'fb_sig_user' query string parameter in the URL. This allows the application to identify the user and create customized, social experience.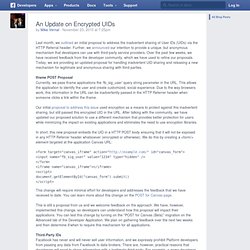 Plus maligne que Google Wave, la nou­velle mes­sagerie lancée hier est faite pour attirer dans le giron de Facebook les gens qui ont un mail mais n'utilisent pas encore le réseau social. Fac­ebook a annoncé hier soir sa nou­velle mes­sagerie « sociale » qui a pour but d'agréger l'intégralité des échanges entre deux per­son­nes, qu'ils soient issus d'un chat, de SMS ou de courriels. À ce titre, même si Face­book se défend de vouloir tuer l'e-mail (dont les poids lourds sont Hot­mail et Yahoo aux États-Unis avec à eux deux presque autant de comptes que Face­book !)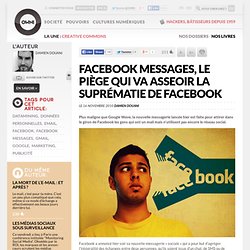 Facebook Messages, le piège qui va asseoir la suprématie de Facebook » Article » OWNI, Digital Journalism
The Facebook Drama "The Social Network" Won't Show You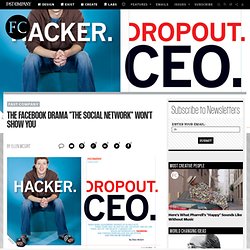 I think I can safely say that The Social Network is not the feel-good movie of the year – certainly not for Mark Zuckerberg, or for the dozens of exceptionally talented men and women who created Facebook. They were, and are, brilliant, hardworking and imaginative people who, mostly by design and occasionally by lucky accident, managed to survive the uniquely fraught early moments of an online start-up and the more established dangers of real-world Valley venture capital. It was a swirl alright, but not the way the film would have you think. There are, of course, exceptions to the exceptional: Eduardo Saverin and the Winklevii. (The goofy name that Zuckerberg stamped on the preternaturally entitled Winklevoss twins appears to be true. It delighted the audience.)
Why Facebook's New Groups Will Change the Way You Use Facebook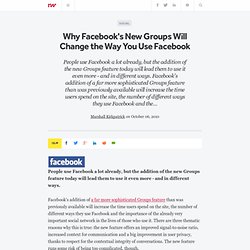 People use Facebook a lot already, but the addition of the new Groups feature today will lead them to use it even more - and in different ways. Facebook's addition of a far more sophisticated Groups feature than was previously available will increase the time users spend on the site, the number of different ways they use Facebook and the importance of the already very important social network in the lives of those who use it. There are three thematic reasons why this is true: the new feature offers an improved signal-to-noise ratio, increased context for communication and a big improvement in user privacy, thanks to respect for the contextual integrity of conversations. The new feature runs some risk of being too complicated, though. Signal to Noise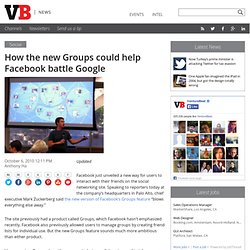 How Facebook's new Groups could help defeat Google
Updated Facebook just unveiled a new way for users to interact with their friends on the social networking site. Speaking to reporters today at the company's headquarters in Palo Alto, chief executive Mark Zuckerberg said the new version of Facebook's Groups feature "blows everything else away."
tp://www.msnbc.msn.com/id/39325170/
Facebook to announce how it will draw more attention to social games
Don't let cyber attacks kill your game! Join GamesBeat's Dean Takahashi for a free webinar on April 18 that will explore the DDoS risks facing the game industry. Sign up here. Months after it hurt social game publishers by taking away some of its best viral methods for spreading apps, Facebook is hoping to make amends. The company is planning to announce today it will make changes to its its News Feed, the system which displays updates from friends, so that aficionados of social games like Zynga's FarmVille can receive more notifications about their friends' gameplay. That will help game companies return to the days of using Facebook's friend activity — a powerful driver of traffic — to market their games.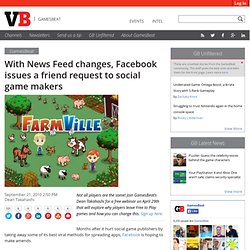 Wednesday, all over the world, online marketers experienced drastic changes in their Facebook advertising performance. Most advertisers saw large drops in both impressions and clicks. The bigger the ad spend, the larger the drop, some as high as 60%.
New Facebook Ad Serving Algorithm Causes Drastic Results | Casey Cheshire
fbnumbers.jpg (630×4860)
Le nouveau J'aime de Facebook s'affiche maintenant sur plusieurs lignes
Facebook a effectué un changement dans la façon dont apparaissent les « J'aime/Like » effectués sur des sites tiers, sur notre profil. Si vous cliquez sur le bouton « J'aime » sur un article de blog par exemple (essayez avec celui-ci tiens :-), vous verrez apparaitre sur votre profil plusieurs lignes descriptives avec deux liens (l'un vers l'article, l'autre vers la page d'accueil du site) : Alors qu'auparavant la même action sur le bouton Like, s'affichait sur une seule ligne : Le changement fait donc apparaître l'action d'aimer une page exactement de la même manière que le faisait un clic sur le bouton « Partager/Share ». Et Facebook a déjà enlevé ce dernier de la documentation, ce qui laisse à penser qu'il n'y aura plus que le bouton J'aime (Like) à l'avenir, et que le bouton « Partager (Share) » va disparaître progressivement.