Display
h392pmp Shared by rlhez. Facebook Launches Ad Targeting by Topic. Facebook recently added the ability to target advertisements by Topic, as detailed in its new Interests Targeting guide (.PDF).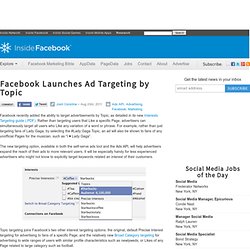 Rather than targeting users that Like a specific Page, advertisers can simultaneously target all users who Like any variation of a word or phrase. For example, rather than just targeting fans of Lady Gaga, by selecting the #Lady Gaga Topic, an ad will also be shown to fans of any unofficial Pages for the musician, such as "I ♥ Lady Gaga". The new targeting option, available in both the self-serve ads tool and the Ads API, will help advertisers expand the reach of their ads to more relevant users. Bien comprendre les statistiques Facebook liées aux campagnes publicitaires. On continue aujourd'hui notre dossier Facebook marketing.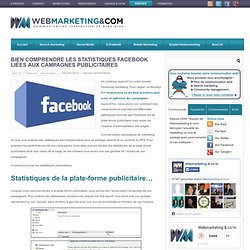 Pour rappel, la dernière fois nous avions vu les best practices pour créer et optimiser les campagnes. Aujourd'hui, nous allons voir comment bien comprendre et exploiter les différentes statistiques fournies par Facebook via sa plate-forme publicitaire mais aussi via l'espace d'administration des pages… Comme toutes campagnes de marketing on-line, une analyse des statistiques est indispensable pour un pilotage optimal et un contrôle du ROI. Facebook Enhances Analytics to Enable Smarter Ad Targeting for Marketers. Seems like the team over at Facebook has been eating their Wheaties.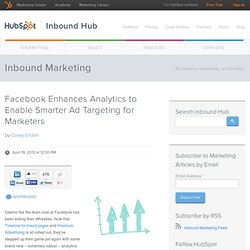 Now that Timeline for brand pages and Premium Advertising is all rolled out, they've stepped up their game yet again with some brand new -- extremely robust -- analytics that I'm sure they hope will encourage marketers and business owners to spend more (and better targeted) dollars on their ad platform. Facebook hasn't made the official announcement yet, but luckily our friends at TechCrunch were able to get an inside scoop.
Retargeting: Marketing a Product Post Launch | Mindvalley Insights for Online Marketing Techniques - Vimperator - FF13 - Developper. So your product launch may be perfectly in place but how does your post launch strategy fare?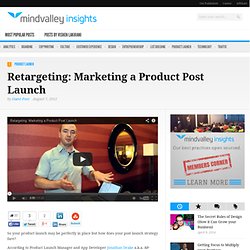 According to Product Launch Manager and App Developer Jonathan Drake a.k.a. Mr Product Launch, many businesses fail to follow through post product sales and as such, are losing out on valuable sales conversions.
---