Video Games
LittleBigPlanet
LittleBigPlanet , commonly abbreviated LBP , [ 1 ] is a puzzle platformer video game series created by Media Molecule and published by Sony Computer Entertainment across multiple PlayStation platforms. The series follows the adventures of Sackboy and has a large emphasis on gameplay rather than being story-driven. All of the games in the series put a strong emphasis on user-generated content and are based on the series' tagline "Play, Create, Share". The tagline represents the three core elements of the series; Playing alone or with others online or on the same console, creating new content using the in-game creation tools and sharing creations and discoveries online with other players. [ 2 ] Tarsier Studios , Fireproof Studios and Supermassive Games also contribute to the development of the PlayStation 3 games, creating in-game assets including costumes, backgrounds and stickers. [ 3 ] The series comprises five games across three gaming platforms.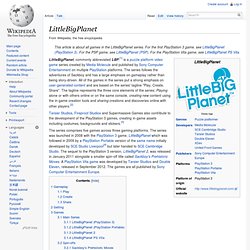 The Sims Medieval
The Sims Medieval is a video game in The Sims series based upon The Sims 3 Engine. It was developed and published by Electronic Arts for Microsoft Windows, Mac OS X, and iOS , and was released on March 22, 2011. It was made available for Windows Phone , though exclusive to the Nokia Lumia phones, on March 25, 2013. Set in medieval times, it allows the player to build a kingdom through quest -driven gameplay. On December 21, 2010, EA announced that the Limited Edition was available until the launch date, and was also released at the same time as the standard edition. [ 1 ] [ edit ] Features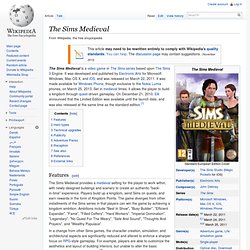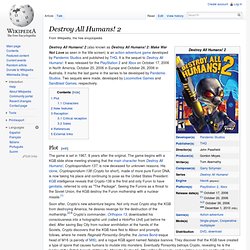 Destroy All Humans! 2
Destroy All Humans! 2 (also known as Destroy All Humans! 2: Make War Not Love as seen in the title screen) is a video game for the PlayStation 2 and Xbox consoles and is the sequel to Destroy All Humans!
Destroy All Humans!
Destroy All Humans! is a video game developed by Pandemic Studios and published by THQ . It was released for the Xbox and PlayStation 2 on June 21, 2005. [ 2 ] The game is set in the late 1950s in the U.S. and parodies the lifestyles, pop culture, and politics of this time period. The player controls Cryptosporidium 137 (a reference to the protozoan parasite Cryptosporidium ), a member of the Furon race of alien life , who has come to Earth to harvest DNA from humans to continue the cloning process of his species. Destroy All Humans! is an open world game .