Resources
Customer Service Training, Presentation Skills Training
GenGreen Life - Find the Green in Everything... Locally
Cleaning Business Television | Web TV For Cleaning Business Owners
US > Answer the call to recycle!
Allergy, Asthma Symptoms and Sinusitis Allergies Information and Products at Allergy Consumer Review
Improved Success through Modern Business and Personal Etiquette Training
How to start and grow a residential house cleaning business or maid service.
ARCSI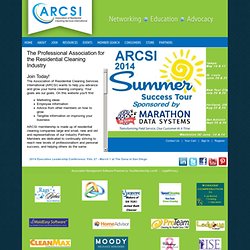 2012 Convention DVDs Now Available in Our Store! The Association of Residential Cleaning Services International is the official non-profit member organization dedicated to advancing the home cleaning industry. Members of ARCSI come together to network and share ideas to learn how to improve and grow their own company as well as, improve over all conditions in the entire industry as a whole! Membership is made up of residential cleaning companies large and small, new and old and representatives of our Industry Partners. Be they owners, managers, employees or vendors, the people who are involved are dedicated to continually striving to reach new levels of professionalism and personal success. Joining ARCSI is a big step; a step that will help take your residential cleaning company to the next level.
Free Printable Certificates - Personalized Certificates
Cleaning Business Marketing Materials