ILT developments
ILT
Group Policy Preference Client Side Extensions for Windows XP (KB943729) Hosted Monitoring | Network Monitoring | Cloud Monitoring | LogicMonitor. What is Blended Learning? We have placed cookies on your computer to help make this website better.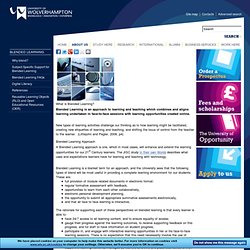 For more information on cookies visit www.wlv.ac.uk/cookies to change your settings. Otherwise, we'll assume you're OK to continue. <div>Browser does not support script. Apple launches three-pronged education assault. High performance access to file storage As expected, Apple has announced a major foray into the education arena with the release of three new – and free – apps, one for reading interactive textbooks, another for creating said textbooks, and a third for accessing K-12, college, and university course materials in iTunes U.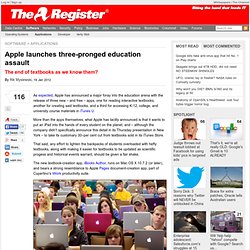 More than the apps themselves, what Apple has tacitly announced is that it wants to put an iPad into the hands of every student on the planet, and – although the company didn't specifically announce this detail in its Thursday presentation in New York – to take its customary 30–per cent cut from textbooks sold in its iTunes Store. That said, any effort to lighten the backpacks of students overloaded with hefty textbooks, along with making it easier for textbooks to be updated as scientific progess and historical events warrant, should be given a fair shake. Splinter » a Liverpool-based branding, print and web design agency. Get a degree by 'blended learning' Melanie Liley has graduated with a degree in business studies after five years of juggling studies with a full-time job.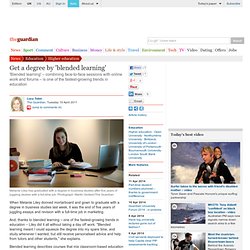 Photograph: Martin Godwin/The Guardian When Melanie Liley donned mortarboard and gown to graduate with a degree in business studies last week, it was the end of five years of juggling essays and revision with a full-time job in marketing. And, thanks to blended learning – one of the fastest-growing trends in education – Liley did it all without taking a day off work.
"Blended learning meant I could squeeze the degree into my spare time, and study whenever I wanted, but still receive personalised advice and help from tutors and other students," she explains. UK Education - Products - Live@edu. Apps for Education | Official Website. Blended learning.
---