Shopping
Discount Musto Clearance Offers
Men : Marks & Spencer Outlet Online
Natural Beechwood Gnocchi Paddle - Make gnocchi like the Italians with this handy beechwood paddle. Just roll your gnocchi dough over the paddle for a uniform ridge finish. Natural Beechwood Garganelli/Gnocchi Stripper - Make your own Garganelli pasta with this paddle and mini rolling pin - take a 2-inch square rolled pasta dough piece and simply roll from one corner to the opposite corner with the mini rolling pin to create the garganelli two pointed edges.
Beechwood Gnocchi/Garganelli Accessories / Falcon Products Ltd / Non Stick Cooking and Oven Liners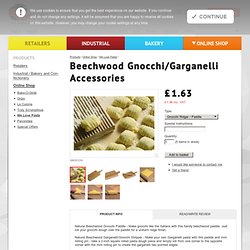 Fellows & Sons - Jewellery & Watch Auctioneers of Distinction :: +44 (O) 121 212 2131
www.tennants.co.uk/Catalogue/SearchResults.aspx?keywords=jmackenzie thorpe
sell rolex, sell cartier, buy rolex, buy cartier
Rolex Dealer - Second Time Round - Specialists in Rolex, Cartier, Omega, Patek, Breitling and many more pre owned and unused watches.
Amazon.co.uk: Recommended For You