Soul
Atunci si acum  Poetry of Robert Frost. I Know Why The Caged Bird Sings by Maya Angelou. The free bird leapson the back of the windand floats downstreamtill the current endsand dips his wingsin the orange sun raysand dares to claim the sky.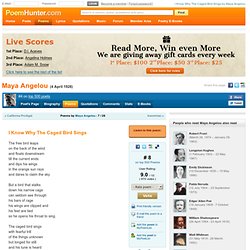 But a bird that stalksdown his narrow cagecan seldom see throughhis bars of ragehis wings are clipped andhis feet are tiedso he opens his throat to sing. The caged bird singswith fearful trillof the things unknownbut longed for stilland his tune is heardon the distant hill for the caged birdsings of freedom The free bird thinks of another breezeand the trade winds soft through the sighing treesand the fat worms waiting on a dawn-bright lawnand he names the sky his own. But a caged bird stands on the grave of dreamshis shadow shouts on a nightmare screamhis wings are clipped and his feet are tiedso he opens his throat to sing.
Adrian Paunescu - Repetabila povara. Căţel emigrant « Poezii de Adrian Păunescu. Pe şosea, l-am văzut, hăituit de maşini, A fugit spre-a uita sărăcia din sat, Pe-un asfalt unde-ai lui sunt aşa de puţini Şi-i vacarm, de te poţi sătura de urlat.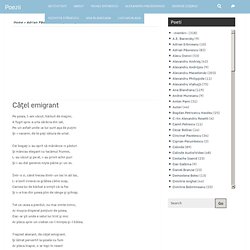 Cei bogaţi s-au oprit să mănânce-n păduri Şi mâncau elegant cu tacâmul frumos, L-au văzut şi pe el, i-au privit ochii puri Şi i-au dat generos nişte pâine şi-un os. Într-o zi, când trecea dintr-un loc în alt loc, L-a lovit cineva ce grăbea către scop, Carnea lui de bărbat a simţit că ia foc Şi s-a tras din şosea plin de sânge şi şchiop. Invictus by William Ernest Henley. Manchester Poetry Prize. The Manchester Poetry Prize is a literary award celebrating excellence in creative writing.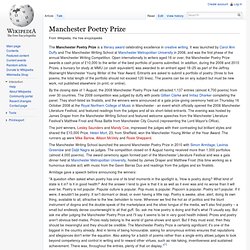 It was launched by Carol Ann Duffy and The Manchester Writing School at Manchester Metropolitan University in 2008, and was the first phase of the annual Manchester Writing Competition. Open internationally to writers aged 16 or over, the Manchester Poetry Prize awards a cash prize of £10,000 to the writer of the best portfolio of poems submitted. In addition, during the 2008 and 2010 Prizes, a bursary for study at MMU (or cash equivalent) was awarded to an entrant aged 18–25 as part of the Jeffrey Wainwright Manchester Young Writer of the Year Award. Winston Churchill: We shall fight on the beaches - edited | From the Guardian. From the moment that the French defences at Sedan and on the Meuse were broken at the end of the second week of May, only a rapid retreat to Amiens and the south could have saved the British and French armies who had entered Belgium at the appeal of the Belgian king; but this strategic fact was not immediately realised.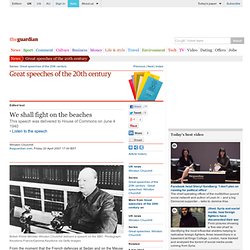 The French high command hoped they would be able to close the gap, and the armies of the north were under their orders. Moreover, a retirement of this kind would have involved almost certainly the destruction of the fine Belgian army of over 20 divisions and the abandonment of the whole of Belgium. The 100 Best Books of All Time. The World Library is a list of the 100 best books, as proposed by one hundred writers from fifty-four different countries, compiled and organized in 2002 by the Norwegian Book Club.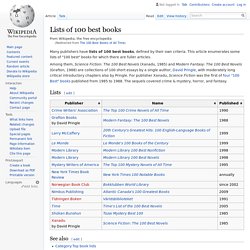 This list endeavours to reflect world literature, with books from all countries, cultures, and time periods. Eleven of the books included on the list are written by women, eighty-five are written by men and four have unknown authors. Each writer had to select his or her own list of ten books. The books selected by this process and listed here are not ranked or categorized in any way; the organizers have stated that "they are all on an equal footing," with the exception of Don Quixote which was given the distinction "best literary work ever written.
" The following list organizes the works alphabetically by author.[1] Lecţia despre responsabilitate. Ask the Expert: Balance. ~ Michael Finkelstein, M.D. Question:I am a single mom with a ten-year-old year old daughter.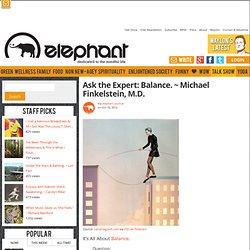 She has a lot of ambition and is always telling me she wants to be a doctor someday; this makes me quite proud and I am committed to helping her.But it isn't easy—as a single mom, I struggle to pay for the everyday needs of a ten-year-old, let alone thinking of saving for college! When I speak with her friends' parents, who I see at school meetings and during soccer practices, they are always referring to the "college fund" they've already started for their kids, so that they can go to the best school possible.I feel badly in contrast. Forma sentimentelor  A Lively Mind: Your Brain On Jane Austen : Shots - Health Blog. Hide captionMatt Langione, a subject in the study, reads Jane Austen's Mansfield Park.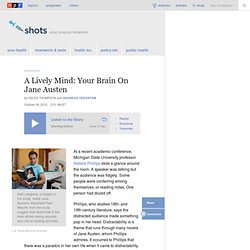 Results from the study suggest that blood flow in the brain differs during leisurely and critical reading activities. L.A. For Those Who Want to Lead, Read - John Coleman. By John Coleman | 10:00 AM August 15, 2012 When David Petraeus visited the Harvard Kennedy School in 2009, one of the meetings he requested was with author Doris Kearns Goodwin.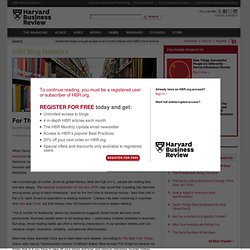 Petraeus, who holds a PhD in International Relations from Princeton, is a fan of Team of Rivals and wanted time to speak to the famed historian about her work. Apparently, the great general (and current CIA Director) is something of a bibliophile. He's increasingly an outlier. Even as global literacy rates are high (84%), people are reading less and less deeply. "M-am luat pe mine însumi ca duhovnic şi psihanalist" - interviu cu Mircea CĂRTĂRESCU. - interviu cu Mircea CĂRTĂRESCU - În jurnalul tău faci figura unui personaj deseori nemulţumit, deprimat, anxios...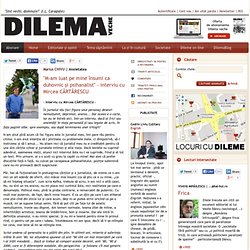 Dar aceea e o carte, iar eu te întreb aici, într-un interviu, dacă ai frici sau anxietăţi în viaţa personală şi/sau legate de scris, în faţa paginii albe, spre exemplu, sau după terminarea unei trilogii? N-am ştiut pînă acum că fac figura asta în jurnalul meu, îmi pare rău pentru cititor, n-am avut intenţia să-l plictisesc cu problemele mele, ci dimpotrivă, să-l instruiesc şi să-l amuz... Nu ştiam nici că jurnalul meu nu e creditabil pentru că una sînt cărţile (chiar şi jurnalele intime) şi alta viaţa. Dacă textele nu cuprind adevărul, asemenea vieţii, atunci nici interviul ăsta nu-l va cuprinde, fiind şi el tot un text.
Citizenship in a Republic: The Man in the Arena - Theodore Roosevelt @ LeadershipNow. It is not the critic who counts; not the man who points out how the strong man stumbles, or where the doer of deeds could have done them better.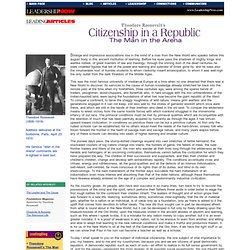 The credit belongs to the man who is actually in the arena, whose face is marred by dust and sweat and blood; who strives valiantly; who errs, and comes short again and again, because there is no effort without error and shortcoming; but who does actually strive to do the deeds; who knows the great enthusiasms, the great devotions; who spends himself in a worthy cause; who at the best knows in the end the triumph of high achievement, and who at the worst, if he fails, at least fails while daring greatly, so that his place shall never be with those cold and timid souls who know neither victory nor defeat. Shame on the man of cultivated taste who permits refinement to develop into a fastidiousness that unfits him for doing the rough work of a workaday world. "Poezia, draga de ea, e de o cruzime feroce!" (apărut în Dilemateca, anul VII, nr. 76, septembrie 2012) Două dintre cărţile tale vorbesc despre sinuciderea tatălui tău; este aceasta trauma originară din care s-a dezvoltat toată poezia ta?
Este literatura ta consecinţa acestui accident biografic? Această întrebare de început îmi aduce aminte de fandările scurte, pe viaţă şi pe moarte, ale unuia dintre spadasinii preferaţi ai copilăriei mele - Pan Wolodyjowski din Potopul lui Henryk Sienkiewicz. Nu ştiu dacă mai ţii minte cum înţelegea el să se lupte: nu cu dantelării baroce ale gesturilor, nici cu furor romantic şi viforos, precum junele prim al romanului, Kmicic - ci, dimpotrivă, litotic şi cumva aticist, cu maximă ergonomie de mişcări, recurgînd aproape exclusiv la fandări decisive (ca ale tale), încît - după cum repetă Sienkiewicz - "îi stingea pe duşmani ca pe nişte lumînări. " Mentenanţa limbii române » Sã mai şi zâmbim… Karioka: Uraste-i pe toti. Dar cumpara-le suplimente. Asta e campania: Si asta e opinia mea vizavi de ea: Mesajul, oricare ar fi el, e extrem de prost formulat. E jignitor, diletant si dureros. Prayer of Forgiveness. The Story Behind "Caine's Arcade" Two weeks ago, the planet's most unlikely film star turned from a Ugandan warlord to a nine-year-old kid who runs a homemade cardboard arcade out of his dad's used-auto-parts store, Smart Parts, in East Los Angeles.
Invisible children to a child's imagination: the world could smile again. "Caine's Arcade," an eleven-minute film about Caine Monroy and his first customer, a struggling filmmaker named Nirvan Mullick, quickly acquired all the metrics of a viral sensation: millions of YouTube views, a top trending topic on Twitter worldwide, the Reddit front page, a call from Letterman's people. The adulations flooded Mullick's inbox, including one from the hacker collective Anonymous: "I commend you for your great work. Asemeni focului, asemeni panicii, asemeni iubirii  Huxley Vs. Orwell: Infinite Distraction Or Government Oppression? Sand Art Video. Charlie Chaplin: Organic, Badass Example for Modern Times. The Fight You Don't Get to Leave. ~ JJ Roitman. Quote of the Day: Love Your Solitude. Womanhood & the Reawakening of My Erotic Innocence. Letting go isn't pretty. Pablo Neruda, a poet for sad, bad mornings. Plus, Trungpa: tonglen.
Chogyam Trungpa, Buddhist guru, on the role of sadness in everyday life. I WILL FU#%ING PULL GREATNESS OUT OF YOU | WhatsYourName | 5,000+ likes | 22. Summer Hours (2008. Octavian Paler – Deșertul pentru totdeauna « FotoCitate. Confucius Quotes. I love words / i can read picture on VisualizeUs. Words that speak to the soul. I love words / i can read picture on VisualizeUs.
---