PR
N - Arfan Naseer: The A-Z of Young Businesses. Naz: Con-Sequence Arfan Naseer, known as Naz, got involved in the wrong crowd, and was sent to prison at the age of 21.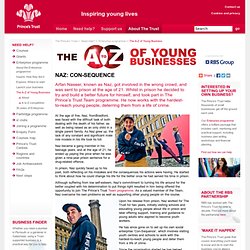 Whilst in prison he decided to try and build a better future for himself, and took part in The Prince's Trust Team programme. He now works with the hardest-to-reach young people, deterring them from a life of crime. At the age of five, Naz, fromBradford, was faced with the difficult task of both dealing with the death of his father, as well as being raised as an only child in a single parent family. As Naz grew up, the lack of any constant and significant male role models in his life took its toll. Redactor obiective turistice, Bucuresti, Proactive Hr Profile, Locuri de munca, Joburi, 05-10-2012, ID: 80839 - BizooJobs.ro.
Streamer. The PR Pro's Guide to Twitter. The Social PR Guide Series is supported by Mynewsdesk.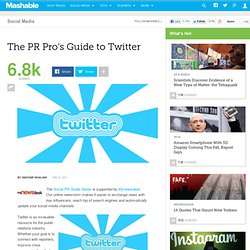 Our online newsroom makes it easier to exchange news with key influencers, reach top of search engines and automatically update your social media channels. Twitter is an invaluable resource for the public relations industry. Whether your goal is to connect with reporters, improve crisis communication, find your next job, bolster professional development or offer a glimpse of a company's inner workings -– 140 characters can go a long way. Just look at the following examples, highlighting five rich opportunities for PR pros on Twitter. Social PR: 10 Ways to Do PR Better with Social Media - Search Engine Watch (SEW) Will the new public relations please stand up?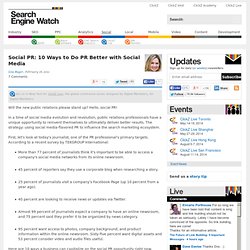 Hello, social PR! In a time of social media evolution and revolution, public relations professionals have a unique opportunity to reinvent themselves to ultimately deliver better results. 105 Twitter Apps for PR. Twitter is no longer a little known platform for bloggers to communicate on.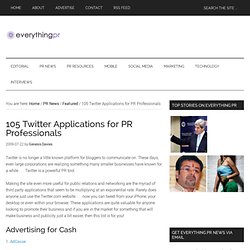 These days, even large corporations are realizing something many smaller businesses have known for a while . . . Twitter is a powerful PR tool. Making the site even more useful for public relations and networking are the myriad of third party applications that seem to be multiplying at an exponential rate. Crisis Communication Management. Crisis Communication Management General principles that can positively affect your actions and communication in a crisis situation: Bring the situation under control, if possible.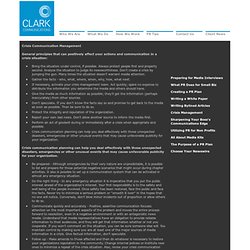 Always protect people first and property second. Analyze the situation to judge its newsworthiness. Don't create a crisis by jumping the gun. Developing a PR Plan. Want to make sure your business's name gets heard this year?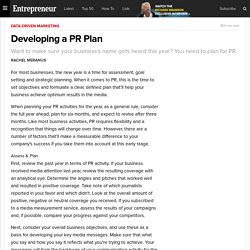 You need to plan for PR. For most businesses, the new year is a time for assessment, goal setting and strategic planning. When it comes to PR, this is the time to set objectives and formulate a clear, defined plan that'll help your business achieve optimum results in the media. When planning your PR activities for the year, as a general rule, consider the full year ahead, plan for six months, and expect to revise after three months.
---