Music/Songwriters/Info
Bollywood. Bollywood is the Hindi-language film industry based in Mumbai (Bombay), Maharashtra, India.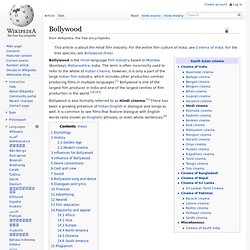 The term is often incorrectly used to refer to the whole of Indian cinema; however, it is only a part of the large Indian film industry, which includes other production centres producing films in multiple languages.[1] Bollywood is one of the largest film producer in India and one of the largest centres of film production in the world.[2][3][4] Bollywood is also formally referred to as Hindi cinema.[5] There has been a growing presence of Indian English in dialogue and songs as well.
Keiv's Band Index. Guster Official Site. The Mezzotint Label - Mark Mulcahy, Miracle Legion, Polaris, and more... Palanwen's Music Profile.
---