Stanard Models
Yang–Mills theory
Yang–Mills theory is a gauge theory based on the SU( N ) group , or more generally any compact, semi-simple Lie group .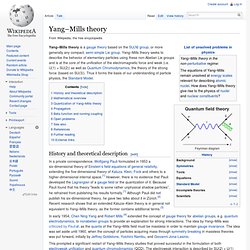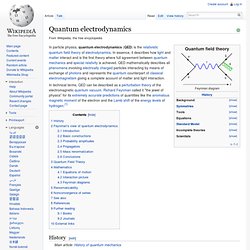 Quantum electrodynamics
Quantum electrodynamics ( QED ) is the relativistic quantum field theory of electrodynamics .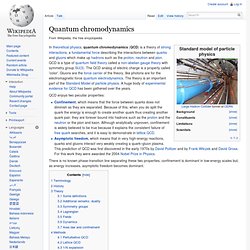 Quantum chromodynamics
In theoretical physics , quantum chromodynamics ( QCD ) is a theory of the strong interaction ( color force), a fundamental force describing the interactions between quarks and gluons which make up hadrons (such as the proton , neutron or pion ). It is the study of the SU (3) Yang–Mills theory of color-charged fermions (the quarks). QCD is a quantum field theory of a special kind called a non-abelian gauge theory , consisting of a 'color field' mediated by a set of exchange particles (the gluons).
Higgs mechanism
In particle physics , the Higgs mechanism is a kind of mass generation mechanism , a process that gives mass to elementary particles . According to this theory, particles gain mass by interacting with the Higgs field that permeates all space.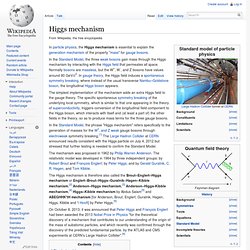 In particle physics , the electroweak interaction is the unified description of two of the four known fundamental interactions of nature: electromagnetism and the weak interaction .
Electroweak interaction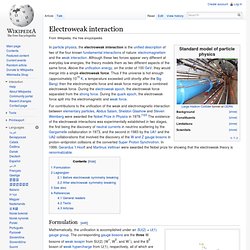 This article is a non-mathematical general overview of the Standard Model. For a mathematical description, see the article Standard Model (mathematical formulation) .