Smart Phone
40 Android Apps to Boost Your Productivity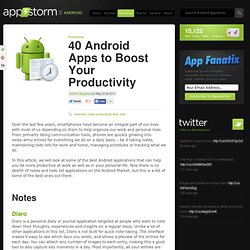 Over the last few years, smartphones have become an integral part of our lives with most of us depending on them to help organize our work and personal lives. From primarily being communication tools, phones are quickly growing into swiss-army knives for everything we do on a daily basis – be it taking notes, maintaining todo lists for work and home, managing schedules or tracking what we do. In this article, we will look at some of the best Android applications that can help you be more productive at work as well as in your personal life. Now there is no dearth of notes and todo list applications on the Android Market, but this is a list of some of the best ones out there. Notes
I have a Samsung Galaxy Ace and I wanted to transfer files from PC to the Ace over USB. I don't like to use software for this. I don't want Kies (the software provided by Samsung), I just want a straight USB connection from PC to the Ace, so give me a USB (mass storage) driver and let me do the rest myself.
USB on Samsung Galaxy Ace « Encounters with Reality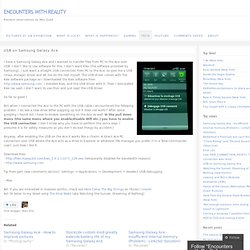 We're going to re-write the verdict to this phone - it's now under £90 in the shops, is being touted as THE budget phone to buy and bundled with a lot of tablets, so it's only right that users get the proper decision on a phone that launched in January 2011. Is it a good phone? No.
Samsung Galaxy Ace review: gallery | from TechRadar's expert reviews of Mobile phones
Ive just got a samsung galaxy ace and want to put music on it . how tho? - Why doesn t my galaxy ace mememory card show up on my computer :: Ask Me Fast
[ubuntu_mobile] Samsung Galaxy Ace on Ubuntu [Archive]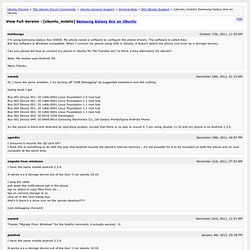 paulbuk January 4th, 2012, 05:38 PM I have the same mobile android 2.3.4 It works a s a storage device out of the box! I run ubuntu 10.10. I plug the cable pull down the notifications tab in the phone tap on select to copy files from /to..... tap on connect storage to pc click ok in the next dialog box that's it there's a drive icon on the ubuntu desktop!!!!!!
Overview | Koodo Mobile Self Serve