Occupy-related Information
Foreclosed homes, empty lots are next 'Occupy' targets. Rachel Maddow reports on an offshoot of the Occupy movement dedicated to defending struggling Americans for foreclosure and eviction.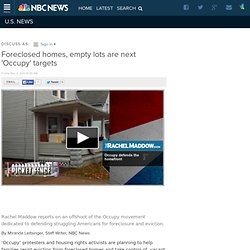 By Miranda Leitsinger, Staff Writer, NBC News 'Occupy' protesters and housing rights activists are planning to help families resist eviction from foreclosed homes and take control of vacant properties in some 25 U.S. cities on Tuesday, an effort aimed at focusing attention on the ongoing housing crisis and giving the movement a new focus after the dismantling of many of its encampments. The protesters have been crafting proposals – often quietly to prevent police from learning about their intentions beforehand -- to defend families facing eviction or return others home. In Minneapolis, for example, they plan to help a Vietnam War veteran stay in his home, in New York, protesters will try to help a family get back into their house, and in Chicago, two sisters and their seven children will be moved into an abandoned single-family home, activists said. Air Force dumped ashes of more troops' remains in Va. landfill than acknowledged.
The Air Force had maintained that it could not estimate how many troops might have had their remains sent to a landfill.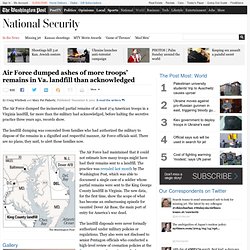 The practice was revealed last month by The Washington Post, which was able to document a single case of a soldier whose partial remains were sent to the King George County landfill in Virginia. The new data, for the first time, show the scope of what has become an embarrassing episode for vaunted Dover Air Base, the main port of entry for America's war dead. The landfill disposals were never formally authorized under military policies or regulations. They also were not disclosed to senior Pentagon officials who conducted a high-level review of cremation policies at the Dover mortuary in 2008, records show.
Air Force and Pentagon officials said last month that determining how many remains went to the landfill would require searching through the records of more than 6,300 troops whose remains have passed through the mortuary since 2001. What's really in the food? The A to Z of the food industry's most evil ingredients. (NaturalNews) Ever wonder what's really in the food sold at grocery stores around the world?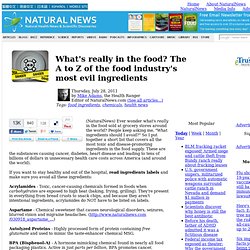 People keep asking me, "What ingredients should I avoid? " So I put together a short list that covers all the most toxic and disease-promoting ingredients in the food supply. US debt visualized: Stacked in 100 dollar bills. 50 Economic Numbers From 2011 That Are Almost Too Crazy To Believe. Even though most Americans have become very frustrated with this economy, the reality is that the vast majority of them still have no idea just how bad our economic decline has been or how much trouble we are going to be in if we don't make dramatic changes immediately.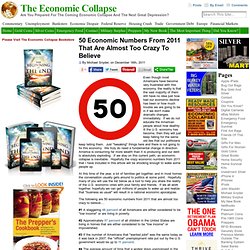 If we do not educate the American people about how deathly ill the U.S. economy has become, then they will just keep falling for the same old lies that our politicians keep telling them. Just "tweaking" things here and there is not going to fix this economy. We truly do need a fundamental change in direction. America is consuming far more wealth than it is producing and our debt is absolutely exploding.
---