Risepdx
RisePDX
Free Press! We are the voice of the people
January 20, 2012 – Move to Amend Occupies the Courts!
Anonymous: Operation Horizon - Dec. 17th
To unmotivated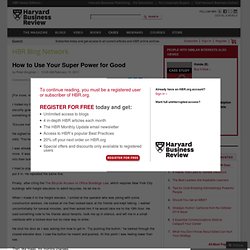 How to Use Your Super Power for Good - Peter Bregman
[For more, visit the Communication Insight Center .] I folded my bike and carried it into the lobby of the office building in midtown Manhattan. The security guard behind the desk looked up at me, grimaced, then looked down again and growled something indecipherable. "Excuse me?" I asked. He sighed loudly and didn't say anything for a moment.
SIP
Americans are used to reading about unmanned aircraft flying over the Middle East in search of militants. Soon those eyes will be over American skies as well. This coming spring, the Federal Aviation Administration (FAA) plans to propose rules that will enable civilians to obtain permits to fly drones over the national airspace.
The Drones Are Coming
Agreements - Google Docs
Omdraft3-1.jpg (600×800)
Canada | Customer Service
Why we track Santa – NORAD Santa
Norad Santa Tracker Live!
Occupy Portland is an ongoing collaboration that began on October 6, 2011 in downtown Portland , Oregon as a protest and demonstration . It is inspired by the Occupy Wall Street movement that began in New York City on September 17, 2011. The movement's initial October 6 March drew an estimated 10,000 to Pioneer Courthouse Square . [ 4 ] The protesters later set up an encampment in the Plaza Blocks Park near Portland City Hall . The Plaza Blocks include Lownsdale Square on the north side and Chapman Square to the south, which were the focus of the encampment. On November 10, Portland mayor Sam Adams gave the protesters a deadline to clear out of the park by 12:01 AM on November 13.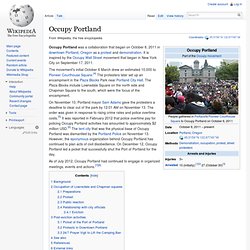 Occupy Portland
Stratfor Hacked, 200GB Of Emails, Credit Cards Stolen, Client List Released, Includes MF Global, Rockefeller Foundation
This Christmas will not be a happy one for George Friedman (who incidentally was the focus of John Mauldin's latest book promotion email blast) and his Stratfor Global Intelligence service , because as of a few hours ago, hacking collective Anonymous disclosed that not only has it hacked the Stratfor website (since confirmed by Friedman himself), but has also obtained the full client list of over 4000 individuals and corporations, including their credit cards (which supposedly have been used to make $1 million in "donations"), as well as over 200 GB of email correspondence.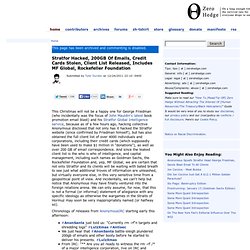 Tonight at a marina holiday party, our neighbor and dear friend, Roger Thiel, treated us to his annual gift of a Christmas poem and reading. Roger has lived in our marina for more than 20 years and has entertained uncountable numbers of live aboards and visitors with song, oratory delights and, of course, his annual holiday poems. The shop of which Roger speaks in this poem is his own, and it makes Santa's workshop look pretty boring by comparison.
If The Night Before Christmas Had Been Written for the Occupy Movement - Brainstorm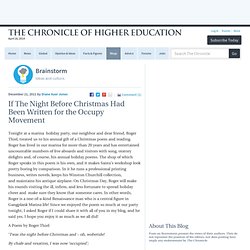 NEW YORK – Occupy Wall Street may still be working to shake the notion it represents a passing outburst of rage, but some establishment institutions have already decided the movement's artifacts are worthy of historic preservation. More than a half-dozen major museums and organizations from the Smithsonian Institution to the New-York Historical Society have been avidly collecting materials produced by the Occupy movement. Staffers have been sent to occupied parks to rummage for buttons, signs, posters and documents.
Occupy Wall Street Becomes Highly Collectible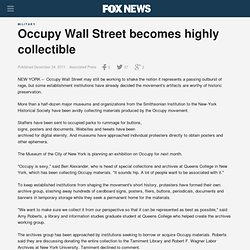 Occupy Portland Protest March Dec 17th
Earth Time Lapse View from Space Fly Over NASA ISS
BIKE CHECK Video by CrankMyChain! Cycle TV
Announcing #OccupyChristmasPDX
50 Economic Numbers From 2011 That Are Almost Too Crazy To Believe
Even though most Americans have become very frustrated with this economy, the reality is that the vast majority of them still have no idea just how bad our economic decline has been or how much trouble we are going to be in if we don't make dramatic changes immediately. If we do not educate the American people about how deathly ill the U.S. economy has become, then they will just keep falling for the same old lies that our politicians keep telling them. Just "tweaking" things here and there is not going to fix this economy. We truly do need a fundamental change in direction. America is consuming far more wealth than it is producing and our debt is absolutely exploding. If we stay on this current path, an economic collapse is inevitable.