Nietzsche
Nietzsche: Beyond Good and Evil. A brilliant young man, he was appointed professor at the University of Basel aged 24 having not even finished his degree.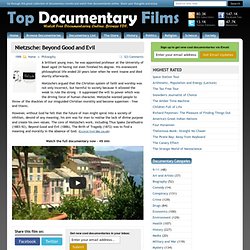 His evanescent philosophical life ended 20 years later when he went insane and died shortly afterwards. Nietzsche's argued that the Christian system of faith and worship was not only incorrect, but harmful to society because it allowed the weak to rule the strong - it suppressed the will to power which was the driving force of human character. Nietzsche wanted people to throw of the shackles of our misguided Christian morality and become supermen - free and titanic.
However, without God he felt that the future of man might spiral into a society of nihilism, devoid of any meaning; his aim was for man to realise the lack of divine purpose and create his own values. Bertrand Russell on Nietzsche. FRIEDRICH NIETZSCHE: ZARATHUSTRA. "Nietzsche in 90 Minutes" by Paul Strathern. Three Minute Philosophy: Friedrich Nietzsche. Sartre: The Road to Freedom. To be told, you are responsible for the period of history that you are living in.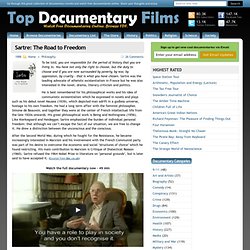 You have not only the right to choose, but the duty to choose and if you are now surrounded by poverty, by war, by oppression, by cruelty - that is what you have chosen. Sartre was the leading advocate of atheistic existentialism in France but he was also interested in the novel, drama, literary criticism and politics.
---