Drupal
230+ Drupal Templates | Free Drupal Themes
May 17, 2011 Starting your project will be very easy and convenient with Professional Drupal Template. The blazing coloring and great typography make this template quite presentable and showy. Ecru Style Drupal Template will work out for any project needing balanced and well-structured layout. It has threaded comments section which is especially useful for blogs with numerous articles and reviews to get visitors' feedbacks.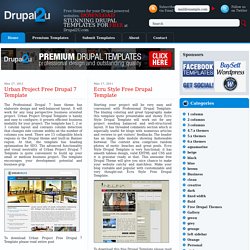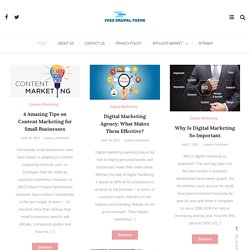 The Unofficial Drupal Theme Site - Download Free Drupal 5, Drupa
Do you know Drupal could be used to run an e-commerce store as well? Well, now you know it. If you are going to run a Drupal online store, you should give this template a try, as it is fully designed for Drupal e-commerce store layout and design. This template allows you to customize your products layouts, item description, checkout layout, and any other ways to test you pages so that your website could convert more visitors into buyers. When you first install the theme, you might find that the layout is kind of simple, but there are actually plenty ways to add or customize it the way you want it to be. Download here: E-Commerce Free Drupal Theme
Free Website Templates - Drupal Themes
Responsive HTML5 Base Theme Adaptivetheme is a powerful theme framework designed from the ground up to power modern, cross browser/cross device websites using responsive design techniques. Adaptivetheme allows you to set up specific layouts for different device groups - such as desktop, tablet and smartphone - all with zero coding. Its all easy point-and-click configuration.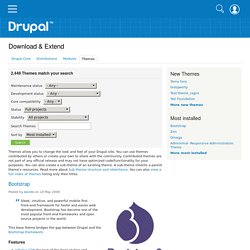 MoneyScripts File Downloads Suite is an all-in-one solution for anyone who wants to sell their files online. Simply upload your file, set a price and download options, and let the module do the rest! Once a customer pays for the file, a download link is automatically sent to them, and a user account is automatically created for them if they don't already have one.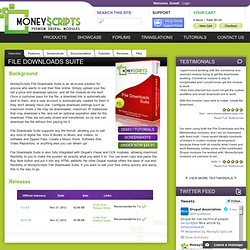 Drupal File Downloads Suite | MoneyScripts.net - Premium Drupal
There are hundreds of Drupal themes which you can find on the Internet but not all of them are good looking. So, this time I have collected the best looking free Drupal 6 themes I have found. I have no idea how much of you guys use Drupal, but I'm a big fan of Drupal and this time I take a big risk and hope you'll at least check out this selection and compare it with your CMS. Drupal is definitely worth trying out, it has a lot more customization options and chances to add different features, which even mighty WordPress cannot handle. 1. BlogBuzz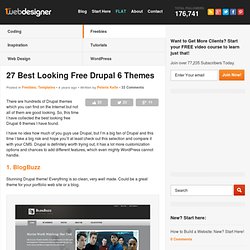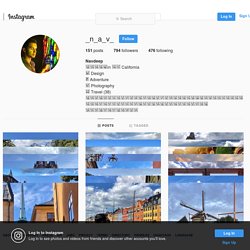 FashionClyp aims to redefine the way people do local fashion shopping, by making it easy, personalized, real-time, curated and complete; helping people stay on top of every offer, every new style and every flash sale in their favorite brands and local fashion, happening around them. You can browse through 100's of partner brands and 1000's of Styles and Deals curated specially for you and avail exclusive limited-time offers within the iOS app.