Link Baiting
The Marketer's Ultimate Guide to Link Bait. Can we please come up with some better terminology for the concept of 'link bait,' already?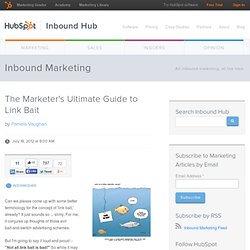 It just sounds so ... slimy. For me, it conjures up thoughts of those evil bait-and-switch advertising schemes. But I'm going to say it loud and proud -- "Not all link bait is bad! " How To Actually Get Links From Your Linkbait. The author's posts are entirely his or her own (excluding the unlikely event of hypnosis) and may not always reflect the views of Moz.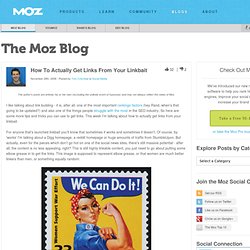 I like talking about link building - it is, after all, one of the most important rankings factors (hey Rand, when's that going to be updated?) And also one of the things people struggle with the most in the SEO industry. Link Bait. Link baiting (or linkbaiting) is the latest buzz word in the SEO world and has come to be the preferred way to natural link building.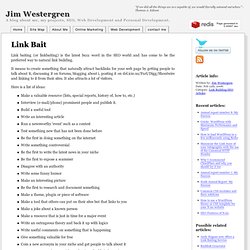 It means to create something that naturally attract backlinks for your web page by getting people to talk about it, discussing it on forums, blogging about i, posting it on del.icio.us/Furl/Digg/Shoutwire and linking to it from their sites. It also attracts a lot of visitors. Hard Thoughts About SEO & Link Bait. Is creating link bait good SEO?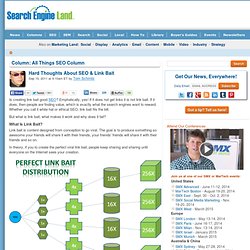 Emphatically, yes! If it does not get links it is not link bait. If it does, then people are finding value, which is exactly what the search engines want to reward. When Promoting Link Bait, Twitter is King! A few weeks back we were promoting a link bait article on digg.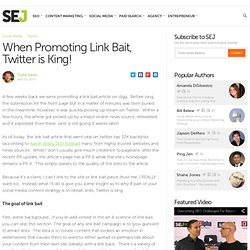 Before long, the submission hit the front page but in a matter of minutes was then buried. In the meantime, however, it was quickly picking up steam on Twitter. Within a few hours, the article got picked up by a major online news source, retweeted, and it exploded from there. (and is still going 3 weeks later) SEO Guide to Creating Viral Linkbait and Infographics - Distilled. Www.distilled.net/wp-content/uploads/2011/08/Linkbait-Brainstorm-Workbook.pdf. LinkBaiting Idea Gathering. Linkbaiting for Fun & Profit Linkbaiting is one of the most universally effective tactics for promoting a site, both for search engine rankings and short-term traffic boosts.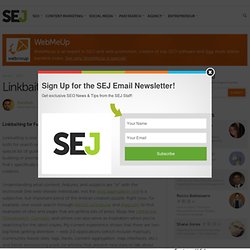 There's no special list of guidelines that sets linkbaiting apart from normal content building or promotion except the knowledge that you're creating something that's specifically designed to appeal to link-savvy bloggers and web content creators. Understanding what content, features, and subjects are "in" with the technorati (the web-literate individuals, not the blog aggregation site) is a subjective, but important piece of the linkbait creation puzzle. Right now, for example, one could search through del.icio.us/popular and digg.com to find examples of sites and pages that are getting lots of press. How to Attract Links and Increase Web Traffic – The Ultimate Guide. 10 Extraordinary Examples of Effective Link Bait. Despite what most SEOs will tell you, it's not easy to create outstanding content that people will want to link to.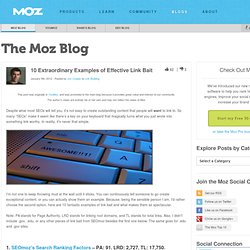 So many "SEOs" make it seem like there's a key on your keyboard that magically turns what you just wrote into something link worthy. In reality, it's never that simple. I'm not one to keep throwing mud at the wall until it sticks. You can continuously tell someone to go create exceptional content, or you can actually show them an example. Because, being the sensible person I am, I'd rather choose the second option, here are 10 fantastic examples of link bait and what makes them so spectacular. 10 Extraordinary Examples of Effective Link Bait. 4 Tips for Creating Link Bait. The author's posts are entirely his or her own (excluding the unlikely event of hypnosis) and may not always reflect the views of Moz.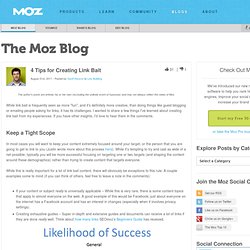 While link bait is frequently seen as more "fun", and it's definitely more creative, than doing things like guest blogging or emailing people asking for links, it has its challenges. I wanted to share a few things I've learned about creating link bait from my experiences. If you have other insights, I'd love to hear them in the comments. Keep a Tight Scope In most cases you will want to keep your content extremely focused around your target, or the person that you are going to get to link to you (Justin wrote more about this process here).
How to Turn Your Content into Link Bait - YouMoz. In late December of 2011, HTML5 cheat sheets, which we originally created for WebDesignLedger (WDL), were shared by Google on their Google Developers profile.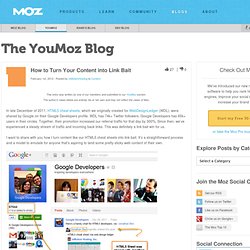 WDL has 74k+ Twitter followers. Google Developers has 65k+ users in their circles. Linkbaiting or Link Baiting Strategies? 70+ Best Linkbaiting Guides On The Internet | SEOzy. SEO Services SEO Forum SEO Articles.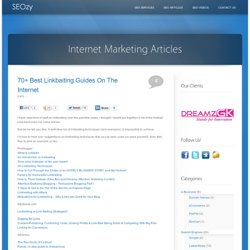 17 Ways to Accelerate Links to Your Link Bait (and Other Highly Linkable Content) Linkable content often does not receive the attention required for substantial link acquisition. This article outlines a simple process for identifying link prospects for any content that hasn't accelerated link acquisition the way you had hoped. Before outlining the process though, here's a quick overview of 16 methods for acquiring attention from potential link prospects. They're aggregated from the top linkbait promotion articles we found during researching (see links at the end of the article). 1. Look at the Related Posts. Link Bait is simply creating a piece of viral content that people will want to link to and share across the web, typically through forms of social media. There are a number of differ formats that link bait comes in, however they all have one thing in common. People WANT to share it! In order for something to be considered "Link Bait" it must have one or all of these qualities ~ Original, Viral, Compelling, Comprehensive, Conceptual/State of the Art, Highest Quality, Controversial, Funny, Breaking News…and the list goes on.
SEO Advice: linkbait and linkbaiting. (just a quick post.) On a meta-level, I think of "linkbait" as something interesting enough to catch people's attention, and that doesn't have to be a bad thing. There are a lot of ways to do that, including putting in sweat-of-the-brow work to generate data or insights, or it can be as simple as being creative. You can also say something controversial to generate discussion (this last one gets tired if you overuse it, though).
---