Ideation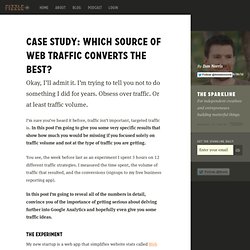 Case Study: Which Source of Web Traffic Converts the Best?
Okay, I'll admit it. I'm trying to tell you not to do something I did for years. Obsess over traffic. Or at least traffic volume.
Greenlighted - Collective Power Redefined
Infographic Marketing Results from BlueGlass
Busting-Common-Health-Myths.png (640×6577)
In the last years, the notion of "website header" chanced dramatically. If until a few years ago, the header was the place for a standard logo and a simple menu, now this can be a piece of art. Below you can see 55 superb examples of such headers. eco-environments.co.uk harmonyrepublic.com
55 Awesome Website Headers For Your Inspiration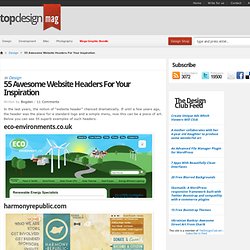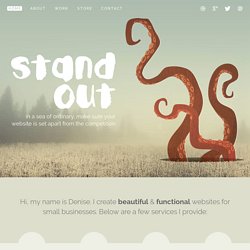 In the spring of 2003, during my first year of college at USU, I took a required general education business course where we were assigned the task of building a webpage in Word. Thus began my love affair with design. After graduating I began working full time for a web design company. While I still enjoyed it, for the most part, I felt like something was missing.
Denise Chandler | Web Design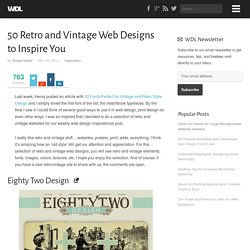 Last week, Henry posted an article with 30 Fonts Perfect for Vintage and Retro Style Design and I simply loved the first font of the list, the matchbook typefaces. By the time I saw it I could think of several good ways to use it in web design, print design on even other ways. I was so inspired that I decided to do a selection of retro and vintage websites for our weekly web design inspirational post. I really like retro and vintage stuff… websites, posters, print, adds, everything. I think it's amazing how an 'old style' still get our attention and appreciation.
50 Retro and Vintage Web Designs to Inspire You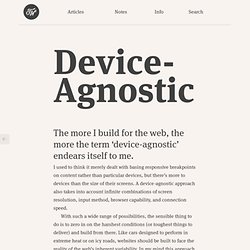 The more I build for the web, the more the term 'device-agnostic' endears itself to me. I used to think it merely dealt with basing responsive breakpoints on content rather than particular devices, but there's more to devices than the size of their screens. A device-agnostic approach also takes into account infinite combinations of screen resolution, input method, browser capability, and connection speed. With such a wide range of possibilities, the sensible thing to do is to zero in on the harshest conditions (or toughest things to deliver) and build from there. Like cars designed to perform in extreme heat or on icy roads, websites should be built to face the reality of the web's inherent variability.
Trent Walton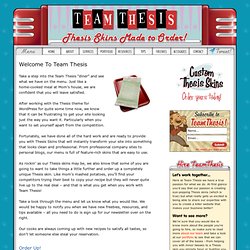 Take a step into the Team Thesis "diner" and see what we have on the menu. Just like a home-cooked meal at Mom's house, we are confident that you will leave satisfied. After working with the Thesis theme for WordPress for quite some time now, we know that it can be frustrating to get your site looking just the way you want it. Particularly when you want to set yourself apart from the competition.
Team Thesis — Thesis Themes…Made to Go!
Stijn's Blog over Nieuws, Muziek, Films — Aardling™
Shatterboxx — Warning: may cause designgasm
Websites You want a bold and dynamic website design that's bursting with personality. You want to stand out from the templates and the clutter with beautiful design, user-friendly content organization, and brilliant typography. You want less fluff and more value for your users. You want all of this and even more. Now, you need Shatterboxx.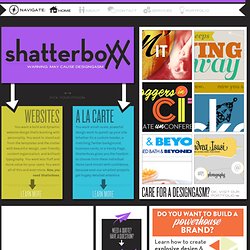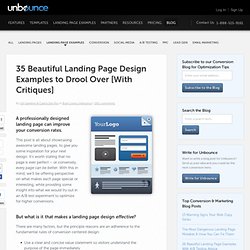 A professionally designed landing page can improve your conversion rates. This post is all about showcasing awesome landing pages, to give you some inspiration for your next design. It's worth stating that no page is ever perfect – or conversely, every page can be better. With this in mind, we'll be offering perspective on what makes each page special or interesting, while providing some insight into what we would try out in an A/B test experiment to optimize for higher conversions.
Landing page examples collected from Unbounce customers and other companies marketing via pay-per-click, that you can use for design and layout inspiration. Each post includes a critique of what's good, and what could be changed or tested. Best Landing Page Example Posts 12 Beautiful Landing Page Templates Designed Just For You We offered designers $10,000+ to create beautiful, conversion centered landing page templates in a variety of verticals. Here's what they came up with.
Landing Page Examples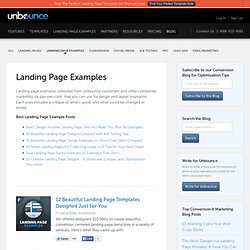 18743-b.jpg (430×540)
19443-b.jpg (430×484)
20117-b.jpg (430×582)
21215-b.jpg (430×408)