Fontes
Best Google Web Fonts. The 25 best free web fonts | Typography. Typography continues to grow in popularity and web fonts are also on the rise with any web designer worth their salt looking to break from the shackles of dull standard system fonts and add that extra something to their sites.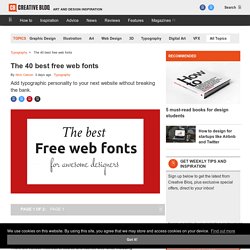 There are various methods to source and license web fonts, including subscription-based models such as Typekit, WebINK, Fontdeck and Fontspring, which boast libraries of quality typefaces and are becoming increasingly popular with professional designers. If you're on a tight budget, however, or are just looking to experiment on a smaller project, there are plenty of good web fonts available at no cost if you know where to look. Sites such as Font Squirrel are helpful, not to mention the free-to-use Google Web Fonts service and Adobe Edge Web Fonts. Powered by Typekit, this supplements the GWF library with several of Adobe's own open source web fonts and integrates neatly with Edge and Muse. Homestead. New High-Quality Free Fonts (2012 Edition) - Smashing Magazine. Advertisement Every now and then, we look around, select fresh free high-quality fonts and present them to you in a brief overview.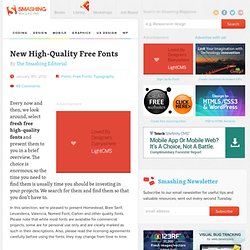 The choice is enormous, so the time you need to find them is usually time you should be investing in your projects. 35+ Free Comic and Cartoon Fonts For A Funny Design. In a previous post, 20+ High-Quality Free Fonts for Retro and Vintage Design, we collected some useful fonts for your graphic and web works.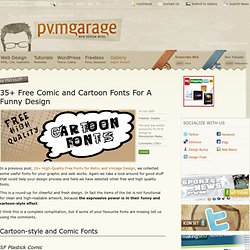 Again we take a look around for good stuff that could help your design process and here we have selected other free and high quality fonts. This is a round-up for cheerful and fresh design. In fact the items of the list is not functional for clean and high-readable artwork, because the expressive power is in their funny and cartoon-style effect. I think this is a complete complitation, but if some of your favourite fonts are missing tell us using the comments. 25 Nice Retro Fonts For Designers. Advertisement Vintage or Retro is never that old to not to be used.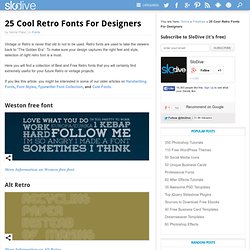 Retro fonts are used to take the viewers back to "The Golden Era". 30 Fonts Perfect for Vintage and Retro Style Design. A Vintage or retro style design is meant to transport it's audience decades into the past.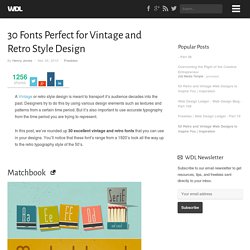 Designers try to do this by using various design elements such as textures and patterns from a certain time period. But it's also important to use accurate typography from the time period you are trying to represent. Blanch. Lavanderia. Villa Didot (Free Font) on the Behance Network. GRADUATE - Free Google Web Font on the Behance Network. Graduate is a high quality example of the classic college block style of lettering used across very campus in the USA.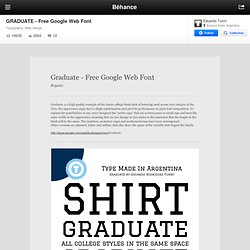 His uppercases signs have a slight condensation and provide performance in plain text composition. To expand the possibilities of use, were designed the "petite caps" that act as lowercases or small caps and have the same width as the uppercases, meaning that we can change or mix styles in the assurance that the lenght in the block will be the same. *Barata Display* 11 Extremely Useful Fresh Free Fonts. Looks like we almost let an entire month go by without finding some fresh free fonts for our readers.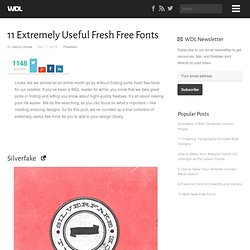 If you've been a WDL reader for while, you know that we take great pride in finding and letting you know about hight-quality freebies. It's all about making your life easier. We do the searching, so you can focus on what's important – like creating amazing designs. 10 Fresh Free Fonts. There are tons of remarkable free fonts out there, and helping you find them is something we really like to do.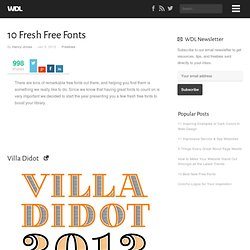 Since we know that having great fonts to count on is very important we decided to start the year presenting you a few fresh free fonts to boost your library. Villa Didot Accent Lavanderia.
---