Développement
Feature Catalog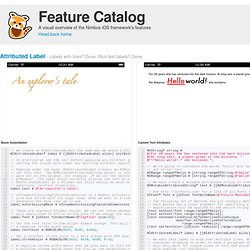 // We create an NIAttributedLabel the same way we would a UILabel. NIAttributedLabel* label = [[NIAttributedLabel alloc] initWithFrame:CGRectZero]; // In practice we set the text before applying any CoreText style. Modifying the text after // setting the styles will clear any existing CoreText-specific styles. // Peeking under the hood: NIAttributedLabel creates an NSMutableAttributedString object when we
Twig - The flexible, fast, and secure PHP template engine - Documentation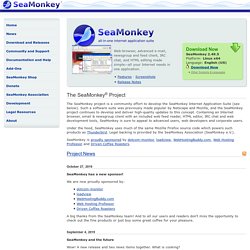 Web-browser, advanced e-mail, newsgroup and feed client, IRC chat, and HTML editing made simple—all your Internet needs in one application. The SeaMonkey project is a community effort to develop the SeaMonkey all-in-one internet application suite (see below). Such a software suite was previously made popular by Netscape and Mozilla, and the SeaMonkey project continues to develop and deliver high-quality updates to this concept. Containing an Internet browser, email & newsgroup client with an included web feed reader, HTML editor, IRC chat and web development tools, SeaMonkey is sure to appeal to advanced users, web developers and corporate users. Under the hood, SeaMonkey uses much of the same Mozilla source code which powers such successful siblings as Firefox and Thunderbird.
Php Object Generator (v3.0f) - Open Source PHP Code Generator
PHP Object Generator, (POG) is an open source which automatically generates clean & tested Object Oriented code for your PHP4/PHP5 application. Over the years, we realized that a large portion of a PHP programmer's time is wasted on repetitive coding of the Database Access Layer of an application simply because different applications require different objects. By generating PHP objects with integrated CRUD methods, POG gives you a head start in any project. The time you save can be spent on more interesting areas of your project.Read more ›› Fast and scalable Generates clean+tested code Generates CRUD methods Generates setup file Generates parent-child relations Generates sibling relations Extensible via plugins Compatible with PHP4 & PHP5 Compatible with PDO Automatic data encoding Free Developer SOAP API Free for personal use Free for commercial use Open Source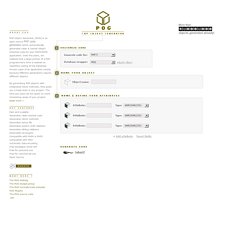 Free .htaccess Redirect Generator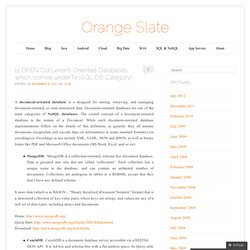 A document-oriented database is a designed for storing, retrieving, and managing document-oriented, or semi structured data. Document-oriented databases are one of the main categories of NoSQL databases. The central concept of a document-oriented database is the notion of a Document. While each document-oriented database implementation differs on the details of this definition, in general, they all assume documents encapsulate and encode data (or information) in some standard format(s) (or encoding(s)). Encodings in use include XML, YAML, JSON and BSON, as well as binary forms like PDF and Microsoft Office documents (MS Word, Excel, and so on). MongoDB: MongoDB is a collection-oriented, schema-free document database.
11 OPEN document bases de données orientées qui relève de NoSQL DB Catégorie! | Orange Slate
You may well be familiar with databases such as MySQL and Access which are an ever-increasingly common means of storing data. But data is also stored in files, like Word documents, event logs, spreadsheets, image files, and so on. Databases generally require a special query language to retrieve information, whereas files are 'flat' and usually appear as a stream of text. Most often when working with files you'll read from or write to them.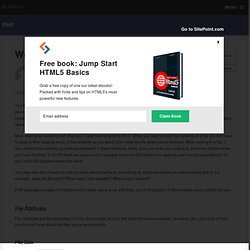 PHP Master | Working with Files in PHP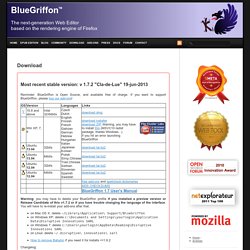 Most recent stable version: v 1.7.2 "Cla-de-Lue" 19-jun-2013 Reminder: BlueGriffon is Open Source, and available free of charge. If you want to support BlueGriffon, please buy our add-ons!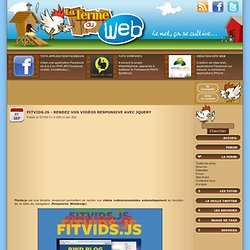 Fitvids.js est une librairie Javascript permettant de rendre vos vidéos redimensionnables automatiquement en fonction de la taille du navigateur (Responsive Webdesign). La mode actuelle est clairement au "Responsive webdesign".(Pour la traduction française, le débat est lancé sur la Fanpage de la Ferme, webdesign ajustable ou réactif remportent le vote).
FitVids.js - Rendez vos vidéos responsive avec jQuery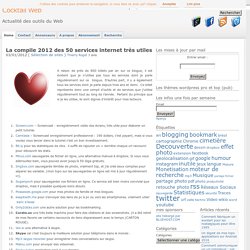 A raison de près de 800 billets par an sur ce blogue, il est évident que je n'utilise pas tous les services dont je parle régulièrement sur ce blogue. D'autres part, il y a également tous les services dont je parle depuis trois ans et demi. Ce billet représente donc une compil d'outils et de services que j'utilise régulièrement tout au long de l'année. Partant du principe que si je les utilise, ils sont dignes d'intérêt pour mes lecteurs. Screenr.com – Screencast : enregistrement vidéo des écrans, très utile pour élaborer un petit tutorial.Camtasia - Screencast enregistrement professionnel : 190 dollars, c'est payant, mais si vous voulez vous lancer dans le tutoriel c'est un bon investissement.Bit.ly pour les statistiques de clics. il suffit de rajouter un + derrière chaque url raccourci pour découvrir les stats.Minus.com sauvegarde de fichier en ligne, une alternative manuel à dropbox.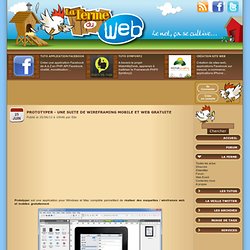 Prototyper est une application pour Windows et Mac complète permettant de réaliser des maquettes / wireframes web et mobiles gratuitement. Quoi de mieux qu'une bonne maquette pour parler du projet de votre client? Prototyper est une application Windows et Mac permettant de réaliser facilement des maquettes pour: iPhoneiPadAndroid Smartphone (320px et 360px)Tablette AndroidSites web A coup de drag and drop des éléments UI disponibles dans la sidebar, vous pourrez rapidement maquetter vos futurs projets. La puissance de l'application réside aussi dans son intéractivité.
Prototyper - Une suite de wireframing mobile et web gratuite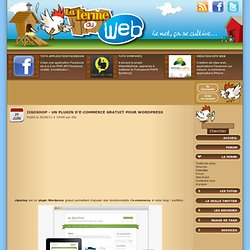 Jigoshop - Un plugin d'e-commerce gratuit pour Wordpress
Jigoshop est un plugin Wordpress gratuit permettant d'ajouter des fonctionnalités d'e-commerce à votre blog / portfolio... Wordpress est très utilisé sur le web, en particulier pour créer des blogs, portfolio (ou même des sites vitrines). Avec Jigoshop vous pourrez étendre les fonctionnalités de la plateforme en e-commerce simplifié. Idéal si vous souhaitez vendre vos créations sur votre portfolio ou quelques produits maison exposés sur votre blog ... Il ne remplacera toutefois pas une plateforme comme Prestashop ou Magento, réellement dédié aux sites d'e-commerce.
Framework, template & API