ART
Rashad Alakbarov Paints with Shadows and Light. This is kind of flying all over the internet right now, but I couldn't resist sharing.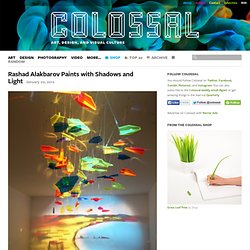 Artist Rashad Alakbarov from Azerbaijan uses suspended translucent objects and other found materials to create light and shadow paintings on walls. The jaw-dropping light painting above, made with an array of colored airplanes is currently on view at the Fly to Baku exhibition at De Pury Gallery in London through January 29th.
(via art wednesday, fasels suppe) Before I Die. What is important to you 2011 After Candy Chang lost someone she loved, she went through a long period of grief and depression.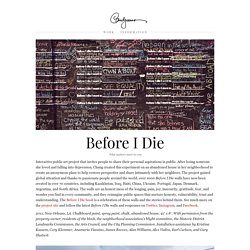 With time she felt gratitude for the time they had together and eventually she found clarity in her life by contemplating death so much. But she struggled to maintain this perspective. It's easy to get caught up in the day-to-day and forget what really matters to you. Unsimple Living. Perhaps I should begin this post by introducing you to my mom, also known as Her Ladyship Craftiness…er, Her Royal Craftiness?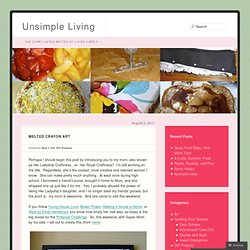 I'm still working on the title. Regardless, she's the coolest, most creative and talented woman I know. Paint Moss Graffiti - Step-by-Step Guides for Offbeat DIY Projects. Sharpie Art - Extreme Sharpie Artwork at WomansDay. Nowadays, Sharpie markers come in more than basic black––they're available in every color of the rainbow, and in just about every size and shape.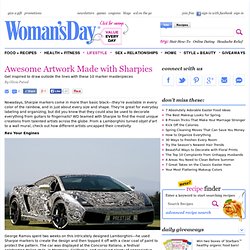 They're great for everyday labeling and organizing, but did you know that they could also be used to decorate everything from guitars to fingernails? WD teamed with Sharpie to find the most unique creations from talented artists across the globe. From a Lamborghini turned objet d'art to a wall mural, check out how different artists uncapped their creativity. 90 Incredible Drawings and Pencil Illustrations. Draw a Stickman. Leaf Cut Art by Lorenzo Durán. How to Draw Celtic Knotwork. The old method These instructions can be followed with pencil and paper or using any computer based drawing or drafting program.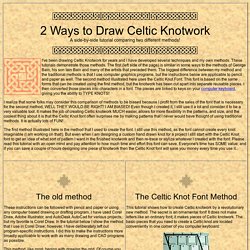 I have used Corel Draw, Adobe Illustrator, and AutoDesk AutoCad for various projects, but my favorite is Corel Draw. In the tutorial below I show the method that I use in Corel Draw; however, I have deliberately left out program-specific instructions. I did this to make the instructions more broadly applicable to work with as many drawing and CAD programs as possible. Painting on water. 20 awesome examples of street art. The Elements of Drawing - Download free content from Oxford University. How to Draw Flowers and Plants". Flower Image Gallery Publications International, Ltd.Learn how to draw a rose and other flowers and plants with our step-by-step instructions.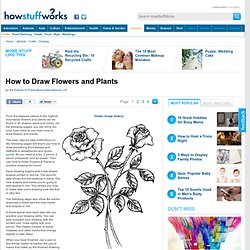 Bring out your inner artist as you learn how to draw a rose. See more pictures of flowers. Original Abstract Tree Painting Textured Red by ChristineKrainock. "Crimson Beauty" Original Abstract Red Tree, Tree of Life Painting, Modern abstract textured palette knife painting.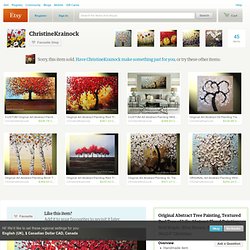 Landscape Floral Red Fall Tree, Brown Blue Gold Textured Background, Mixed media acrylic on 24x36x1.5 Gallery wrapped canvas. - Deep Crimson, Red, Shades of Red, brown, rust, pale blue, birds egg blue, grey, gold, biege. - Hand-painted, one-of-a-kind. Beautiful, vibrant, wonderful texture! Big Doodle. Dream Big by Peter Fecteau. The Geek-Art of Blaz Porenta. Illustrator from Slovenia, Blaz Porenta did an incredible job on those super heroes… Check the full article if you don't want to miss Thor, Iron Man, Hulk and their friends.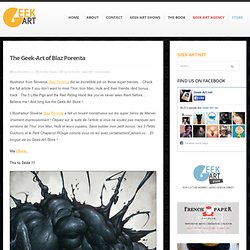 And bonus track : The 3 Little Pigs and the Red Riding Hood like you've never seen them before… Believe me ! And long live the Geek-Art Store ! L'illustrateur Slovène Blaz Porenta a fait un boulot monstrueux sur les super héros de Marvel. Vraiment impressionnant ! Cliquez sur la suite de l'article si vous ne voulez pas manquer ses versions de Thor, Iron Man, Hulk et leurs copains. Staples Art. Your source of daily updated funny pictures and gifs. Keep drawing Video. Illustrations by Nacho Diaz. I feel melty. | Light&Spoon - StumbleUpon. EDIT 11/5/2012: We are no longer selling custom crayon pieces in our Etsy shop.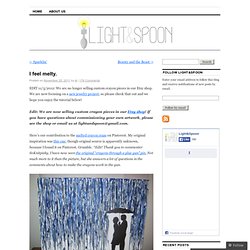 We are now focusing on a new jewelry project, so please check that out and we hope you enjoy the tutorial below! Edit: We are now selling custom crayon pieces in our Etsy shop! Jumping Colors by Markus Reugels. Carved Book Landscapes by Guy Laramee.
(click images for detail) For the better part of three decades multidisciplinary artist Guy Laramee has worked as a stage writer, director, composer, a fabricator of musical instruments, a singer, sculptor, painter and writer.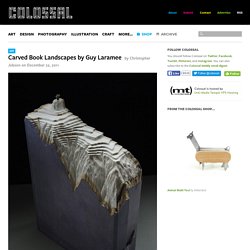 Among his sculptural works are two incredible series of carved book landscapes and structures entitled Biblios and The Great Wall, where the dense pages of old books are excavated to reveal serene mountains, plateaus, and ancient structures. Of these works he says: So I carve landscapes out of books and I paint Romantic landscapes. Mountains of disused knowledge return to what they really are: mountains.
---